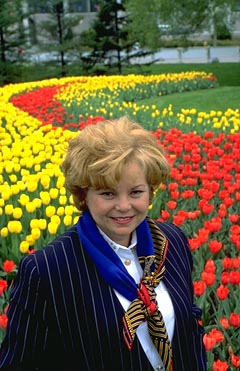 Toby Saltzman in Ottawa
at the Canadian Tulip Festival.
travelterrific is a premier travel magazine specializing in stories and photographs of international destinations, provocative journeys plus new works of literary merit. travelterrific is a reliable source for information about cruises as well as leisure, luxury, family and business travel. travelterrific offers book reviews, tips on useful gear and expert lifestyle information that will enhance your trip. Over time, travelterrific promises to develop a special literary dimension by publishing creative poems and short stories penned by renowned writers and articulate contributors.
travelterrific is published in Canada by freelance writer-photographer Toby Saltzman, a member of The Society of American Travel Writers and The Travel Media Association of Canada. travelterrific features stories written by credible, accredited journalists - many of whom have won awards for contributions to newspapers and magazines around the world - who stand by their honest opinions garnered during their personal experiences all over the globe, from the gilded streets of Paris and London to the pristine shores of the Galapagos and the primeval wilds of Tasmania. It is our mission to provide you, our audience, with enjoyable reading and practical information. We hope you will re-visit us often, as you would a favorite magazine.
Join us at travelterrific as we reach beyond the dimensions of typical travel magazines to bring you special visual and literary experiences.
travelterrific is free - no strings attached.
We are interested in your comments, criticisms and ideas.
We'd like to know about destinations, terrific accommodations and delightful places with a sense of spirit that you've discovered off the beaten track.
So why not e-mail our forum at contact@travelterrific.com with your recommendations?
Please note: travelterrific will not return unsolicited works or photography and cannot be held responsible for lost materials or photographs.
If you would like information about advertising on travelterrific, please contact publisher Toby Saltzman at advertise@travelterrific.com
Win Prizes!
No matter where you live around the world, we are delighted to reward your attention with terrific prizes. Click on win! for news of the latest contests and prizes.
Join us often. You'll find plenty of new stories and tips appearing frequently on travelterrific. Click on forum to let us know what you think. And don't forget to click on win!
Copyright* 2000TRAVELTERRIFIC Inc. The reproduction, modification, distribution, transmission or republication of any material from http://www.travelterrific.com or http://www.travelterrific.ca is strictly prohibited without the prior written permission of TRAVELTERRIFIC Inc.