The Nine Dragons of the Delta
The moody tides of the murky Mekong River Delta are so controlling that people who live here exist at is mercy, revel in its power and call it the "Land of Nine Dragons."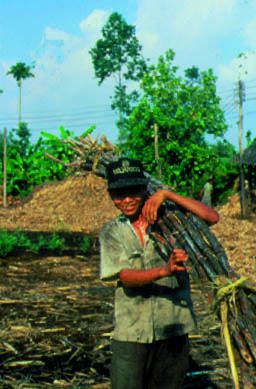 Young boy carries stalks of sugar cane
in Mekong Delta "factory."
The little girl peeked curiously behind the jungle palm. I showed her my camera, wiggled my finger. "Picture?" I asked, though I knew the word meant nothing. Shyly she ventured forth, a cupid smile lighting her face, joy dancing in her eyes as she tugged at her skimpy shirt. For a split second I wanted to hug her, whisk her home, cuddle her in the warmth of my family life. But emotions were one thing, practicalities another.
Such is the world of the Mekong Delta.
The Mekong River meanders 4,000 kilometers (26000 miles) from the lofty plateaus of Tibet down through South East Asia to Phnom Phen, Kampuchea (Cambodia), where it divides. As it rushes toward the South China Sea, it branches to nine tributaries that flood the coastal plain, creating an alluvial delta. So controlling are the moody tides of the murky water, that people who live here exist at its mercy, revel in its power and call it the "Land of Nine Dragons".
The surrounding landscape is lush with vegetation: rainforests that culminate in gnarled mangroves straddle the sea on spidery roots, nurturing fish and tiny sea animals; jungles of exotic plants provide everything from herbal medicines to resilient leaves for shelter; hectares of emerald rice paddies produce the sustenance of life. Modern illusions of Vietnam focus on burgeoning Saigon and Hanoi, yet over 80% of the population exists on these coastal plains, eking out life much like their ancestors centuries ago, gathering anything feasible to sell at the market in My Tho, the biggest coastal village, 70 km southwest of Saigon.
Throughout the journey to My Tho - two hours on dusty roads - flashed vignettes of Vietnamese rural life. Spindly young boys bearing shoulder yokes with pails on each end led fat water buffalo along well-trodden paths. Straw-hatted farmers, knee deep in water, bent to harvest rice in fertile paddies. Clusters of roadside markets bustled with locals selling produce, fish and golden baguettes.
En route we passed small villages, some with brick houses, most with bamboo huts capped by palm fronds or tin roofs. Near every village, makeshift awnings shaded tiny "bistros" decked with brightly-covered tables and plastic chairs sitting Paris-style facing the road. Traffic was swift, dead center on the road, swerving aside often for oncoming vehicles.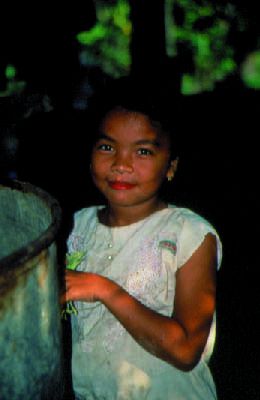 Sweet young girl peeks from behind
Mekong Delta jungle vegetation.
Our eager group included a friendly Saigonese guide; the French captain of Song Saigon - the junk that cruises the Mekong Delta; an American writer based in Phnom Penh researching life on the delta; and an American photo-journalist. When we arrived in My Tho, a crowd of Vietnamese jostled round, hustling chewing gum and postcards. The tide was low, causing the wooden skiffs that would carry us to Song Saigon to bob in shallow water twenty meters below the sea wall. We had no choice but to shinny down, gingerly toeing crevices for support.
The water was brown, the air a shimmering haze of heat and humidity. Two spry boys navigated each skiff toward Song Saigon. Thirty meters long, with sails furled tightly in the stagnant air, she loomed deep in the delta, a queenly junk of gleaming mahogany with "lucky eyes" painted on her bow. When we scaled the rope ladder the crew greeted us with hot towels, then cool concoctions of coconut milk and vodka. Surprisingly elegant.
The scenery was mesmerizing. Rows of wooden huts, perched high on stilts at the water's edge, gave way to communities of thatch-roofed houseboats with mothers and babes huddled on decks. The men and older children were waist deep in water, tossing sinewy nets in the nearby fish farms. We passed many rice paddies, velvety green stretches that terraced into distant hills; occasional factories with smoke-stacks spewing the dark curls of heavy industry; the vine-covered skeleton of a modern high-rise bombed during the war; and, near a group of teetering grass hovels, a neat clearing with rows of pristine white tombstones glinting in the sun. Strange vessels, by North American standards, plied this watery highway. Bandy-legged men and women stood to paddle flat boats laden with fruits and vegetables. Wooden trawlers transported shiny motorcycles, bicycles or other cargo.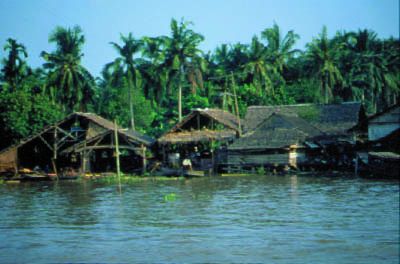 Bamboo and wood huts built on stilts perch
along the water's edge, where fishing and
rice paddies provide staples for the local diet.
Two cheery "hostesses" appeared from the kitchen to present a mouth-watering array of salads, shrimp, tamarind crabs, crusty breads and fruit for lunch. Lounging in the shade of the palm canopy, we felt mellow, full of the delicious meal, almost lazy, when the captain suggested we visit a sugar cane factory. "A factory on the delta? Why bother to see it?" we asked.
"It's interesting," he said in sparse English.
Those who dared climbed down the ladder and into the skiffs. We scooted across the water to the jungle coast, slowing to enter a canal so narrow we brushed against palms on each side. Tall leaves meshed to form canopies overhead, filtering the sunlight. The air was moist, fragrant with heady jungle aromas. At a tiny clearing, a wizened old man and teenage mother nursing her infant crouched on the mud outside a pitiful grass hut.
We threaded our way through the labyrinth of foliage, ducking under drooping branches, marveling at monstrous butterflies, accompanied all the while by an invisible orchestra of birds. A barking dog alerted us to a couple of children giggling behind the greenery that camouflaged their miserable dwelling. Absurd, we thought: they had enough to feed a dog.
Finally, as the air turned sweetly pungent, we came upon a clearing with a wide open barn: the sugar cane factory. We hitched to a tree and stepped onto the spongy soil. A few meters away amid a broad earthen pit, we saw a gang of boys, perhaps twelve years old, hacking at tough stalks of canes. Their faces, scarred by the razor sharp leaves of sugar cane, were curious. But we knew they didn't dare halt the backbreaking rhythm. Inside the barn, two boys dripping sweat took turns feeding canes into a crunching machine that sent sparks and wild flames into the air. One boy, we noticed, had lost an eye. A pretty teenager swept away the residue at the other end. Her complexion was pocked from burns.
We had little to say as we walked away, and felt but a moment of cheer when the little girl peeked out of the jungle for a picture. Long after we reboarded Song Saigon, my mind fumbled with images of my own three sons grappling with academics and social affairs.
The sun began its descent, turning golden, marking rush hour on the Mekong Delta. Hundreds of long boats carried workers across. Whistling and hooting, they waved cheerfully. Dark clouds rolled in, unleashing torrents of rain just as we descended to the skiffs. Back at My Tho, high tides reached the sea wall where we crossed wooden planks to shore.