Tasmanian Revels
All is peaceful in Australia's civilized state, except for the devils
Text and photos by Toby Saltzman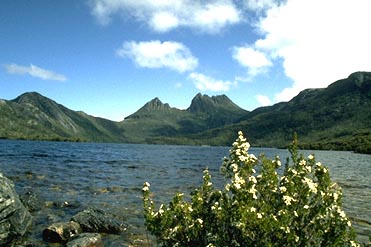 Cradle Mountain
It was pitch dark at 9:30 P.M. and the black devils were shrieking. Sharp claws scratched wood, sending shudders down our spines. Daggered fangs gnashed at the air. Eyes like flashlights pierced the dark in roving circles as the vicious, bristly marsupials asserted their territorial rights over the feeding platform. But they didn't scare the brush-tailed possums, exotic quolls, rare tiger cats and wallabies that joined the feeding frenzy with a "devil-may-care" nonchalance. The Tasmanian devils snatched their morsels, then immediately tore away, their wild corkscrew screeches invading the night.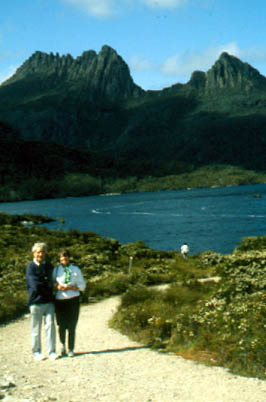 Hiking to Dove Lake
in Cradle Mountain
I was standing on a balcony in the heights of Tasmania's wilderness, delighted by the nightly entertainment - a feeding ritual for the local nocturnal beasties. A spotted tiger cat jumped to my side. He looked tame, smiling through his thick snout until he smacked his lips and yawned, revealing sharply pointed fangs.
"Don't offer your fingers," warned Alex, the resident naturalist of Cradle Mountain Lodge. "He's a carnivorous marsupial, much more dangerous than the devil, who eats only carrion. He'll bite." Warily, the Lodge's guests watched until the last animal slunk away. Then we followed the stars to the romantic seclusion of our private pinewood cabins set deep in the eucalyptus bush.
It had been a stunning day, full of scenic surprises in this unique land. Larger than it seems on the map, Tasmania is an island off the southern tip of Australia whose vast landscape varies as much as its weather. The minute we landed in Launceston after flying over Bass Strait, we felt an insular sense of space - a quieter, self-contained existence completely separated from Australia and the rest of the world.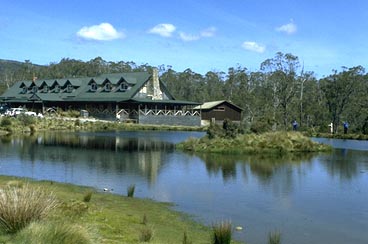 Cradle Mountain Lodge
En route to the lodge, we gassed-up in Sheffield, a quiet village at the base of Roland Mountain. Murals painted on the walls of its old brick buildings proudly testify of a generation of pioneers that settled to cultivate farmland in the middle of nowhere, when Tasmania's murky history was clouded by a rough and rowdy penal population.
It was suddenly hot. A young Sydney girl stopped at the town's only bench to shed layers of clothes, shoving them into her backpack. She was hiking the island on her summer vacation, knocking on farmhouse doors, bartering odd jobs for room and board, and wasn't the least bit apprehensive about her solitary sojourn: "Why should I be afraid? Tasmania's a tame place. Only the mountains and forests are wild. Aussies know that. The rest of the world expects to see crazy criminals…they're always surprised."
University student feels safe
backpacking through Sheffield
Indeed, Tasmanians typically have a gentle face that reflects a soul bred in comfortable isolation from mainland problems and nurtured by surrounding beauty. There's no Crocodile Dundee jungle arrogance, but rather, they have adopted a British "tea and scones" manner. Their articulate, soft-spoken English and genuine hospitality is evident in conversations with cheery residents and helpful shopkeepers and in the gracious service in hotels and restaurants.
After booking in at the Lodge, we breathlessly climbed a hairpin trail to the summit, smitten by instant changes of view - cliffs of jagged stone one moment and mammoth manfern forests the next. Just as we got used to the scenic ping-pong, we reached a plateau. The earthy colors laid out below us were striking and enormous green pom-poms - puffs of buttongrass - stretched for miles towards erratic ranges of craggy mountains.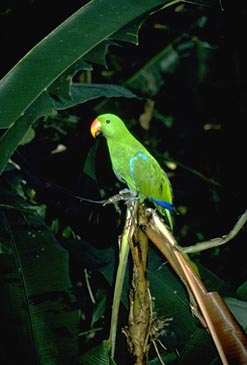 Brilliant larakeet

Ahead, rising from the thicket of alpine flowers and exotic grasses that surround the crystal waters of Dove Lake, loomed the spectacular tooth-edged majesty of Cradle Mountain. We hiked down to a shingled fishing hut perched at the edge of the lake, stooping to slurp handfuls of deliciously pure water, exhilarated by the fresh, mountain-crisp air.

"Take only photographs. Leave only footprints." Our guide seriously dictated the ruses as we approached the rainforest. The Cradle Mountain region, considered by the World Heritage Commission to be one of the planet's most precious places, is an undisturbed sample of the earth's ancient evolutionary history. Land formations over a million years old are the natural habitat of nearly extinct wildlife. Anthropologists study the history documented in primitive aboriginal carvings on cave walls.

Quietly, we followed a woodplank path, erected to protect rare coral grasses. It led us through exotic forests of pepper trees, fat cider gums and skinny pencil pines to a spectacular waterfall.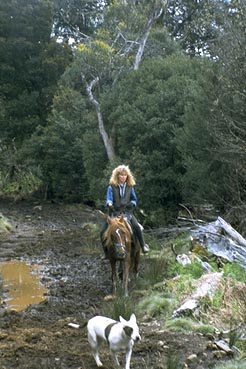 Horse-back riding through
Tasmania's primeval rainforest
The following morning, I chose a solitary route, heading for a sign pointing into the wilderness marked "The Enchanted Walk". It was a bowered fantasy - a glistening, velvety green, Hansel and Gretel Fairytale setting. Gnarled, moss-covered myrtle trees and giant flowering regnans shaded a riverside path where delicate streams of sunlight filtered through a jungle of leaves. I meandered at whim in the hush of this dewy paradise, deeply inhaling the perfume of the rainforest's lush vegetation. Resting against a fallen trunk, amid lichens and tiny flowers, I nestled my daydreaming head on some soft, spongy cushion plants, serenaded gently by the music of cockatoos.
A shouted command broke the magic. "Thumb at your bum, mate!" Not until I heard Vanessa, the lodge's abseiling expert, did I realize I was lost. Chasing her voice, I scrambled under heavy boughs and over fallen branches, sliding on slippery leaves and stubbing my toes, until I reached a clearing. And there was my friend, Jim, dangling like a spider from a thread, face to face with a basalt cliff.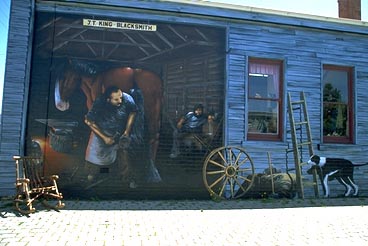 Murals painted on the buildings of Sheffield depict the lives of the early settlers of Tasmania
"Put your feet up! Wrap that rope around your thumb! Put your thumb at your bum!" Jim maneuvered his body until he reached the proper position in a mid-air seat with his feet solid against the cliff, one hand bracing the rope behind his rear, the other supporting his harness in front. Then he sashayed a spider's course of nimble toeholds down to the ground. Later that night, Jim bragged, "Its easy. Just sit in the air and step your way down." Yah, right.
We were relaxing before a fire in the dining room's stone hearth, sipping delicious Tasmanian wines. Mellowed by the wine, we reveled in our delights of the day - mesmerized by the infant beauty of the rainforest, the rugged strength of the mountains, the flippancy of flowers that dare to grow in rocky crevices, and the clean, fresh waters that flow freely in this eccentric landscape. We had been touched by the joy, the wild yet gentle beauty of Tasmania.
Details:
Tasmania website: www.tourism.tas.gov.au Contact Cradle Mountain Lodge, PO Box 153, Sheffield Tasmania 7306
Phone: 03-6492-1303
Fax: 03-6492-1309
Toll free phone within Australia: 1-800-737-678