Wandering Lonely as a Cloud
Wayfarers show you the best of Britain on foot
Text and photos by Toby Saltzman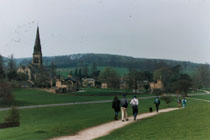 Our plan for the day was inspired
by simple pleasures. Take a
good walk in Chatsworth Park.
It was a day for the birds. They came to tease, to frolic alongside and flaunt their glorious colors. They let us listen but not touch, look but rarely photograph. Gorgeous pheasants, blazing with the colors of fall, pecked at our boots before we could focus our cameras. Ruffed grouse, mottled in camouflaging hues, clucked for attention and fled. Wild ducks played in the river's current, then with wings stretched skyward, sailed to private retreats. Only Buff Cochin Cockerell, parading a red wattle headgear and feathery spats on her feet, let us approach. She was obviously cocky about being the favorite hen of Deborah Cavendish, Duchess of Devonshire, and was accustomed to courting the public as Queen Hen of Chatsworth, the Cavendish domain.
It was a typical English day in the East Midlands, the kind that could be either in spring or autumn. The sun evaporated the dawn mist to reveal a brilliant morning. Rapid clouds shadowed the sky and the air was invigorating - nippy but not cold.
Our plan for the day was basic, inspired by simple pleasures. Take a good walk in Chatsworth Park. Visit the gardens. Hike into the woods. Stop along the way to inhale the scenery.
Decked out in sturdy shoes and light jackets, we followed Christopher and Basil, our Wayfarers guides, into the same rural beauty that had inspired the hearts of writers and poets for centuries.
The Gardens at Chatsworth, comprising 42 hectares of rural landscape, reflect the typically English passion for embellishing their countryside. The grandeur is civilized, the scale magnificent, yet the whole seems effortless in its structure and built for human enjoyment. You may walk on the grass, caress beechnut leaves and toss pebbles in the stream. The gardens exist solely to enhance your day, a lovely gift from the Duke and Duchess of Devonshire.
We peered into the greenhouse and spotted rare buds, then climbed terraced steps to gaze out on an intricate maze of yews. Strolling in the company of wild birds and rabbits, we passed pretty waterfalls and flowing streams. We stepped over picturesque bridges and followed the banks of the River Derwent, stopping in hushed amazement to enjoy the intimate sensuality of a deer nuzzling her fawn, and in the distance, the sheep that dotted distant pastures like puffs of cotton. We slipped through metal "kissing gates" and hopped the "sunk" fences tucked into the little slopes between properties.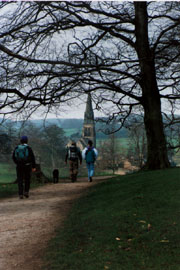 Hiking to the village of Edensor

Chatsworth Estate encompasses several towns and villages that appeared as we mounted a hill or rounded a bend into a valley. Little Edensor is the quintessential English village; we could discern the district's literary past in her quaint honey limestone cottages, her spired church silhouetted against a gentle pastoral sky, her little cemetery of ancient gravestones floating in a sea of daffodils.

Just as we neared the historic pub at Beeley Village, a pheasant who had teased us with peek-a-boo antics all morning dashed headfirst into the pub's stone fence, broke her neck and lay still for good. We were horrified, but Basil was thrilled. He scooped up the bird and chuckled with glee: "Lucky for me, you silly bird. You'll be my special dinner tonight." The weathered sign outside Beeley's pub said "Theaksons Own Peculiar Brew." We were ready for a bit of sustenance - a bowl of hot soup and a soothing draught. In the beamed and stuccoed intimacy of this charming old place, we shared good cheer and warmed our bones with Theaksons Own and savory, stick-to-your-ribs comfort food before heading out for our afternoon jaunt.

We continued to walk at a steady yet leisurely pace, about three kilometres per hour, reminiscing about high school poetry and learning a little North Country English along the way. We passed "becks" (little brooks) and "berns" (smaller streams) that traversed wooded "dales" or "vales" (small valleys) where tufts of wildflowers and long grasses bordered ribbons of rushing water.

We ambled down to Rowsley to see the mill town which was now an artists' haven. Later we shared aromatic tea and delicious Bakewell tarts at the Randolph Hotel after negotiating forest paths along the River Wye to Bakewell. By then we had walked enough - a minibus awaited to drive us to our rooms at The Cavendish Hotel.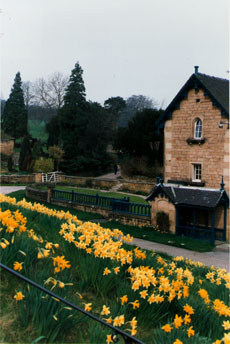 Picturesque village of Edensor
An inn for over 200 years under the jurisdiction of the Chatsworth Estate, The Cavendish is a superb little hotel. Impeccable, proper, all chintz and antiques and priceless Victorian art, it epitomizes elegant English country life without - thank goodness - any trace of nouveau pretension.
The Cavendish is blessed with Nick Buckingham's culinary talents. One of Britain's celebrated chefs, his culinary artistry dazzles the eye and leaves an indelible imprint on the palate. Nick convinced me to try the venison from the Earl of Spencer's farm - the late Princess Diana's father - and it was delicious: robust, woody, yet melt-in-your-mouth tender.
Next morning, we returned to Chatsworth, the Duchess' mansion, which is now open to the public like so many great English houses to help offset the exorbitant property and inheritance taxes. We sensed no arrogance here, when the Duke and Duchess descended the grand staircase to greet us, just a loving concern for the land and its denizens. The only haughty being around, in fact, was Buff Cochin Cockerell, Queen Hen of the Chatsworth Estate.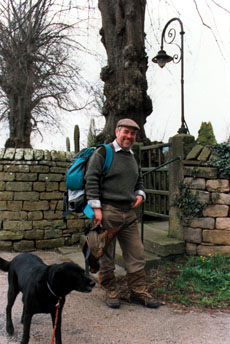 Wayfarers guides lead you into the same rural beauty that has inspired the hearts of
writers and poets for centuries.
Visiting the East Midlands:
Admission to Chatsworth Park is free. There is a small charge to visit the estate castle. The Cavendish Hotel, which has garnered Britain's to "5 Crown" rating, sits on the Chatsworth Estate in the heart of Peak District National Park. It is renowned for excellent cuisine, as well as guided fly-fishing and walking tours.
For details, contact: The Cavendish, Baslow, Derbyshire DE4 1SP England.
Phone: 011-44-1246-582311
Fax: 011-44-1246-582312
The Wayfarers' inn-to-inn tours have earned an admirable reputation. Besides Derbyshire, they conduct rambles in the Cotswolds, Somerset, the Lake District, Wales, the Scottish Borders, Cornwall and the Yorkshire Dales. A Wayfarer tour covers about 16 km, some 5 to 8 miles, a day at a leisurely pace and features a friendly "rescue" wagon close by with light snacks and a cheery lift up a steep hill when you need it. For details call: 1-800-249-4620 British Tourist Authority Website: www.visitbritain.com