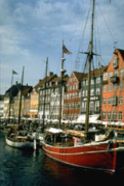 Copenhagen's Nyhaven Street is filled with
cafes and bistros.
Scandinavia's Cool Capitals
A smorgasbord of cool capitals awaits you in northern Europe
Text and photos by Toby Saltzman
Many travelers are reluctant to visit Scandinavia for the simple reason of its reputation. Ask anyone who has never been to this northern neck of the world, and you're sure to hear of glum and gloomy cities deprived of sunshine and culture.
But speak with those who know any of the four Scandinavian countries, and they're sure to clarify this misconception. Yes it's true: There's not much light to speak of in winter. Yet, during the crisp cold months, spectacular late-night Northern Lights brighten up the skies like a magical fire. And in summer, the sunlight lingers easily until midnight.
Contrary to another stereotype, Scandinavians are far from dull. Their capital cities may be impeccably neat, but take a closer look and you'll see a polite northern reserve expressing itself in avant-garde architecture, cutting edge design and vibrant arts - not to mention a busy, rolling jazz scene. If anything, we found Scandinavians have plenty to boast about, although on our first trip we were somewhat taken aback by their sense of inferiority. Never mind that their capital cities hug stunning harbors, spread across picturesque canals, or have quirky juxtapositions of medieval and modern architecture. Every tour guide we met spoke in metaphors, as if to elevate their city to a worthier status: Welcome to Copenhagen, Venice of the North. Welcome to Stockholm, Venice of the North. Welcome to Helsinki, Daughter of the Baltic. Welcome to Oslo, Medal of God.
To be true, "Oslo" does translate to its moniker. But all the capitals merit accolades without comparisons. Three boast distinctions as "European Cultural Capital" of the year - Copenhagen in 1996, Stockholm in 1998, Helsinki for the year 2000 - and Oslo, marking its 1000th birthday in 2000, will celebrate year round.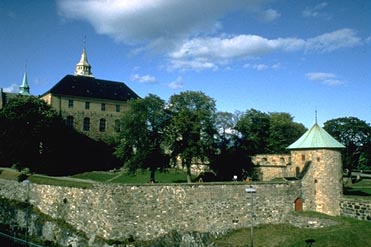 Akershus Castle guards the crest
of the fiord leading to Oslo.
Scandinavia is a smorgasbord of regional delights. Each capital has a unique culture, a calendar brimming with festivals, and its own exhilarating style of sauna, not to mention aquavit, herring, vodka, smoked reindeer and schnapps. As for gastronomy, there's more to Scandinavian cuisine than meatballs.
The sea is intrinsic to Scandinavian character and, indeed, tourism. The majority of North Americans - unless they attend conferences - arrive by cruise ship. Meeting delegates often extend trips, hopping planes for a few days in each capital.
Whichever way you arrive, knowing a little history will enhance your trip immeasurably. Centuries ago, the North and Baltic Seas were wild horizons where Vikings waged battles with sails unfurled from towering masts. Tales of valiant warriors wove enduring tapestries of romance. Over time, they carved domains spanning from strategic ports on the Baltic Sea north toward the Arctic Circle. Over time, the battle-scarred history of medieval and modern Europe was reflected in countless castles, strongholds and fortresses in Denmark, Norway, Sweden and Finland. Around 1070, shrewd Norsemen would chug large quantities of schnapps around blazing fire pits while masterminding a plot to control the world (flat as they imagined it then) with a trade union dubbed the Hanseatic League. The world's proven round since then. The League is long gone. The countries exist in harmony. Vikings rule the Baltic Sea in spirit alone. And visitors are more likely to be seen sipping schnapps or aquavit at an outdoor café - or quite possibly enjoying a glass of champagne in the hallowed Nobel Prize hall.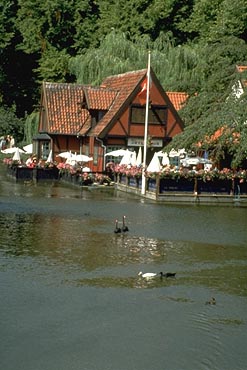 This pretty lakeside restaurant is a highlight of Copenhagen's Tivoli Gardens.

It's moot whether Scandinavians invented awards. What's certain is that they have brainy reputations, if only because they dedicate the award of every scientist's or intellectual's dreams. And for some, just the heady thrill of standing on that Nobel podium makes the entire trip more than worthwhile.

COPENHAGEN
Straddling picturesque canals, the capital of the kingdom of Denmark is a bit of a fantasy land - from the bronze statues of the Little Mermaid in the harbor and Hans Christian Andersen in the city square to the magical rides and illusions of the Tivoli Gardens. Built in 1833, this amusement park - a medley of merry-go-rounds, roller coasters, whimsical buildings, pubs and bistros scattered around a lake inhabited by white and black swans - is an enchanting place to rendezvous for a mid-day aquavit and matjes herring or late-night dinner followed by dazzling fireworks. The colorful medieval warehouses fringing Nyhavn Canal, once a rough sailors' quarter, today house cafes and jazz clubs that overlook flotillas of tour boats by day and swing-till-dawn jazz by night.

Stroll the Stroget - a string of pedestrian streets that form a shopping promenade - during an outdoor music festival and you'll see that Danes live to laugh outdoors. Even the guards outside the Royal Amalienborg Palace, home of the Royal Family since 1794, crack grins as you approach.

Copenhagen is quite serious, though, when it comes to art. No wonder - the city is home to some excellent galleries. While the new, contemporary Luisiana Museum of Modern Art deserves all its rave reviews, we personally loved the Ny Carlsberg Glyptotek, which mixes classical sculptures with some of the world's most beautiful Impressionist art. While there, be sure to visit its superb new French Gallery, which owns one of three existing complete series of Degas Bronzes.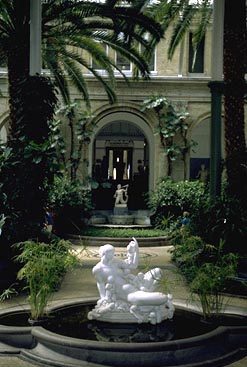 Copenhagen's Ny Glyptotek Gallery
features exquisite art including one
of the world's rare complete
collections of works by Degas.
Dream excursions from Copenhagen:
A day trip to Elsinore Castle, where Shakespeare's Hamlet brooded whether "to be or not to be", will bring you through Denmark's verdant countryside and quaint villages. It's easy to reach by car on your own, but guided tours are offered as well.
STOCKHOLM
Stockholm is more beautiful than ever. To its credit, in spite of the tenets of Swedish modern, nothing blemishes the architectural integrity of its medieval core or the harbor lined with quaint buildings in ochre and rust brick. Spanning 14 islands linked by bridges, the city's medieval heart is Gamla Stan, situated where the Baltic Sea meets blue Lake Malaren. A UNESCO World Heritage site, Gamla Stan straddles four tiny islands dominated by Kungliga Slottet, Sweden's baroque Royal Palace.
It's delightful to explore Gamla Stan's treasury of narrow buildings on winding, cobbled lanes whose boutiques, galleries and intimate konditoris (cafes) bustle with people on fikapaus (coffee breaks). Copertino's - a restaurant buzzing with locals stopping in for take-out meals to munch as they walk - served me a delicious tuna salad topped with sweet white asparagus and tea in a glass, and my husband a sandwich thick with gravlax and a robust beer. While strolling past a troll store, where a woman was busy crafting these peculiar dolls, we followed a seductive scent to the waffle maker, and left licking monster ice creams.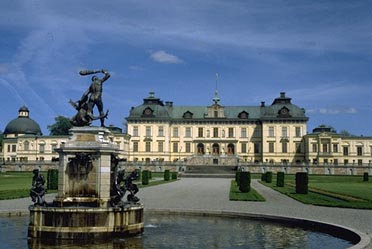 Drottningholm Palace outside of Stockholm is a
UNESCO World Heritage Site.
Stockholm is home to 70 theatres, including the ornate Royal Opera House, and 55 museums, the most notable being the new $56 million Moderna Museet designed by Spanish architect Rafael Moneo to house avant-garde art. For a real Swedish treat, try the smorgasbord at the Museet's café, overlooking the beautiful cityscape, or at the Grand Hotel, which looks out onto the lake. Lovers of Viking lore will adore the Titanic of Viking vessels: the Vasa, the world's oldest identified ship, which sank on its 1628 maiden voyage before leaving the harbor. We spent a gorgeous day sailing to Drottningholm Palace on a local ferry. Holding court on manicured grounds reminiscent of the Palace of Versailles and decorated with priceless antiques, the Royal Family's 17th century, baroque-rococo estate deserves its World Heritage decree. Before leaving Drottningholm, we stopped in at a lakeside bistro for a lovely salad and fish lunch. By now, we realized it was more fun and economical to make lunch our main meal and dinner a light snack.
Dream excursion from Stockholm: Sunrise over Sweden's archipelago of 30,000 craggy islands and narrow fiords is spectacular. For a delightful tour, take an early morning boat excursion around the little isles and rocky skerries. You'll step onto quaint islands where fishing harbors and winding streets look like they're still in the 19th century.
For current details, its best to get information from your hotel concierge or from Sweden House in Stockholm (27 Hamngatan; tel: 46-8-789-24-25, fax: 46-8-789-24-91).
For extended archipelago tours, contact Special Expeditions (720 Fifth Avenue, New York, NY 10019; tel: 212-765-7740, fax: 212-265-3770).
HELSINKI
Approaching Europe's' northernmost capital by sea, past a military fortress that thwarted Russian invasions, we could see the waterfront Kauppatori market bustling with vendors hustling produce, fish and handicrafts. Impeccably designed in the neo-classical style in the early 1800s, Helsinki is a stroller's delight. The pastel President's Palace, the brilliant white "wedding cake" Lutheran Cathedral, and the ornate Uspensky Cathedral lead to a gracious tree-lined esplanade bordered by shops chock-full of woolly Finnish sweaters, bright Marimekko fashions, Lapponia jewelry, or ripply Alvar Aalto vases. We couldn't resist sitting under a shady umbrella at the Esplanadi's famous Kappeli Cafe for smoked reindeer sandwiches on crusty bread.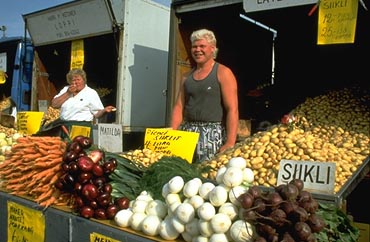 Helsinki's waterfront Kauppatori
market bustles with vendors.

A trail of gardens leads to the stunning Opera House, the Anteneum (Finland's finest art gallery), and the controversial new Museum of Contemporary Art Kiasma. Designed by American architect, Steven Holl, this weird and wonderful structure of odd angles and curves and windows that create spectacular shades of light and shadows houses some curious art. Taking in the building's profile, we couldn't decide if it looks more like a berthed ship or a child's rendition of a one-dimensional airplane.

It was easier to grasp how the 250-year old Suomenlinna Island fortress, a World Heritage Site could have figured during the Crimean War as "the Gibraltar of the North." Finns, who are also some of the world's top architects, love to praise or deprecate important structures. We were surprised by the masses drawn to the famous Rock Church (a boring semi-submerged building), and the Sibelius monument (in spite of its tribute to the classical musical icon). We personally preferred to meander around Seurasaari Island among the indigenous log houses and grass-roofed wooden shacks culled from Finland's remote rural areas. A stop in at the Hvittrask studio home of architect Saarinen-Gesellius-Lindgren to see quintessential Scandinavian furniture and art was a real treat.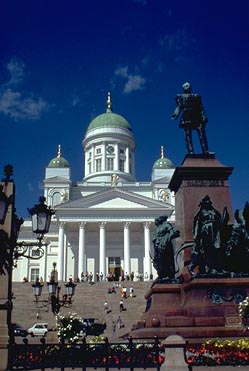 Helsinki's "Wedding Cake"
Lutheran Cathedral

Dream excursion from Helsinki: If you've got a few days, by far the most sensational excursion from Helsinki is to Rovaniemi and Lapland. But for a lovely day trip, take the high-speed train (one and a half-hours west) to Turku, Finland's oldest city.

OSLO
Oslo, Norway commands the crest of a deep fiord surrounded by lush wooded hills. The historic 17th-century Akershus Castle guarding Oslo harbor evokes fairy-tale visions of Viking conquests and seaside romance. A gracious home for Royalty, it houses on its grounds the Resistance Museum, a poignant memorial to Norway's spirit of survival in wartimes past. When Oslo celebrates its 1000th birthday in this year 2000, Akershus Castle will be a hub of cultural celebrations.

After viewing the city's murals and sculptures portraying Norwegian valor with a patriotic guide, we sensed that people here truly view their city as a "Medal of God." Oslo may be famed for being "the land of the midnight sun" and having the world's highest ski jump on a mountain overrun by mythical trolls, but it also boasts a noteworthy arts and culture scene. The National Gallery houses excellent works. Frogner Park, scattered with 192 of Gustav Vigeland's massive granite and bronze sculptures depicting mankind in all stages of love, joy and sadness, comprises the world's biggest one-man show.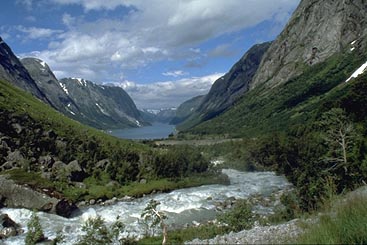 Journey inland to the spectacular
mountains and rivers of Norway.
Dream excursion from Oslo: If you've got a few days, by far the most glorious voyage is to cruise the picturesque fiords of Norway, stopping en route in Bergen, the medieval home of the Hanseatic League, and 10th-century Trondheim, the country's capital during the Viking period. If you prefer exploring by land, take the train or join an overland expedition to the gorgeous glacial countryside, where you can hike or try fly-fishing under a waterfall. If you ski, Oslo itself is ringed by 1500 ski trails, usually with snow year round.
SCANDINAVIA'S DREAMIEST EXCURSION OF ALL
For a dream trip of a lifetime, take a couple of days to venture north of the Arctic Circle to visit Rovaniemi and the breathtaking frontier of Finnish Lapland. This is considered "the last wilderness of Europe." Here you'll find an astonishingly different world, where reindeer, not Vikings, shaped peoples' destinies. Lapland is where we experienced one of the most thrilling nights in my travelling career.
In the chilling darkness of a September night, we drove through the wilderness to a clearing where a Sami reindeer farmer and his wife had warmed up their tent with a roaring fire and lined benches around it covered with fluffy reindeer skins. After a scrumptious dinner of grilled salmon chased down with an intoxicating cloudberry liqueur, we donned thermal snowsuits and went outside to lie on the ground just as the Aurora Borealis began to shoot neon lights across the sky. Breathtaking!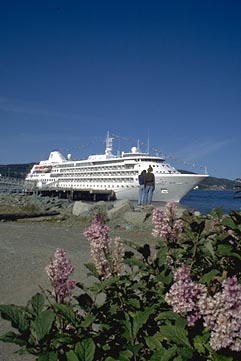 Visit all the Scandinavian Capitals
on a cruise of the Baltic Sea.
This dream excursion included a visit to the indigenous Sami reindeer farmers, sharing meals in their wooden tepees, canoeing on pristine rivers, hiking through untouched wilderness on jagged terrain reminiscent of Canada's Cambrian Shield, and dog-sledding with teams of fleet-footed Siberian huskies, as well as ice fishing and golfing under the midnight sun. And if you're a child at heart, you can sit on Santa's lap in his home right on the Arctic Circle.
Oslo and Stockholm offer flight access to various parts of Lapland, but the territory north of Finland offers the best tourist infrastructure. Tours to Lapland are easily arranged at local tour offices in the capital cities, or in advance by contacting the Finnish Tourist Board.
SCANDINAVIAN SOURCES
Swedish Travel & Tourism Council:
Phone: 212-949-2333, Fax: 212-697-0835 Stockholm website: www.stoinfo.se
Norwegian Tourist Board:
Phone: 212-949-2333, Fax: 212-983-5260
Danish tourist Board:
Phone: 212-949-2326, Fax: 212-983-5260
Finnish Tourist Board:
Canada:
Phone: 416-964-9159, Fax: 416-964-1524
USA:
Phone: 212-370-5540, Fax: 212-983-5260
SIGHTSEEING
Each Scandinavian capital offers economical "tourist cards" good for unlimited bus and train travel, admission to museums and attractions, and discounts on tours, canal or ferry rides, and rental cars. Call the tourist offices for packages that combine discounts on air and accommodations. Check with your travel agent for information on renting a car in advance for a lengthy trip: it may be cheaper to do so in Canada or the USA prior to departure.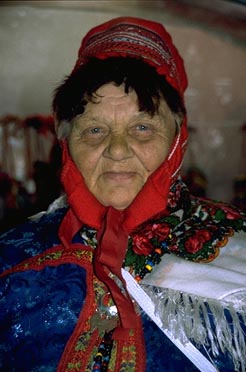 A Sami woman in Lapland.
SCANDINAVIAN CRUISES
Guarded by fortresses and castles, Scandinavian ports are beautiful to approach by sea. Stockholm has been ranked as one of the world's most beautiful ports. Cruise lines offering a variety of Norwegian fiord and Baltic Sea cruises lasting from seven to 14 nights during June, July or August include: Celebrity, Crystal, Holland America, Princess, Royal Caribbean International, Radisson Seven Seas, Renaissance, Seabourn, Silverseas and Windstar.
Bergen Line's Norwegian Coastal Express plies the fiords at affordable rates, offering both cruise-only tours and air / sea/ hotel packages leaving from New York. You can expect a folksy mix of international passengers.
Phone: 800-323-7436 / 212-319-1300
Fax: 212-319-1390
Baltic Silja Line offers overnight cruises between Stockholm and Helsinki. Phone: 416-222-7206
WEATHER
Just because Oslo, Stockholm and Helsinki share the same latitude as Anchorage, Alaska (Copenhagen is slightly south), don't assume that Scandinavia is always frigid. Warmed by trade winds, the region has a temperate climate with four distinct seasons. Summer days, endless during the season of midnight sun, can be hot; spring and fall are crisp and fresh; winters are cold.
And, of course, the farther north you go…..