African Safari
Thirteen-year-old Alexandra Sherman calls her family's safari
to East Africa "a life changing experience."
From the moment we stepped off the plane into the warm air of Nairobi, the capital city of Kenya, I knew that this trip was going to be very special. First off, the airport was very different from any that I'd ever seen on previous journeys with my family. The airport was wide open with no closed-in walls. Outside the airport, there were barely any buildings or large factories. The surrounding landscape stretched into endless open savannas. For one split second, I was reminded of the beauty and cleanliness of Canada. At the same time, as I looked around, I could appreciate the fact that this country is not industrialized. Kenya is a naturally beautiful place.
The weather remained beautiful during our two-week tour of Eastern Africa. It did not rain or turn chilly once.
Our tour included two countries: Kenya and Tanzania. Each and every day turned out more interesting and exciting than the one before. For two weeks, I spent every day touring. Most days were spent in jeeps, tracking and observing animals. I saw so many animals that I never even knew existed. We saw many lions, some eating their prey. When I saw a pride of lions eating a buffalo, I was amazed. I realized that I was seeing the actual lifestyle of the animals. I must admit that I was a bit frightened that maybe the lions could still be hungry enough to attack us.
We saw elephants, giraffes, cheetahs, hippos, zebras, warthogs, monkeys and many more. We saw animals living free and wild. Most animals were sleeping or lying in the sun. Some were running in herds, hunting or eating.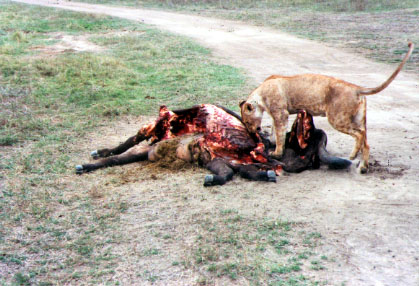 We saw many lions, some eating their prey.
Photo by Alexandra Sherman

One afternoon, when we were riding through the middle of a forest, our jeep accidentally got stuck in a deep ditch at the side of the road. My family and I all found it humiliating, yet very frightening when we realized that there was a leopard prowling around us. I mean: How often is it that you get stuck in a ditch with a leopard staring at you? Finally, after the driver shifted back and forth, into drive and reverse many times, we managed to get out.

One day, my family and I decided to go up in a hot air balloon. From high above, we saw many large animals that looked like tiny toys. Being so high up, I felt like I could reach out and hold a cloud in the palm of my hand. I knew that this opportunity was not offered to many people. So I savored every moment of it. When the balloon landed, we were informed that we were being given an opportunity to eat lunch in the middle of a savanna. Of course, we agreed. We traveled by jeep to a place where there was a long, narrow table surrounded by tall grass on all four sides. We all sat on the ground, eating all different sorts of African foods, and enjoying the beautiful harmony of the scenery around us. I remember being afraid that, at any moment, a lion might appear and attack us. I reassured myself, when I saw the two men, with spears in both hands, standing at opposite sides of the table.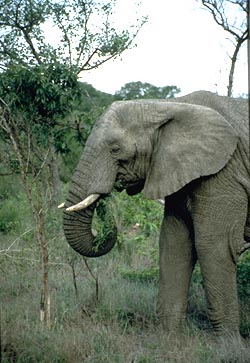 Later on, we decided to visit an African village. We arrived in the middle of a savanna at a tiny village. The ground all around this village was pure dung. There were little huts made out of straw and dung. There was absolutely no furniture inside the huts. I remember seeing a small child with flies all over his face. They were in his eyes and all over his body. I wanted to help him and push away the flies. But he didn't seem to care. I realized that everything that these people have is only for means of survival. The laws of these people are far different from Canadian laws. Here the men have about seven wives, and the men move from hut to hut according to the day of the week. I found this arrangement very sexist and uncivilized.
I must say that the two weeks that I spent in Africa with my family are two of the best weeks that I have ever had in my life. I think that everyone should have the opportunity to explore places that interest him or her. Travelling can be a wonderful experience, unlike any other.