Meetings that Move
Looking to shake up your next meeting or incentive program?
Using trains and cruiselines as venues can turn a static event
into a moving experience.
By Toby Saltzman
Creative meeting and event planners looking for a change of scenery from conventional meeting venues are romancing the glories of Canada by rails and sails. Along the way, while dazzling their clients with the poetry-in-motion of the country's vast beauty, they're reaching the goals that enhance their client's cultures and create lasting memories.
By Land - Meetings on the Rails
When Charmane Morrow was planning a customer appreciation program for the upper-echelon clients of NCR's computer business solutions' Canadian office based in Toronto, she needed an event that would outshine the typical dinner theatre gala.
With Ontario's Stratford Festival as the venue, Morrow, who is executive assistant to NCR's president and chief executive officer, wanted to make sure NCR's clients were swept away by more than just the actors on the festival stage. So, she orchestrated a moving performance of her own: she chartered VIA Rail's VIA 1 train to whisk the group from Toronto's Union Station to Stratford, Ontario for the musical production.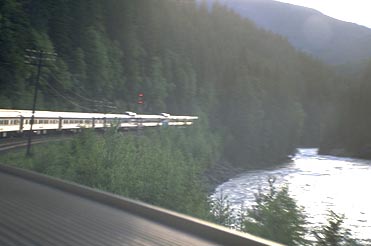 Via Rail's Silver and Blue

The ambience of the train proved to be an excellent starting point for the event. "Our first train-to-theatre event in 1998, which drew a group of 70, was so spectacular that last year we had 160 guests in three private cars," says Morrow. "The evening, which ran from 5 p.m. to 1 a.m., sped by with VIA 1's excellent, non-stop service that started with drinks as the train pulled out."

Dinner en route to Stratford included hors d'oeuvres, surf 'n turf, fresh berries with cream, plus special dishes for vegetarians. Returning after the show, guests were treated to decadent desserts, truffles, fruits, cheeses and liqueurs, plus give-away treats including West Side Story CDs and baseball caps in NCR canvas totes.

"The train is a marvelous venue," says Morrow. "It's self-contained and perfect for a captive audience. People can mingle easily from car to car and VIA's staff meet the needs of your meeting or incentive program."

All Aboard
To lure corporate clients, VIA Rail launched its new premier Priva service in January. The product enables planners to create options for groups including organizing a preferred environment within a car, re-arranging seats into quads to promote conversation, wiring cars for sound, speeches or music, creating a dance floor, personalizing meals and erecting kiosks at main and secondary stations with company logos. Priva features a range of customized services on both first-class VIA 1 and economy cars riding the Windsor-to-Quebec City corridor, says Beverly LeBlanc, VIA's product development manager. Meeting groups in VIA 1 private cars are offered alcoholic beverages plus fixed menus with salad, three options for hot entrees, dessert, tea or coffee. Groups in economy class are offered beverages and cold foods from a cart or, by previous arrangement, bill purchases to a corporate account.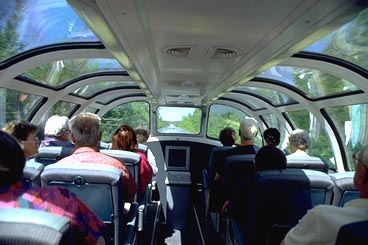 The view of the Rockies is terrific from
The Canadian's panoramic dome car
The new Comfort Plus economy service permits planners to include alcoholic beverages and upgraded meals in their programs. Since economy cars have more seats than VIA 1, LeBlanc says Comfort Plus will be a popular option for large groups up to 600.
Response to the Priva experience has been positive. LeBlanc says one corporate planner recently orchestrated a murder mystery in a private VIA 1 car en route from Toronto to Montreal. The program, aimed to tug marketing executives into cheerful teambuilding spirits, culminated when the winning team solved the "murder."
Another firm booked five economy cars to give clients a family weekend at Ottawa's Winterlude festival. En route, between antics by roving clowns, adults dined on upgraded menus featuring surf'n turf, while the youngsters ate kiddies' favorites. To ease hassle-free arrivals in Ottawa, the families were ushered to private kiosks for a welcome reception.
Train trips in the southern Ontario corridor aren't the only meeting or event options. Cross-country or regional western trains can effectively be used by groups. "Via Rail recently conducted our entire marketing conference en route from Winnipeg to Jasper," says LeBlanc. "With the Rocky Mountain backdrop and gourmet lunch in the dining car, the group never felt brain-drained," she says.
Via's Priva service will soon include a meetings on wheels environment with a technically equipped audio-visual car. Theme trains to the Stratford Festival and a wine-tasting train to Niagara Falls and Niagara wine region are also in the works.
Northern Perspective
For planners seeking to add a sense of wilderness drama to their programs, Ontario's Agawa Canyon Tour Train is worth a look. The train runs 114 miles north from Sault Ste. Marie, Ontario, to the scenic Agawa Canyon Wilderness Park. It is ideal for short one- or two-day programs. It features two domed cars, suitable for groups up to 40 in one car or 80 in two.
The train is part of the Algoma Central Railway that runs year-round to the French-Canadian lumber town of Hearst. From June to October, groups on the Agawa Canyon Tour Train can witness the pristine lakes, rivers and verdant forests of the rugged Canadian Shield. In winter, when it is dubbed the "snow train," the rocks and snow-covered trees glisten like ice sculptures in the sun.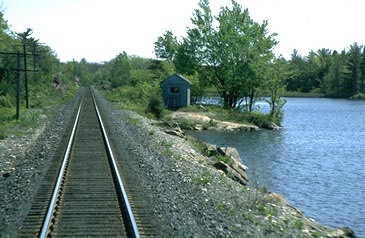 Via Rail makes tracks through
Canada's vast countryside
The train's Private Car Agawa, built in 1913 and recently refurbished to a gleaming vintage state in rich mahogany, has attracted corporate groups from Canadian Airlines, St. Mary's Paper, Edison Sault Electric Company and the Ontario Ministry of Tourism, says Michael Morrow, manager of passenger marketing.
"Everyone's excitement mounts when the cell phones fly from range," he says. "Groups conduct business casually in the lounge area or formally around the dining table with TVs, VCRs and flip charts."
Typically, the Agawa's private steward serves breakfast at 8 a.m. as the train rolls out of Sault Ste. Marie. By 11:30 a.m., groups are trekking to waterfalls and scenic lookouts. As the train departs at 1:30 p.m., they dine on filet mignon, lamb or fresh trout and sip alcoholic or non-alcoholic drinks.
More adventurous groups can ride the entire 296-mile trip to view the Boreal Forests of Ontario's great clay belt and overnight in Hearst. Depending on the group's interests in this two- or three-day trip, Morrow will arrange fishing trips or wilderness hikes.
Western Frontier
Meetings on rails aren't limited to Ontario or eastern Canada. When Rolph Alden, vice-president and general manager of Vancouver-based General Paint Ltd. planned a strategic planning session for his executive managers, he sought a venue outside of a hotel setting. His only stipulation was that it had to be conducive to intense working sessions, but be relaxing when the six-member group needed to unwind.
"The Rocky Mountaineer's private Parlor Car suited our business perfectly," says Alden, describing the scenic ride from Vancouver and Kamloops, B.C., to Banff. "We achieved our goals, worked diligently for two hours at a time, refreshed with 45-minute scenery breaks in the dome and had scrumptious meals in the dining room." The only train in Canada that traverses the Canadian Rockies in daylight, the Rocky Mountaineer recently added private meeting coaches, two vintage specialty cars, and launched RedLeaf and GoldLeaf Service to the corporate market. The journey runs two days east or west from Vancouver to Calgary, with stops in Jasper or Banff and an overnight in a Kamloops hotel. Groups in the two-level GoldLeaf Dome Coach (which seats 70) are treated to commentaries on history, geology and wildlife of the region. They enjoy gourmet breakfasts and lunches in the dining car (on the Dome's lower level) and dinner in a Kamloops restaurant. Groups in the one-level RedLeaf car view scenery through large picture windows and receive chilled meals at their seats.
With 60 cars on two trains, the Rocky Mountaineer can accommodate groups of 15 to 500. Two specialty cars, which seat up to 40, can be configured in boardroom, cafe or lounge styles with casual seating or dance floors.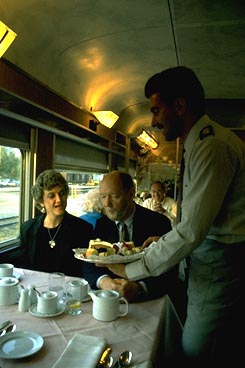 Premier dinner service on the Silver and Blue
The Rocky Mountaineer's corporate client roster includes Molson Breweries, which twice booked a GoldLeaf Dome Coach plus a specialty car for a rolling party across Canada. The Oklahoma-based CITGO Petroleum Corporation booked the entire train, including the Club Car with its dance floor and keyboard player, for an incentive group of 320.
Lure of the Rails
For all their similarities on the visual journey between Vancouver and Calgary, "VIA Rail and the Rocky Mountaineer offer unique appeal," says Tracy Walter, contracting manager for Toronto-based Jonview Canada Inc., an inbound tour operator. Walter has booked train incentives for European groups in pharmaceutical manufacturing, automotive, photocopier and publishing fields. For the Rocky Mountaineer, the lure is the scenic daylight tour. For VIA Rail, the lure of sleeping on the train is part of romancing the rails.
"When helping incentive clients choose a rail experience, it's wise to prepare them to avoid potential letdowns," says Walter. "For example, groups that are accustomed to the luxury of Canadian Pacific's mountain palaces - Chateau Lake Louise or the Banff Springs - could be disappointed by Kamloops hotels, yet not mind VIA's compact cabins. But when they know the tradeoffs for scenery and accommodations in advance, the journey is a joy."
By Sea - Meetings by the Sails
When the Seabourn Pride sailed along the St. Lawrence River toward Toronto last fall, she cast a wave of inspiration onto the North American cruising scene. With one blast of her horn, she announced her arrival as a meetings and incentive venue with panache.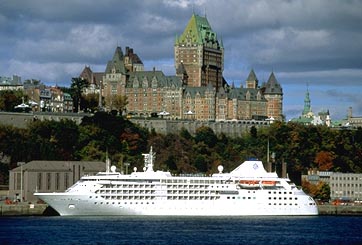 The Silver Cloud in Quebec City
Cruises have proven their tremendous power to motivate, says Anthony Byrons, president of Toronto based incentive house Meridican Incentive Consultants. "Planners in Canada and the U.S. are always searching for new domestic venues, but the company and planner must distinguish between the motivating reward and the corporate function," he says. "The motivational value of any incentive destination is crucial. To cruise in Canada, the company must calculate: Do you motivate employees more by, say, putting them on cruise of the St. Lawrence River in early fall or, say on a Hawaiian beach in winter?"
Other considerations must also enter the equation, Byron says, such as fiscal years, earnings, and timing - cruising in Canada is basically a late spring to early fall incentive. The window is small for domestic market.
Nevertheless, a cruise between Toronto and the East Coast is ideal for conferences, corporate meetings, sales seminars, and product launches, says Byron. "Besides, Canada is gorgeous. The country doesn't take a back seat to any other top notch destination in the world."
With the emergence of cruises to Canada's eastern provinces and along the St. Lawrence, will planners be looking closer to home in the near future? That depends on the company culture, says Jan Loeff, Director of Incentive & Charter Sales for the ultra-luxurious Silversea Cruises based in Fort Lauderdale, Florida. "Corporations typically want to send people where they won't go on their own. With our high per diems, Silversea caters to a narrow market of clients who want exotic history and culture.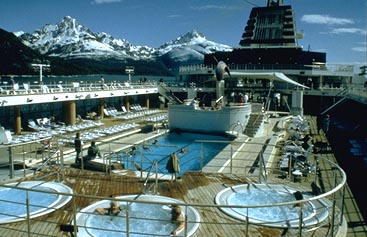 Gorgeous recreation deck on the Celebrity Galaxy
For example, for the three consecutive years, one prominent Canadian automotive company chartered seven-day Silversea Mediterranean cruises. One timber company chartered longer cruises to India and Africa. Such companies hesitate to send guests to the Caribbean, which they consider pedestrian.
"Nevertheless, these [St. Lawrence and eastern U.S. seaboard] cruises are appealing for their brilliant fall foliage and beautiful, safe cities that offer sightseeing, shopping, lots of outdoor activities, and easy air lifts for groups," says Loeff.
But there are certain planning considerations. Loeff describes a tantalizing 11-day itinerary between Montreal and New York that visits, among other American ports, Halifax, Nova Scotia; Charlottetown, PEI; Saint John, New Brunswick; Sydney, Cape Breton Island; Quebec City, and cruises the Saguenay River Fiord.
"Most clients only book seven-day incentive cruises because they don't want top performers away for longer," says Loeff. "Also, since clients often include first- or business-class flights in this deluxe category, the seven-day incentive cruise plus pre- or post-cruise trip makes a superb reward."
Cruise expert Jane Wallbridge, vice-president of meetings and incentive travel at Toronto-based incentive house Carlson Marketing Group Canada, sees good possibilities for planning cruises throughout Canada. "Canadians never see enough of our own country. If companies in Eastern Canada consider the St. Lawrence River too close to home for some participants, it's excellent enticement for inbound American and European travelers."
To date, there have been plenty of queries from planners regarding the ultra-luxurious Seabourn Pride's 12-day "French Canadian Serenade" itinerary between Toronto and New York. En route, the ship, which can accommodate a single group of up to 208, visits Boston, Mss.; Halifax; overnights in Quebec City; cruises the Saguenay River Fiord; visits Montreal; and transits the Ontario locks before arriving in Toronto.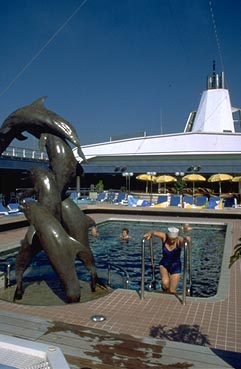 Holland America's Maasdam boasts
a large pool for swimming lengths
Western Fling While the interest in cruises on the Great Lakes and eastern Canada have yet to catch the fancy of most planners, cruises up the British Columbia coast to Alaska are of particular interest. "Alaska is attractive for anyone, Canadians included," says Wallbridge. "We tell clients the Inside Passage is quiet but spectacular, with calm waters, snow-capped mountains."
Roy Grimsland, Vice President of Sales for Radisson Seven Seas Cruises sees a definite trend to exclusive charters of seven-night cruises along Alaska's Inside Passage. Indeed, Radisson's ultra-luxurious 490-passenger Seven Seas Navigator, launched last September, has hosted several multi-national incentive groups from automotive, financial and conglomerate sectors. While the ship has no dedicated conference facility, Grimsland, who frequently works with planners from the Wynford Group, Carlson Marketing, and Maritz, says when the ship is chartered, any space is adaptable. This includes all spaces from the single-seat dining room to the two-tiered show-lounge." The Seven Seas Navigator is equipped to host a lavish incentive program. Some 222 of the ship's 245 cabins are identical in size at 356 square feet with balconies, making them currently the largest staterooms afloat. The cabins offer three telephones plus a posh bathroom with twin sinks, separate shower and tub. Maggie Mantia, the line's Vice President of Charter and Incentive Sales notes the line's flexibility to meet the client's needs with personalized menus, plus its ability to alter the length and / or itinerary when bookings are made 18-months in advance, and adds that Radisson's new, 700-passenger Seven Seas Mariner, set to launch with all-balcony suites in March 2001, will most likely cruise to eastern Canada and Alaska.
Upper Echelon When it comes to offering prestigious rewards for the highest incentive level, planners often opt for the costliest, most exotic excursions. The Crystal Harmony, which arguably delivers the finest level of luxury of any large ship plying the Inside Passage, boasts an excellent roster of excursions with options to host exciting events and team building programs. Its Canada / Alaska itineraries include visits to Victoria and the top Alaska ports on routes between Vancouver and San Francisco.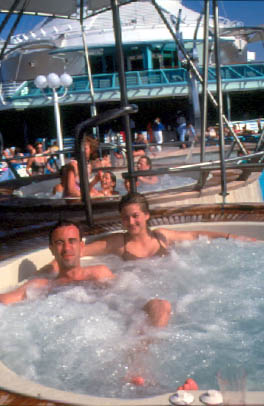 Taking a break from meetings in the whirlpool of Royal Caribbean's
Vision of the Seas

Visits to Vancouver include Stanley Park, and stops in Victoria feature high tea at the Empress Hotel and tours of Butchart Gardens. Breathtaking adventures in Alaska include sea kayaking around the Tongass National Forest to view seals, and sea lions; sea-plane excursions over Misty Fiords Wilderness Park; jet-boating through an eagle preserve; helicopter landings on Mendenhall Glacier; riding the historic White Pass Railway; and sportfishing.

For an unforgettable incentive event, groups in helicopters go flightseeing over glaciers and land at Taku Glacier Lodge for a salmon-bake.

Smaller Scale: Georgian Bay Excursions When a Canadian cruise is enticing but time is of the essence, small groups can charter a 24-hour "cruise to nowhere" or a three-day, two-night cruise from Penetanguishine (90 minute drive north of Toronto) through the picturesque channels of Georgian Bay. Heritage Cruise Lines, which features the 80-foot Georgian Clipper with nine cabins for groups up to 18, runs corporate and incentive programs in May, June, September, and October. During July and August, the ship runs a 6-day route that passengers must board in Parry Sound, Ont. or Killarney, Ont.

The casual ship has no dedicated meeting room but plenty of meeting space. It has hosted executive meetings, strategic planning sessions, board meetings, and terrific corporate fishing trips, says general manager David Wright.

"Last summer one national network of executives, the Presidents of Entrepreneurial Organizations [PEO] who previously did the ropes and ladder teambuilding thing, sailed leisurely from Penetanguishine to Anenda Provincial Park. They anchored off shore and ate lunch on the upper deck while talking things out," says Wright.

The ship travels the Outside Passage from Penetanguishine past Grants Tomb Island towards Western Island and Watcher Islands, through Kilbear Passage and overnights in Parry Sound. It returns through the Inside Passage, past picturesque cottage country, past San Souci to Minnicognschene and Southern Bay to Penetanguishine.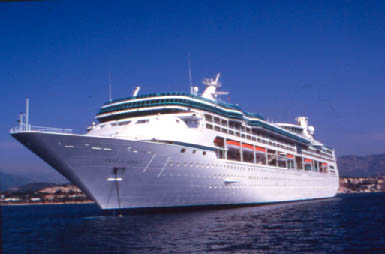 Vision of the Seas
Part of the allure of this short trip is the food. "Our on-board chef cooks meals to order, full Canadian breakfasts, fresh baked breads," says Wright. "Choices at lunch and dinner are rich in Canadian produce, fresh lamb, blueberries, and fish right from the fish tugs, with strictly VQA [Vintners Quality Alliance] Niagara [Ontario] wines. Americans and Europeans love it."
Brian Palardy, President of Toronto-based Benjamin Moore & Company Ltd., was part of the PEO executive network's two-day program last June. "He loved the experience," says Wright. "He said being out here in his ten-by-ten-foot cabin was absolute heaven."
Group Awareness When it comes to planning meetings or incentive cruises in Canadian waters, knowing the client's corporate culture is as important as knowing the delegates' home bases, says Wallbridge. "You may suppose that western Canadians frown at an Alaska cruise. Or that people from New York, Ontario and Quebec may say the St. Lawrence isn't as chic as, say, the Caribbean," says Wallbridge. "But the truth is, most Canadians and Americans haven't done Alaska and would be thrilled to cruise there. And a St. Lawrence cruise is very appealing when it's sold against a week in a Canadian resort."
The above stories, "Meetings that move·By Land·By Sea", originally appeared in the February 2000 edition of Meetings and Incentive Travel Magazine. Website: www.meetingscanada.com