Spring Skiing
North America's best for spring snow
By Robert Choquette
Ah, spring. The scent of something new in the air. The vision of spring snow, smooth as white velvet. Spring snow is easy to ski, a gift for skier egos. Skiers call it corn snow or simply corn. "Melt-freeze metamorphism", the scientists call it, referring to the granular snow created when the snow is subjected to repeated melt-freeze cycles. For most of us, spring skiing is the second ski season. Here's my pick, in alphabetical order, of eleven North American alpine ski destinations that enjoy truly endless ski seasons.
Alta…it's for skiers
Powder buffs have always known Utah has the "Greatest Snow on Earth." Utah resorts enjoy an average of 12.7 meters of light, dry snow falls. Utah is also blessed by very convenient access to its major resorts, thanks to the proximity of Salt Lake City International Airport located less than an hour's drive from seven of them.
Little Cottonwood Canyon is home of the famed steep and deep resorts of Snowbird and Alta. Alta is the veritable icon of Utah skiing. The area, which is spread over 880 hectares, comprises several separate sectors, offering unlimited possibilities for those who don't fear unbeaten paths. Don't be fooled by the seemingly short vertical drop of 640 meters or by the fact that the average level of difficulty of trails is slightly easier than Snowbird's. Alta's terrain invites its skiers to be creative. What you can see, you can ski, even if it's not shown on the trail map. That's its spirit! Phone: 801-359-1078
Website: www.altaskiarea.com
Aspen / Snowmass…Play hard, ski harder Aspen is located 354 km west of Denver, Colorado's capital city. Unlike many other resorts, Aspen is a real town with about 8,000 permanent residents. The destination comprises four neighboring ski areas, providing a total of 281 trails and 1,747 hectares of skiable terrain, all accessible with an interchangeable lift pass. Aspen Mountain rises straight above the town. By far the favorite of strong skiers, the area offers excellent intermediate cruising and plenty of steep top-to-bottom terrain to please any expert.
Snowmass, 19 km from Aspen, is, by far, the destination's largest and most varied ski area. With its modern base village and comprehensive services, no wonder a large number of visitors choose to lodge in Snowmass and spend the majority of their on-slope time there. Snowmass' Big Burn sector is, without dispute, one of the most perfect intermediate cruising terrains in North America. Phone: 970-925-1220 Website: www.skiaspen.com
Banff / Lake Louise…Steeped in history
Its three surrounding ski areas, Mt. Norquay, Sunshine Village, and Lake Louise, make Banff one of North America's best spring skiing destinations. The Lake Louise ski area, a 45-minute drive away from Banff, spreads over 1,600 hectares of terrain that boasts a 991-metre vertical drop, 105 named runs, as well as hectares of wide open bowls. Located 17 kilometers and 20 minutes from Banff, the Sunshine Village gondola base has fairly impressive statistics. It offers 89 runs spread over 907 hectares of skiable terrain covered by 10 meters of 100 per cent natural snow, plus a vertical drop of 1,070 meters. Consistent snowfall gives Sunshine Village one of North America's longest ski seasons (mid November to late May). In addition, Sunshine offers some of the best wide open bowl skiing in the West, all accessible to the average skier. Experts can always find lots of challenging steeps to attack, especially on the Goat's Eye side.
Banff Lake Louise Tourism: 403-762-8421 Ski Banff Lake Louise: 403-762-4561
Website: www.skibanfflakelouise.com
Big White…it's the snow!
Big White sits an hour's drive from Kelowna's airport in the Okanagan Valley. Because of its base elevation of 1,755 meters, which makes Big White the highest resort town in BC, the resort is blessed with good reliable snow. "Up to 750 cm of light, dry Monashee champagne powder annually," claims the resort. Naturally, by mid-April the fluffy stuff turns into corn snow. Lots of it. Typically, skiers will find open and exposed skiing on the bald summit before entering a zone of light glades which, in turn, funnel into tree-lined runs.
With its current 2,075 acres of terrain, 810-metre vertical rise and 102 trails for all levels of skiing, Big White is second in size and skier visits in BC to only Whistler. In addition, the resort has seven restaurants and 22 accommodation properties and features nordic trails, three snowboard parks, night skiing and a teen center. It's a genuine family resort.
Big White: (205) 765-3101 Website: www.bigwhite.com
Mont-Sainte-Anne…follow the sun
Mont-Saint-Anne is arguably Quebec City's premier ski area. Its 56 trails, 13 lifts - including one 8-passenger gondola and two high speed quads - good top to bottom steady fall-line skiing, plus excellent snowmaking and grooming, ensure Mont-Sainte-Anne the status of a stand-alone snowsport resort, even without the draw of nearby Quebec City.
Mont-Sainte-Anne is second only to Tremblant in terms of number of trails, lifts and acreage. But, Sainte-Anne's trail layout is totally straightforward and as the runs are segregated, there is no danger that a beginner will merge accidentally onto an expert run. This three-sided 800-metre high mountain is often skied by "following the sun." It also offers the longest night skiing vertical drop (625 meters) in Canada.
Beyond the alpine skiing and snowboarding, the resort is a mere 30-minute drive away from Quebec City and its old walled historical district, complete with European charm, fine dining and exciting nightlife. There's nothing quite like it anywhere else in North America.
Mont-Sainte-Anne: 418-827-4561 Website: www.mont-sainte-anne.com
Steamboat…more than cowboys
Standing alone in northern Colorado, Steamboat Ski Resort is a huge resort. Steamboat has it all: a lively purpose-built village, a gondola, high-speed lifts, and a vast selection of runs. As an added bonus, it also has an authentic town, Steamboat Springs, three Kilometers down the road, that was there long before the ski boom. Despite the cowboy signature, there's nothing rustic about Steamboat. The village is upscale, yet not pretentious. And the only Stetson you're likely to see graces the bald head of Steamboat's director of skiing, former Olympian Billy Kidd. Kidd is a delightful host. It's well worth it to tag along for a run.
Tree skiing through the fir and aspen covered hills is the big attraction at Steamboat. On any given spring day, the aspen groves and glades throughout the resort will echo with the laughter and the howls of locals, with or without Stetsons, pigging out in the corn.
Steamboat: 1-800-922-2722 Website: www.steamboat-ski.com
Squaw Valley…Lake Tahoe's best bet
With 15 ski areas scattered around its stunning shores, few regions in North America boast the ski resort diversity of the Lake Tahoe region. Located in California, barely an hour's drive from Reno, Squaw Valley, is one of the best known resorts circling the lake. Squaw Valley's trail map shows no trails. That's because there aren't any cut runs, just 1,600 hectares of wide open snowfields. Anything within the boundaries can be skied. Squaw offers plenty of challenge and variety for all levels of skier. Those looking for cruisers will head for the rolling tree lined slopes off the Shirley Lake and Solitude chairs. Squaw's renowned black-diamond terrain is accessed by the Headwall, Cornice II and KT-22 chairlifts. This is where extreme skiers head right away. In the spring, the snow, known here as Sierra cement, is dense and creamy. A real treat!
Squaw Valley: 916-583-6985 Website: www.winter-squaw.com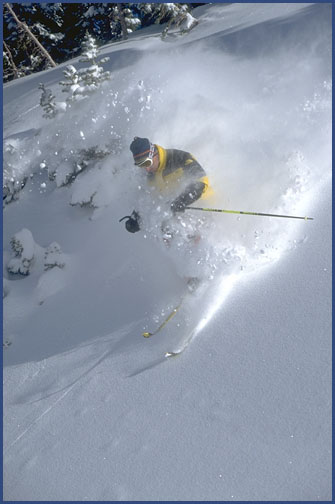 Taos…a taste of the Southwest
Tucked at an elevation of 2,810 meters, thirty minutes away from the town of Taos, in the Sangre de Cristo range, Taos Ski Valley is New Mexico's largest ski resort.
Taos is known by expert skiers for its challenging terrain. Yet, Taos's skiing is as varied as found at any other western ski resort. Forty-nine percent of the slopes are classified as beginner and intermediate. As far as sheer size goes, Taos is a mid-size ski area with 72 runs on a 796-metre vertical drop and 440-hectare domain. Since the resort enjoys abundant snowfalls, spring skiing lasts well into April.
The family run resort is a fun place. The base area is comprised of five small hotels and numerous condominiums, base lodge facilities, ski shops, restaurants that serve third-degree chili and bars with live entertainment. Phone: 505-776-2291 Website: www.skitaos.org
Tremblant: Quebec's superstar
It's been eight years since Intrawest, the Vancouver-based resort conglomerate, purchased Tremblant. Things are happening at a good pace at the venerable ski area, located a 90-minute drive north of Montreal. To mark the occasion of its 50th anniversary last year, the resort installed a brand new eight-passenger gondola servicing the south side of the mountain. This year, the resort opened an entirely new mountainside, the South Bowl. Right now, the slopeside Tremblant Village has numerous hotels, 65 retail shops, chic boutiques, bars and restaurants. As for skiing, Tremblant claims a very respectable vertical drop of 649 meters, with 92 marked runs, spread over 240 hectares and it is serviced by a state-of-the-art lift network. The people's response is loud and clear: skier visits have soared from 200,000 to well over 600,000. No doubt, the new Tremblant is well on its way to becoming one of eastern North America's premier, four-season destination resorts. Tremblant: 1-800-461-8711 or 819-681-2000 Website: www.tremblant.ca
Vail…a not-so-tranquil giant
Vail is consistently voted the top resort in the U.S. and it is easy to see why. Vail is an elegant five-star resort town at the base of a huge ski domain, a place with perfectly groomed trails serviced by an efficient lift system. Beyond the skiing, the purpose-built pedestrian-oriented Vail Village offers plenty of après-ski opportunities for everyone.
Vail Mountain, which stretches seven miles along a ridge, offers 1,645 hectares of skiing and features a 1,015-metre vertical drop and 121 trails. Although the skiing is expansive and varied on the front side, Vail's Back Bowls are where most advanced skiers will be found on any given powder day. More intimate, more exclusive and located 16 kilometers to the west, Beaver Creek is Vail's sister resort. The resort pedestrian village is handsome, so is the skiing. Vail is 170 kilometers and a two-hour drive away from Denver International Airport.
Vail: 970-845-5720 Website: www.snow.com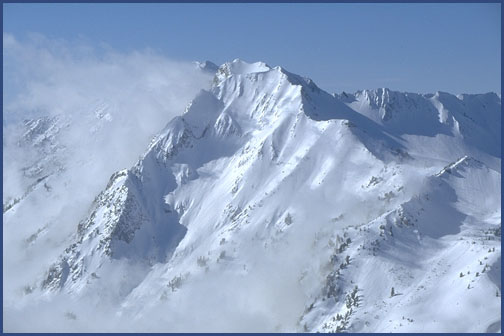 Whistler Resort…North America's premiere destination
Blackcomb and Whistler Mountains boast the largest combined terrain and the two highest vertical drops on the continent. For the past eight consecutive years, the specialized ski press has rated Whistler North America's number one resort. When it comes to Whistler Resort, the superlatives ring loud and clear. But the facts speak for themselves: The two-mountain resort's 200-plus runs spread over 2,828 patrolled hectares and 1,609 of vertical meters, including 12 alpine bowls, three lift-accessed glaciers, and unbelievable amounts of radical terrain, all serviced by 32 lifts. In sheer size, Whistler is the closest one can get to a Euro ski experience without leaving the continent. There's nothing quite like Whistler's volume of snowfall either. The same Pacific storms that rain on Vancouver account for some 914 centimeters of snow annually on the mountains. Whistler Resort is a 2.5-hour drive from Vancouver airport. So far, the destination boasts 115 hotels in all budget categories, including the newly expanded 563-room Château Whistler, and there's no shortage of restaurants, boutiques, and services. Whistler Resort Association:1-800-944-7853 Website: www.whistler-resort.com
When he is not travelling around the world in search of perfect snow, Robert Choquette calls Toronto home.