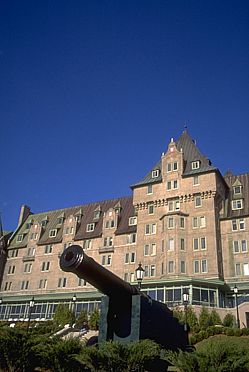 Le Manoir Richelieu is a study in authentic French Canadian design, true to the architectural integrity of the 1920's, reflecting the rusticity and understated luxe prevalent
in manors of the era.
Le Manoir Richelieu
Le Manoir Richelieu, the peak attraction in the UNESCO-protected Bioshpere Reserve of Charlevoix, Quebec, has vast windows that extend interior spaces past scenic hills and bays to the horizon, inviting in the sunlight and the sea.
Text and photos by Toby Saltzman
If predictions count, the faster modern life spins into the millennium, the more appealing to seekers of solace will be the pristine, unsung corners of the globe - like the Charlevoix region surrounding the newly-reopened Le Manoir Richelieu.
As far back as 1535, Jacques Cartier knew that he'd discovered a gem of nature in the the striking coastline of the St. Lawrence River, marked by wooded capes, bays and finger fjords, and a narrow river that ribboned inland to a deep gorge cloistered by towering cliffs. By 1760, this Charlevoix region in the heart of Quebec, 120 kilometers east of Quebec City, had become an enticing lure for fishermen, hunters, and whalers, an inspiring hub for craftsmen, writers and poets, and a tourist destination flourishing with inns.
The picturesque terrain, straddling 6000 square kilometers of the Canadian Shield from the St. Lawrence and Saguenay rivers to the Laurentian Mountains, tempted the Ontario and Richelieu Navigation Company to build Le Manoir Richelieu in 1899 on the crest of Pointe-au-Pic cliff overlooking the St. Lawrence River. An elite clientele returned annually to Charlevoix's invigorating climate until a fire ravaged the hotel in 1928.
Architect John Archibald hastily rebuilt the hotel in the style of a Normandy chateau. Over the years, it passed through several hands. The latest owners, a consortium of Canadian Pacific Hotels, Loto-Quebec and the Fonds de Solidarite de la FTQ, envisioned a bright future for Charlevoix, particularly after its pristine wilderness was declared a Biosphere Reserve by UNESCO, the United Nations Educational Scientific and Cultural Organization. This designation recognized Charlevoix's unique geological features and ecosystems, its diverse fauna and flora, including an internationally important wetland and population of six species of threatened whales, and the fact that Charlevoix fosters sustainable development and promotes research and education on conservation and cultural issues.
Today, after a $140 million refurbishment, Le Manoir Richelieu is a magnificent, all-season resort fashioned in the intrinsic tradition of Canadian Pacific Hotel's Le Chateau Frontenac in Quebec City and Alberta's Banff Springs Hotel and Chateau Lake Louise.
The hotel itself is a study in authentic French Canadian design, true to the architectural integrity of the 1920s, reflecting the quintessential rusticity and understated luxe prevalent in manors of the era.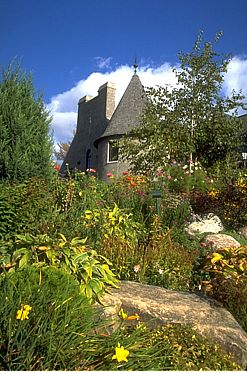 Casino de Charlevoix, which looks like
a turreted castle of medieval fairy tales,
was recently tripled in size.
"The place was badly abused," said Alexandra Champalimaud, the Canadian-born interior designer whose New-York based company conceived and completed the project after extensively researching the hotel's history. "Except for a few objets d'art, a couple of Krieghoffs, and portraits of James Murray and Christopher Columbus, the best things had disappeared. We aimed to create a sense of things past that are comfortable in the present and that reflect the local environment."
Indeed, in this structure of grand scale and proportions, vast windows extend interior spaces past scenic hills and bays to the horizon, inviting the sunlight and the sea. Historic and local sentiment pervades everywhere: on walls swathed in gleaming wood or embossed fabrics; in meticulously reproduced Jacobean and Tudor furniture, and accents crafted by local wrought-iron mongers; and in the abundance of "countrified" flowers and plants plucked from local gardens.
The public rooms reflect the unpretentious mode of the era. The broad lobby has sumptuous settees clustered around blazing fireplaces. The handsome cigar room feels decidedly clubby. The tea salon has a soft, feminine air. The wicker-filled sunroom has telescopes for tracking whales by day and stars by night. The country manor flair continues upstairs, in hallways carpeted in the burnished hues of autumn; in bedrooms outfitted with period reproductions; and in "Entrée Gold" suites boasting private telescopes, not to mention private lounges and concierge service.
The resort's Normandy allusion even extends to the adjacent Casino de Charlevoix. The Casino, which looks like a turreted castle of medieval fairytales, was recently tripled in size. Funnily enough, considering Quebec's language laws, the slot machines flash English signs and dealers give gaming instruction in English.
If success is measured by inducements to linger, we were reluctant to leave. First off, we found the meals consistently appetizing, full of regional products, flavorful cheeses and perky miniature vegetables, tender lamb and venison, quail stuffed with foie gras, and tantalizing desserts.
The resort, set on 86 acres ablaze with brilliant fall foliage, offers so many activities, we never managed, on our long weekend, to try the indoor and outdoor pools, or the tennis courts. Or to go horseback riding, mountain-biking, white-water rafting, whale watching (where people raved about seeing "dozens of whales"). Or to joint a jaunt to the local artists' studios and galleries, or the boat cruise to the Hautes-Gorges-de-la-Riviere-Malbaie to see the highest rock cliffs in eastern Canada. Not that we minded, we were too busy hiking through beautiful forests, golfing, and later, recovering in the spa.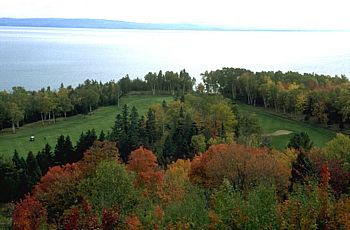 Le Manoir Richelieu's devilish golf course
has fairways that roll down toward the sea.
It's a good thing we had extra balls, not to mention plenty of patience, for this par-71, 6225-yard course, designed by Herbert Strong and inaugurated by former U.S. President William Howard Taft. What it lacks in length, it makes up for in devilish surprises and stunning vistas from every tee. Named by Golf Digest as one of the "10 Most Beautiful Courses in Canada", this course demanded target shots. Miss-hits on the hilly fairways - fraught with doglegs, prevailing breezes, and blind approaches to many greens - made balls roll towards the river. The fast greens, which lie like undulating potato chips on high mounds, defied our balls to stay put. Never mind. The play was exhilarating. Our golfers' egos were swiftly soothed with deep massages in the spa.
If my predictions count, Le Manoir Richelieu will put Charlevoix on the international map of meccas for the millennium. A good thing the region is protected under UNESCO's watchful eye.
Details:
Le Manoir Richelieu is an all-season resort.
Call Le Manoir Richelieu for current rates and special packages including golf, skiing and adventure excursions.
Le Manoir Richelieu reservations: 1-800-441-1414 / 418-665-3703
Charlevoix Tourism: 1-800-667-2276 Internet: www.tourisme-charlevoix.com
Quebec Tourism: 1-800-363-7777
Skiing: In winter, Le Manoir Richelieu offers snowmobiling, cross-country skiing, dogsledding, snowshoeing, skating, ice-fishing, and a shuttle to the down-hill ski slopes of Mont Grands-Fonds (suitable for all levels of skiers) and Le Massif (famed for the highest vertical drop in Quebec, at 770-metres).
For 1999-2000 season, the greater Quebec City region offers a multi-ski pass, called "Carte Blanche", which allows skiers and snowboarders access to the slopes of Stoneham, Mont-Sainte-Anne, and Le Massif for $45 per day. A shuttle will transport skiers to the slopes for a slight charge.
For details call: 1-888-FUN-2-SKI.