For the Love of Food
Aah, la dolce vita di Toscano - the sweet life of Tuscany!
Create and taste true Italian cuisine at sumptuous Villa Delia.
Text and photos by Toby Saltzman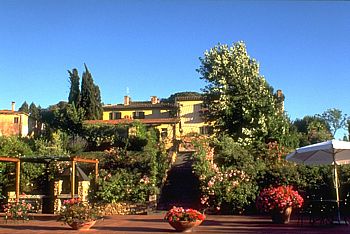 Back rooms in Villa Delia overlook the gardens and valley below.
I started to plan my visit the moment I learned of the sumptuous Villa Delia, nestled in the heart of rural Tuscany. It's here that you can learn the secrets of Tuscan cuisine, tour the vineyards, olive groves, and romantic cities like Florence and Sienna, and play a little golf, too. On the flight over, my mind danced with visions of sun-kissed grapes and sun-drenched fairways. The golf courses include Castelfalfi, Tirrenia; Versilia, Punta ala, which is touted as one of Italy's finest courses; and Cosmopolitan, voted Italy's best course in 1993.
A few minutes outside the industrial grayness of Pisa, where a driver awaited the Villa's guests, we entered a world of Renaissance scenes. Drab, flat landscapes gave way to picturesque valleys scattered with stone farmhouses and tidy gardens. The road wound past clusters of red-roofed villages, quiet monasteries, and medieval borgos (villas) cloistered by ancient walls that stood untouched by time. We passed fields of sunflowers, their round faces smiling at the sky, and the hills of Lari where slopes are checkered with vineyards, olive groves, and flowering orchards. No wonder Italians love food, I thought: Their world is a cornucopia of precious fruits and vegetables.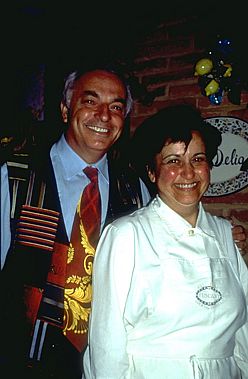 Silvano and Marietta are our
gracious hosts and instructors.
In the ancient village of Ripoli, a narrow, sun-dappled road, fringed by hedges thick with berries, led to a vast view of rolling hills. The driver slowed down, pointed across a deep valley to a dreamy villa perched on the crest of a hill, and announced: "Villa Delia!"
We entered the ravishing courtyard of Villa Delia through broad wrought-iron gates. Pink geraniums tumbled from planters beneath the shuttered windows of the yellow stucco villa. We stepped into air scented with flowers and herbs, and were greeted by our hosts, Silvano and Marietta. "Bon giorno! Bon giorno!" they said, all smiles and laughing eyes. I immediately warmed to them.
An attendant grabbed my bags, and led me through a lofty sala, similar to a parlor, and up stone steps to a delightful room with a vaulted ceiling of ochre brick. Dressed with an antique armoire, desk, bed and cushy chairs upholstered to match the rich damask drapes, the room had windows overlooking hills on one side and a terra cotta roof on the other. One glance and I dashed out to explore.
Voluptuous Villa
Villa Delia melds into the landscape with pretty terraces. One has steps descending to the gardens, vineyards, and hills beyond. Another has steps down, past the tennis courts and through a rose-covered trellis to a serene pool surrounded by chaise lounges and white canvas umbrellas.
A villa has held court over this view for centuries. Local chroniclers say this villa was built in the 1620's for the Vatican. It was a dilapidated ruin amid tangles of gnarly olive trees in the early 1990s when Umberto Menghi, was inspired by his Mamma Delia to buy it. She had always dreamed of reuniting her family in Tuscany.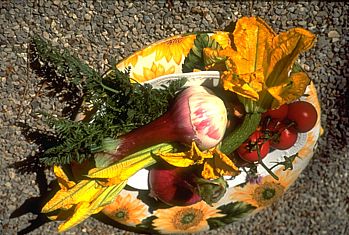 Only the best produce is used for gourmet meals.
Umberto, born in nearby Pontedera, a village that lies between Florence and Pisa, grew up on a farm where his father, Mario, tended the vineyards. Eschewing his parents' wish that he becomes a priest, Umberto ran away from home at the age of twelve to work in a trattoria cleaning floors and peeling potatoes. Eventually, he attended a hotel school in Rome with his parents' blessings, worked in England, then in Montreal's Queen Elizabeth Hotel during Expo '67 and gravitated to Vancouver where he opened a restaurant specializing in Italian cuisine. Today, after opening several popular restaurants in Vancouver and Whistler, Umberto deserves kudos for training some of British Columbia's best chefs.
With the help of his sister, Marietta, and her husband, Silvano Malacarne, Umberto incarnated Villa Delia with the earthy, gregarious family spirit of Tuscany in hopes of sharing with guests the essence of Tuscan culture and life that they cherish themselves.
Refurbishing Villa Delia and revitalizing its fifty-four acres of hills, peppered with vineyards, olive groves, lemon orchards and peach trees, sponged up time and money. But the result, opened in 1995, is a gem of quintessential Tuscany that attracts cognoscenti from around the world who love to cook and eat, or just drink in the sensuous Tuscan air.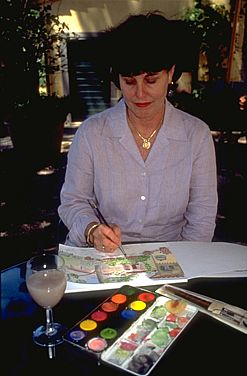 A guest paints watercolors of the Villa Delia.
Tuscan Charm
The sala, with sofas grouped around a fireplace, invites you onto an open patio clustered with tables and flower-filled terra cotta pots and the honey-colored structure that houses the cooking school. The indoor dining room is dominated by a long "family table" draped with vibrantly patterned fabric. The room opens to an inner courtyard shaded by white umbrellas and is warmed on cool evenings by a brick fireplace. The Villa interiors are cluttered to perfection with honest Tuscan charm, a melange of antiques and cushy new furnishings.
Dusk was falling by the time we gathered on the patio for aperitifs and antipasti. Silvano briefed us in Italian, articulately translated by his assistant, on what to expect for the next ten days. We toasted wine a buon appetito just as the rambling hills faded into hazy silhouettes. After a seemingly endless array of courses, Silvano reminded us: "In the kitchen at nine o'clock sharp, eh!"
Early Wednesday morning, I lingered at my window inhaling the bucolic splendor of the hills illuminated by the sun's spreading beams. After downing an intense expresso or frothy capuccino at breakfast, we gathered in the cucina studio. After one glance at the array of gas cooktops and utensils I knew that we were in for serious, hands-on instruction from Marietta and Mark Gignac. Umberto's newest chef-in-training, Mark, was practicing his metier before becoming head chef at the Whistler restaurant.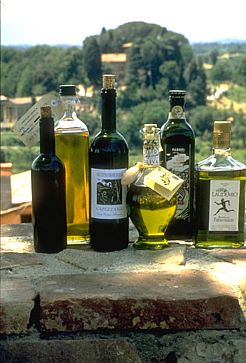 Virgin olive oil.
After we seated ourselves at stations outfitted with aprons, dishtowels, cutting boards, knives, notebooks, Marietta and Mark explained that no recipes would be distributed. We'd learn by watching, doing and writing our own recipe books. Then they proceeded to lay down the tenets of Tuscan cuisine.
"It's all about cuccina povera - the poor man's kitchen," said Silvano. "Simple, essential cooking using the freshest ingredients of the garden. We don't try to change flavors. A tomato tastes like a tomato, a carrot like a carrot. We use very little salt or butter - just a drizzle of extra virgin olive oil to enhance authentic flavors - and simple herbs like the three sisters: sage, rosemary and basil."
This morning, we learned to make one of the two exquisite benchmarks of Tuscan cuisine: a pure brodo, or consommé broth, that becomes a base for roasting or ragus. The other is a pure tomato sauce. We watched and worked along with Marietta as she moved with brio: chopping vegetables for the soup, stuffing turkey thighs, creating a gorgeous crostada filled with ricotta cheese and making Amaretto-doused biscuits. We learned that Tuscan cooking is all about harmonizing simple ingredients, and that it's better to use canola oil for cooking and extra virgin oil for salads. We also learned to avoid spray-on oils, or any chemicals for that matter, and to meticulously wipe down working surfaces with vinegar after every use.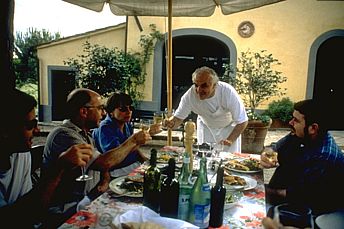 Silvano serves up flavorful Tuscan
cuisine in Villa Delia's courtyard.
At noon, we headed out to lunch at the Marina di Pisa on the Mediterranean shore. This place is a rite of summer for locals who relish fresh fish and seafood, especially the platters of frito misto - golden pieces of deep fried seafood and vegetables. To match the fish, Silvano introduced us to a local Ruffino Chianti wine.
Right after lunch, Silvano called, "Ciao! Andiamo! Let's go!" Fifteen minutes later, we were gaping at the Tower of Pisa. It leans seriously to one side because its base is sinking in alluvial soil. The Moorish-style tower and adjacent cathedral were the only things worth seeing in this touristy town . For all its fame, Pisa is a frenzy of booths bulging with kitschy souvenirs, and hawkers flaunting knockoff Prada and Louis Vuitton bags.
Back at Villa Delia, some took a short siesta while others rode bikes or swam.
Dinner was another al-fresco feast. By now, after a sharing a full day together under the influence of heady vino and spicy antipasti, our group was beginning to bond. That night, I fell into bed, tired but exhilarated by the rhythm of this Tuscan escapade and by the familial grace of Silvano and Marietta who lavished attention on us like fond relatives.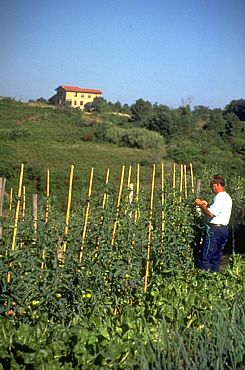 A gardener tends the vines at Villa Delia.
Thursday morning flashed by as we watched Marietta prepare seemingly complicated specialties with perfect simplicity. She taught us to roll dough into grissini breadsticks; to incorporate whole almonds in order to create perfect cantuccini or biscotti for dipping into Vincento dessert wine; the knack of mixing a three-to-one ratio of extra virgin olive oil with dijon mustard, a squeeze of lemon juice and flat Italian parsley into a pronounced vinaigrette; to reduce balsamic vinegar to its richest flavor; to create mouthwatering oven-dried tomatoes; to make real osso bucco and la madre del panne - the starter of all delicious Italian breads.
At noon we rode up a winding hill to the tiny, walled Etruscan village of Lari. After strolling past little shops filled with hanging prosciutto, and plump insaccato salamis and sausages, we climbed up to the 1000-year-old Lari Castel, where Silvano laid out a spread of olive oils, cheeses, and breads in preparation for a lesson on olive oils.
"Good olive oil is a blessing from the land," he said. "Olives are spongy. They absorb flavors. Near the sea, they grow salty. Inland, they taste of thyme or fennel." We loved the clean palate of the extra-virgin olive oil produced at Villa Delia.
La Dolce Vita
Later, after a festive lunch in a celebrated trattoria in the village of Fauglia, we downed bottles of local Chianti with dozens of antipastos and cooled off on the terrace with chill snifters of limoncello liqueur. Then we visited the Martelli Pasta Factory, where pasta has been made traditionally by hand since the 1800s. Interestingly, Martelli pasta is made from 70% Canadian Durham wheat and 30% water.
While winding back down hairpin curves and past groves of peach trees, Silvano broke the secret of the new red, called Bambolo, which he is producing from the Villa Delia's vineyards of Merlot and Pinot Noir grapes and exporting to British Columbia. Along the way, we stopped for scrumptious gelato.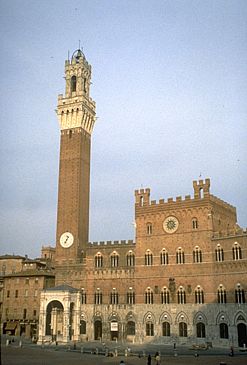 The excursion to Sienna is a
favorite of guests at Villa Delia.
By the time we meet for dinner that night, we felt totally immersed in la dolce vita di Toscano - the sweet life of Tuscany - when Silvano started a drinking game. Moving around the room, he poured each guest a glass of wine (which we imbibed in one long gulp) while everyone sang "Bevilo tutto, tutto, tutto" - drink it all, all, all.
With that, our Villa Delia experience turned into one never-ending party. That's not to say we didn't stick to a serious cooking-school regimen. On the contrary. Day by day we were increasingly grateful to learn the methods of Tuscan cuisine. We concocted antipasti, salads, and vegetable terrines. We turned our "mother of bread" into wonderful varieties of panini Toscano and savory focaccia.
When Marietta rubbed fresh herbs between her fingers, producing a rush of scent, we inhaled deeply, inspired to chop a cornucopia of vegetables for authentic minestrone Toscano. In her ever-fragrant kitchen, we learned to turn tomato sauce and battuto, a vegetable puree, into a flavorful ragu. Marietta demonstrated how to make incredibly light gnocchi from riced Yukon Gold potatoes to serve with delicate lamb.
By the eighth lesson, we'd mastered the art of making polenta, faro, pizzas, roast beef, and preparing risotto from arborio rice and porcini mushrooms. We could whip up tiramisu, lemon tarts, crème brulee and even clean raw calamari and cook wild boar. We'd become experts at making pasta like tagliateli, ravioli, tortelini, mezze lune and cannelloni served with pesto, tomato, bechamel or ragu sauce. But it came to calamari, I failed with flying colors. I stood by squeamishly while everyone cleaned and sliced the slimy squid with surgical dexterity.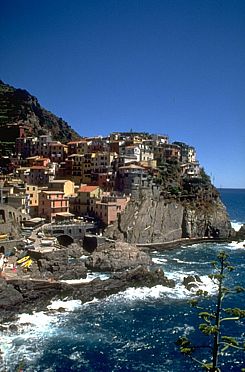 Cinque Terre is a hilltop village
chiseled into the Ligurian coast.
Out and About
In between classes, we visited the cities of Lucca, San Gimignano, a haven for artisans, and glorious Cinque Terre where the hilltop villages are chiseled into the Ligurian coast. With every tour and meal - whether it was eating rustic pizza under a moonlit sky in Sienna's Piazza del Campo, or vegetarian pasta in a 13th-century convent or superb beefsteak with truffles at Le Fonticine in Florence - we gained a new appreciation for the prized wines of Chianti. To top things off, Silvano even taught us to play bocce balls.
On the second to last day, Umberto appeared with his lovely wife Marian and son Alessandro. Standing out in the garden with a towel tossed over his shoulders, Umberto spoke with gusto about his love for the land. Later in the cucina, he dazzled us with lessons on creating carpaccio, and chicken legs stuffed with caramelized vegetables and porcine mushrooms. That evening he threw a festive farewell dinner. A constant stream of wines - culminating with snifters of limoncello, grappa, and brandies - stimulated endless songs. Umberto distributed diplomas with regal panache. We exchanged addresses and autographed each other's copies of his cookbooks.
"Dolce far niente," wrote Marco. "I'm Whistler bound."
Umberto scrawled, "From one chef to another - Happy cooking." That's a compliment I'll cherish along with my recipe for oven dried tomatoes.
Before leaving, I gazed out my window and pondered my joyous stay in this pastoral world, so warmed by the familial embrace of Silvano and Marietta. I knew I would never taste another glass of wine or drop of olive oil without evoking memories of my immersion in la dolce vita - the sweet life - in the heart of Tuscany. Ciao for now Villa Delia. I'll be back.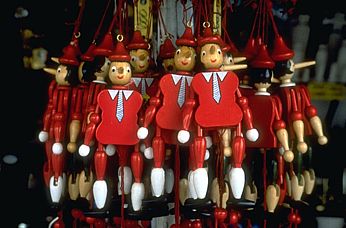 Wooden Pinocchio puppets for sale in Tuscany.
Getting there
I had easy connections via British Airways to Heathrow, where BA's bus promptly shuttled me to Gatwick for a flight to Pisa.
Alternatively, you can fly to Milan, then fly Alitalia to Pisa.
Italian Government Travel Office: Phone: 514-866-7668
Villa Delia offers a variety of packages focused on golf/cooking school/touring, or cooking school/touring, or opera excursions,or B&B with breakfast.
The all-inclusive 10-day golf/cooking school packages include cooking classes, excursions, all meals (including wine) both at the Villa Delia and during excursions, plus green fees (club rentals and caddies are extra). The courses include Castelfalfi, Tirrenia VERSILIA, PUNTA ALA (touted as one of Italy's finest courses); and Cosmopolitan (voted Italy's best course in 1993).
Rates (per person, double, in US dollars, including taxes and transfers to and from Pisa):
*10-day golf/cooking school/tour package: $4900.
*10-day cooking school/tour package: $3900.
*Daily rates: $275. include gourmet breakfast for two.
Contact Umberto Management, 1376 Hornby St., Vancouver, BC, V6Z 1W5
Phone: 604- 669-3732 Fax: 604-669-9723
E-mail: inquire@umberto.com
Website: http://www.umberto.com