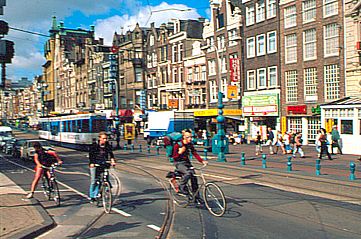 Colorful Amsterdam street is busy with cyclists and pedestrians.
Holland is a Cycling Paradise Travel with your back to the wind and carry Donald Telfer's tips in your knapsack.
When Ann Heide and Paul Tobin arrived in Amsterdam with their crated bicycles, they were well prepared for a leisurely tour through Holland and Belgium. They had their backs to the wind.
"That's about the only concern a cyclist has," said Heide, an Ottawa, Ontario schoolteacher and author. "The wind from the North Sea is a real advantage going south but it can be a big handicap traveling north. We met fellow Canadians cycling north who were aggravated and exhausted pedaling into the wind."
Holland is a cyclist's paradise. With a 16,000 km/10,000-mile network of dedicated bike paths, there are dozens of beautiful routes laid out through varied landscapes.
The Ottawa couple took the North Sea Route that follows the Dutch and Belgian coast for 360 km/220 miles to the French border. Sheltered by sand dunes, the road is one of the National Cycling trails (LF in Dutch) that connect with cycling routes and ferry connections in neighboring countries. Compiled by the National Cycling Platform Foundation, a national network of roads and bike paths has been established with the beauty and surroundings in mind that bring in the sea, sand dunes, flower fields, extensive farms and forests, and the largest greenhouse in Europe.
Good bike routes are only as good as the maps, signs and traffic lights. There are special cycling tour maps available at VVV (tourist information) and ANWB (AAA) offices. Holland has blue signs with white lettering that indicate the way for all types of traffic. Cyclists have separate symbols: long, white signs with red lettering indicate the distance to a destination. "Mushrooms" close to the ground also outline necessary information. Obligatory bicycle paths are indicated by round blue signs with a white bicycle.
Along the North Sea Route visitors may come across hotels, restaurants and shops that are only accessible on two wheels.
"The distance between interesting, ancient and famous towns and cities in Holland and Belgium is surprisingly short," said Tobin, a noted Ottawa architect and pianist. "And together with the fact that the terrain is flat makes for an absolutely perfect place for a bike tour."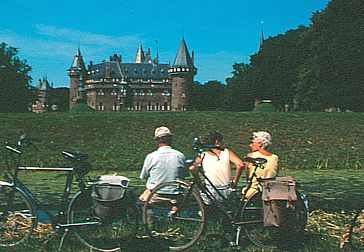 Cyclists enjoy the magnificent Castle de Haar
Visitors can design their own routes or purchase a package tour. Package tours are especially popular: accommodations reserved in comfortable hotels, meals in recommended restaurants, packed lunches for the road, and tips on points of interest. Even the luggage is looked after, brought by car from hotel to hotel along the route.
With paniers strapped to the bicycles, the Ottawa couple's first stop was Haarlem, a wonderful old city with a museum dedicated to painter Frans Hals, and a grand old cathedral dating from the 1220s. The nearby town of Zandvoort is a splendid coastal resort. Just north on the coast is the town of Bloomendaal, noted for its gracious century-old homes.
Continuing south to The Hague, the couple were impressed with the city's 700-odd parks, the fine old buildings and the world-famous 17th century Mauritshuis Museum. The working palace of Queen Beatrix has been turned into an outstanding art museum with many Dutch Old Masters displayed in magnificent royal rooms.
Nearby is the glorious old town of Delft. "We were stunned by the beauty of this old, canalled town," Tobin said. "The charm and character of Delft is wonderful, a highlight of the trip."
Continuing farther south, the cycling couple visited the city of Rotterdam, the city devastated by surprise bombing in 1940. "Everything, save for a few small buildings, is new and the modern architecture is quite good." Tobin said. "Rotterdam is a very different Dutch city."
Instead of cycling along the coast, the Ottawa couple took a train to the medieval city of Bruges, Belgium. Visitors feel like they've stepped back in time here, for nowhere is there a city like Bruges, a vast beautifully preserved open-air museum less than ten miles from the sea.
From Bruges, the couple cycled to the sister medieval city of Ghent. Once the biggest city north of Paris, Ghent also has many interesting period buildings. A highlight of a visit is an evening canal cruise. The monuments of medieval architecture are magnificent in daylight but when the sun goes down they take on a new life, brightly illuminated to emphasize their majesty.
"The only trouble we encountered were two flat tires, both Ann's, and both around Ghent on cobblestone roads," Tobin said. "Not bad for an 18-day trip."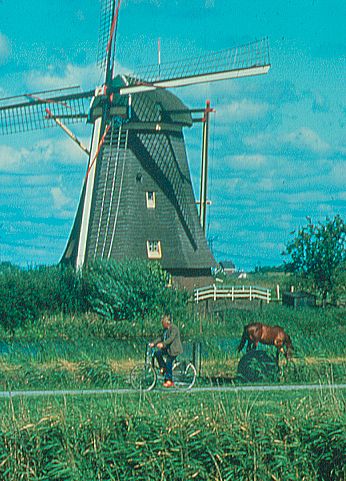 The Netherlands is a cyclist's heaven with thousands
of kilometres of specially marked roads.
Bike tips
The Ottawa couple and Netherlands Board of Tourism offer the following recommendations and information for cycling in Holland and Belgium.
* It's a good idea when crossing the Atlantic to partially disassemble the bike. Crate it either in a cardboard box purchased at a bike store, or in a heavy-guage plastic bike bag. This is considered normal baggage.
* Keep to the marked bicycle paths: the cobblestone roads are hard on bikes.
* There are some 12 million bikes in this country of 15 million. Bike sales total about 1.3 million a year. The Mountain and City bikes make up about 25 per cent of total sales.
* Cycling package tours are available at VVV offices throughout Holland.
* Bicycles may be rented at over 200 locations throughout the country. Most train stations provide bike rentals for a few hours or several days. Bikes must be returned to the original rental point.
* Transporting bikes on trains is only permitted on workdays after and before morning and evening rush hours. You may transport your bicycle any time during July and August.
* Netherlands Board of Tourism has extensive literature available on cycling, including information on agencies and organizations providing accommodations, rentals and rules of the road.
* Plan to travel in a southerly direction so the North Sea wind is at your back.
If You Go To The Netherlands
POPULATION: About 15 million, of whom about 700,000 live in Amsterdam, the capital, and 450,000 in The Hague, the seat of government and the home of Queen Beatrix. About six million a year visit Holland, including 100,000 from Canada and 500,000 from the U.S.
LOCATION: The Netherlands border Denmark, Germany, Belgium and the North Sea.
GETTING THERE: Amsterdam Airport Schiphol is served by KLM/Northwest from several cities in Canada and the U.S.
DOCUMENTS: Valid passport required for a visit up to three months.
WHAT TO WEAR: The Netherlands is on the North Sea so weather varies, often by the hour. Because rain is common, bring a raincoat and water-resistant shoes.
CURRENCY: Dutch guilder. Major credit cards are widely accepted. ATMs are widely available.
LANGUAGE: Dutch is the official language, though English is spoken and understood throughout the country.
TIME DIFFERENCE: The Netherlands is one hour ahead of London, six hours ahead of Eastern Standard Time, and nine hours ahead of Pacific Standard Time.
ACCOMMODATIONS: There are a variety of hotels, hostels and motels in every price class. For spring and summer months, Netherlands Board of Tourism recommends that reservations be made as far in advance as possible. Call the Netherlands Reservation Center (NRC) by phone, fax or letter for individual and group bookings for hotels, apartments, hikers' cabins and bungalows, and for theatre tickets.
Contact NRC, PO Box 404, 2260 Leidschendam, Holland
Phone: 011-31 (070) 317-5454, Fax 011-31 (070) 320-2611.
RESTAURANTS: There are some 250 restaurants that offer Tourist Menus, a three-course meal for about C$25/US$18. Participating restaurants display a blue plaque with a white fork on the front door.
TRANSPORTATION: Taxi service is good and reliable, though it tends to be expensive (Schiphol Airport to city center is about US$50). Trains run every 15 minutes between Schiphol and Amsterdam's Central Station. There are also shuttle buses operating between several airport hotels. Amsterdam has an excellent network of trams and buses. Bicycle rentals are widely available at train stations and other locations. There are some 15,000 km/9,000 miles of cycle paths in the Netherlands.
SCHIPHOL AIRPORT: Amsterdam Airport Schiphol is regarded as No. 2 airport in the world, after Singapore Changi. Schiphol's gates and services are well marked. The airport has a number of features including a terminal hotel, golf center, business center, and a casino.
TULIP SEASON: Tulips begin to bloom in late March and continue until mid-May.
DETAILS:
For US: Phone: 312-819-0300. Fax: 312-819-1740.
For Canada: Phone: 1-888-Go-Holland
Website: www.holland.com