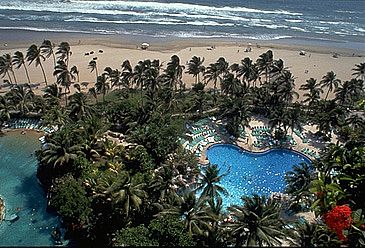 Life is a beach, but add beach-side pools and life is heavenly. A free, three-minute shuttle ride offers bathers the best of both resorts.
Acapulco's Tropical Twins
Forget Montezuma's revenge. Fairmont's two sister resorts,
the Acapulco Princess and Pierre Marques, offer sand, style and deliciously safe food.
Text and photos by Toby Saltzman
"Dip the totopos (tortillas) in the guacamole, then in the salsas," said Claudia, passing the tomato, onion, and pepper concoctions. "Mexican food is for sharing a little this, a little that, a little drink, a little laugh."
After our flight from chilly Canada, we ate eagerly, relishing the piquant flavors, the warm air and the sensuous breeze that wafted in from the ocean, ruffling the palm trees shading our beachside table from the brilliant sun. Soon, two waiters appeared with crocks of vegetables and a platter of whole fish.
"We call this 'la talla' - red snapper, simply grilled," Claudia announced, scooping generous portions onto our plates. We ate lustily, crunching the crisp veggies, devouring the plump fish under the watchful eyes of a pair of red-capped birds who'd perched themselves on the rim of our wrought iron table. After lunch, as we strolled by meandering pools, waterfalls, and across a swinging bridge traversing a lagoon, I couldn't help noting that, not too long ago, the mere mention of Acapulco salsas spurred quips of Montezuma's revenge. For all its seductive sunshine, one didn't dare visit without packs of Pepto Bismol to line the stomach, or doses of Cipro to zap infections, and promises to avoid fresh fruits and salads. Those who returned home with golden tans sans nasty bugs in their cache of souvenirs considered themselves lucky.
An artisan displays her colorful crafts.
Such luck was on my mind when I packed antidotes for my recent visit to Acapulco. Little did I imagine that my destination - the Acapulco Princess and Pierre Marques Resorts - had had given luck such potent help that Montezuma didn't stand a chance, and that I'd leave raving about the wonderful resorts that served deliciously safe food.
I'll start at the beginning. I'd arrived in Acapulco to meet Claudia Cano, journalist turned media director. She facilitated my in-depth research for a business report about the environmental program instituted by the Fairmont-Canadian Pacific Hotels after the chain had purchased the sister Acapulco Princess and Pierre Marques resorts. Admittedly blasé at first, I was stunned in the end. It wasn't just the innovations at the resorts that set new paradigms in all of Mexico, or the resorts' 24-hour medical clinic open to guests and staff. What really blew me away was the impeccable standard of food and beverage services. That made staying here as carefree as staying in any blue chip resort in Canada or the United States.
The Princess and Pierre Marques resorts are private enclaves a world apart from the famed horseshoe arch of Acapulco Bay, only 20 minutes away. The resorts are set side-by-side on hundreds of lush acres bordering Revolcadero Beach, the longest swath of sandy beach in Acapulco.
Three Acapulcos
"In reality, there are three Acapulcos," explained Claudia, putting the resort into geographic perspective. "There's the old Acapulco Caleta of the '40s and '50s, where art deco buildings house cheap rooms and little bars. The posh Acapulco of the '70s marked by the las Brisas and Hyatt resorts, and eateries and discos overlooking the bay. And now, even though the Princess and Pierre Marques have been remote here for ages, we're the heart of the new Acapulco Diamante that's developing around us."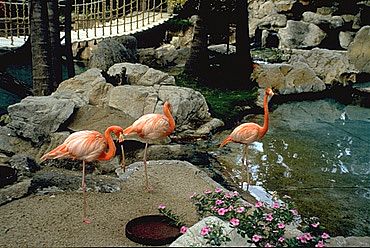 Flamingoes grace the lagoons of the Fairmont Acapulco Princess.
Like sisters, the Princess and the Pierre Marques have unique personalities and styles, yet compliment each other nicely. After a few days, I found myself enjoying each resort for different reasons.
The Princess wowed me instantly with it's exuberant Mexican ambience, open-air lobby, and gorgeous grounds where flamingoes, swans, and iridescent peacocks inhabit a salt-water lagoon. The 1019 room resort is like a grand city. It was built in 1971 in a style reminiscent of a massive Aztec pyramid. It houses several bars and restaurants (each boasting a different style of cuisine), a popular disco, and five dreamy pools, some graced by waterfalls and swim-up bars. The resort offers a full-service spa, a top-notch gym, several tennis courts, and two 18-hole golf courses. Excellent children's facilities include a wading pool (an asset considering the ocean's strong undertow), sturdy playground equipment, and supervised games, sports and arts and crafts.
The Princess' gloss makes the Pierre Marques seem slightly subdued. That was exactly the intention when oil tycoon J. P. Getty first envisioned the remote hideaway estate he wanted his celebrity friends to enjoy. The secluded villas, bungalows and low-rise dwellings were built in 1957. The Princess, set amid tropical gardens, lured the likes of Elizabeth Taylor, Mike Todd and the eccentric Howard Hughes. Interestingly, Getty himself never came. More recently, the elegant, 344-room resort housing its own popular restaurants has attracted George Harrison, Anthony Hopkins, Kevin Costner, Neil Young, Dustin Hoffman, and Tony Bennet, Placido Domingo, Julio Iglesias, Brad Pitt and Jennifer Aniston.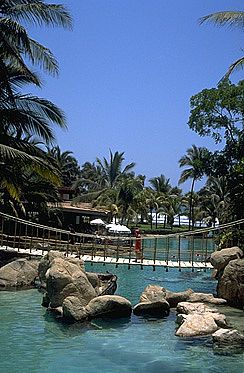 A hanging bridge joins the pool and gardens near the al fresco restaurant at the
Fairmont Acapulco Princess.
The Pierre Marques is accessible via a quick shuttle to all of the Princess's amenities, pools, and restaurants. It's also ideal for those who shy away from a constant hum of activity, and for families with young children who prefer the "community park" feeling of expansive lawns and fun-filled playgrounds.
Accuracy Counts for Golfers
For avid golfers, the resort is paradise. While Princess guests pay to play, Pierre Marques guests (on Sunquest package tours) are allowed one free round per day.
The courses are enjoyable, yet challenging. The Princess Course, designed by Ted Robinson, is a friendly layout, short of championship length. But length is deceptive, I quickly learned, and accuracy counts on the narrow fairways fringed by tall palms. On my second tee shot, distracted by a symphony of morning birds, I shot left and shuddered upon hearing a thud. To my relief, I'd hit a coconut, not a bird. The Pierre Marques Course is a tough, championship layout redesigned by Robert Trent Jones Sr. for the 1982 World Cup Tournament. Accuracy on the fairways and lay-up shots are essential to escape the water. With luck you may beat undulating greens.
It took concentration to focus on work amidst this decadent tropical milieu. But I managed to keep up with my research for this article and learned that both resorts are trailblazers in Mexico. Their own water purification plant re-purifies and monitors the Acapulco city water. Used water is recycled to irrigate the golf courses while creating a wetland sanctuary for birds. The resorts' composting, waste management, and recycling initiatives are the best of any resort or corporation in Mexico. Enthusiastic staff members donate leftover foods and soaps to the community.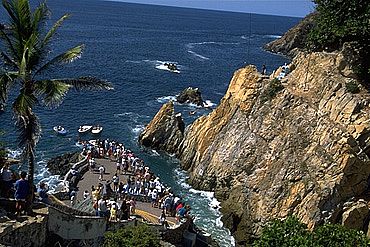 Spectators watch as the cliff divers of La Quebrada dive
from dizzying heights into a narrow cove.
As for resort food, the hotels are entirely self-sufficient, with their own butchers, chefs, and bakers. Indeed, after rigorous government inspections of the hygiene and security of food preparation, the Princess and Pierre Marques each won the Mexico's first ever "Distinctive H" Award for serving quality, safe food in all its bars and restaurants. By the end of the week, I'd tasted interesting meals in the resorts' various restaurants. At al fresco breakfasts, while overlooking the mini-rainforest and lagoon, I sampled exotic fruits, tortilla casseroles topped with cheese and onions, and Mexican eggs spiced with peppers and tomatoes. I never even ingested Pepto Bismol, as I managed to avoid Montezuma's wrath.
Exploring the Bay
One morning, I set out with Claudia and a 'trusty' guidebook to explore the Acapulco Bay area. Claudia drove, following the main road (Costera Miguel Aleman) past the towering stone fort, built in 1616 to protect Acapulco from Dutch and English marauders, that today houses a historical museum. After circling the bay, we pulled into a narrow lane where Claudia managed to park the car after paying off a man, who guarded a "free park zone", 50 pesos, about C$10, "to watch it."
"That's life here: bargaining for everything is a Mexican sport," she said as we strolled through the zocalo, the pretty central plaza. The warren of lanes was home to many booths brimming with handicrafts: brightly painted pottery, papier mache masks and parrots, handwoven blankets, heaps of silver jewelry, fanciful piñatas, and garish sombreros. Back in the car, we drove to the height of La Quebrada, where cliff divers dove from a 14-metre-high (136-foot-high) precipice into a narrow cove. Later, I insisted we check out two places listed as "musts" in my guidebook. The CICI Waterpark was described as "a hive of entertainment with a wave pool, water slides, beach access, plus a swim-with-dolphin experience." Dismayed by the untidy park - the slew of children wading in a murky pool, silt lapping onto the beach, the outrageously short pool where people clawed captive dolphins - I noted: Avoid this.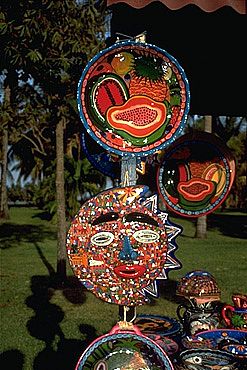 A wide variety of whimsical handmade pottery can be found at local markets.
Playa de Caleta in old Acapulco was described as "a picturesque beach with calm waters." After one glance at the hordes frolicking in muddy water and crowding to buy poured drinks, I noted: Avoid this place, too. Better to stick to the Princess and Pierre Marques.
Back at the Princess, I donned my swimsuit and raced down to the pool to stand under the refreshing waterfall before settling under a shady palapa (hut). "Aah," I thought while sipping a cool Pina Colada. "Simply divine. Swim, eat, and drink all you want in Acapulco. Forget Montezuma's revenge. Muchas gracias, Princess."
Getting there:
Affordable packages to the Acapulco Princess and Pierre Marques Resorts are exclusive to Sunquest. The Pierre Marques package is markedly economical (see below). Guests at each resort have full access to the pools, beach, playgrounds, restaurants and bars of both resorts. There's a free, 3-minute shuttle between resorts. Both resorts offer upgrades to ocean views. Both resorts host concessions that offer sailing, scuba diving, horseback riding, and deep-sea fishing.
For specific hotel details and rates (not on Sunquest package) call: Fairmont Canadian Pacific Hotels: 1-800-441-1414
Pierre Marques: "Almost all-inclusive" with Sunquest.
Rates for 7 nights, per couple, room with balcony or terrace. C$1449 to $2249.
This includes a food and beverage credit of US$350 per person per week.
Golf: one 18-hole round of golf free per person, per day. Children under 6 years stay free, but pay air fare: C$569 Transportation taxes & fees: C$84.