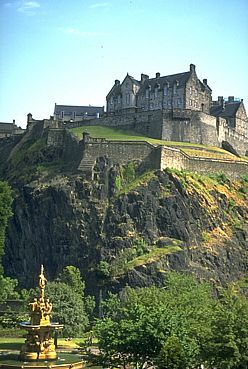 Edinburgh Castle holds court
over the historic city.
Highland Fling
With its rich culture, historic venues and high-end golf possibilities, Edinburgh, Scotland is a well-rounded meeting or incentive choice.
Text and photos by Toby Saltzman
The cabby took one look at my face, as I looked with dismay at the ominous sky and read my mind. "Aach," he opined in a rich Scottish brogue, "You've gotta think the Highland way. Every drop of rain is next year's whiskey." En route from the airport to Edinburgh, the cheery bloke regaled us with tales of how "the more whiskey ages the better it gets" and how "Edinburgh itself has aged into a right fine brew."
Scottish humor is but one aspect that endears Edinburgh to meetings and incentive groups, says Victor Ryback, president of Toronto-based Travelloyd (Canada) Inc. "Edinburgh is one of the world's best capitals for incentives. It is historically exciting, with everything that's attractive to planners and clients - great golf, lots of restaurants for dining around, and an excellent infrastructure for using historic venues for meetings and unique themed events."
Indeed, en route from the airport, incentive groups are quickly intrigued by Edinburgh as a historic stage for their program. By the time they spot Edinburgh Castle perched on a hill they've learned that if old stones could talk, what tales they'd tell of bloody wars, witch hunts, and plagues that sent the rich reeling from the smudgy medieval Old Town to a Georgian-style New Town.
Today these ancient hubs, which form the heart of Scotland's capital city, are designated a World Heritage site by UNESCO. History aside, Edinburgh reigns as one of the fairest cities in Europe. Dignified in tradition, yet spirited in the perennial pomp of Scottish festivals, Edinburgh is a top notch meetings and incentive destination, with the combination of a flourishing cultural scene, historic buildings and castles accessible for gala events, not to mention its proximity to the golfing world's most venerable emerald fairways. After all, this is where Mary Queen of Scots walloped a ball in 1567, long before the Old Course St. Andrews was conceived.
Staying Focused
In spite of its obvious assets, Edinburgh's tantalizing lure as golfing destination means planners must tactfully position the city as a meeting venue, says Gordon Hoskin, a member of the sales, promotions and communications team at Standard Life Assurance, the Montreal-based subsidiary of its Edinburgh-based corporation.
Getting to the country where the game was born may be a big draw for some pure incentive groups, but getting down to business is a key component of most group programs. Considering the potential tax issues involved - where pure incentive trips may be construed as taxable income - most planners are meticulous to position programs in a professional context. "The objective of every incentive trip at our company must be to mix business with pleasure and strengthen the bonds of our employees," says Hoskin. "Golf was the draw highlighted in the promotion for this, our third trip to Edinburgh. But our life insurance brokers knew this was clearly a business meeting for which they must qualify over a 12-month period."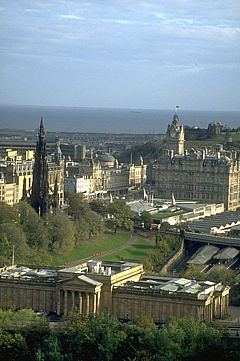 Edinburgh's skyline showcases
the Scott Monument, the Balmoral Hotel
and Princes Street.
Hoskin's group of 38 incentive winners and their spouses traveled to Edinburgh in August 1999. The timing of the eight-day trip, which included three nights in London, England, was crucial, Hoskin says. "We wanted to capitalize on the terrific August weather plus on the cultural panache of the Edinburgh Festival, one of Europe's most important arts festivals," he says. " It is so fantastic with the Fringe Festival and the Tattoo (a boisterous re-enactment of famous battles with military and bands. But that's when hotels are at a premium."
"The biggest challenge of advance planning - essential for planning a trip at this popular time of year - was not knowing the number of incentive winners till the end," says Hoskin. After initially guessing on air and hotel requirements, he adjusted figures as the incentive program took speed.
While in London, the group stayed at the five-star Royal Garden in the posh Kensington district. In Edinburgh, the group was treated to the impeccable service of the city's most prestigious hotel, the five-star, 164-room Balmoral Hotel.
Hoskin credits Edinburgh-based destination management company Gaynor Travel with helping make the program a success. The company, which has affiliates in London, coordinated the dual city programs plus the individual pre- and post-trips for the sales force. Some people opted to arrive early in London and/or stay longer in Scotland, many renting cars to tour the country or hop from one golf course resort to another. Others, assisted by Canada's American Express Group Travel Division, flew on to other cities in Europe.
"Our biggest advantage was our excellent DMC," Hoskin says. The standards for Scottish and British DMCs are so high, people were gratified at the service, and the faultless execution of events."
"The itinerary reflected our sensitivity to the fact that people want free time and space." After one, easy day in London, the group enjoyed a full-day city tour with options to see West End theatre productions and dine at the famed Simpsons on the Strand restaurant. The next day, after a luncheon cruise on the River Thames, each member of the group received envelopes of cash for a London dine-around. The third day, thanks to British Airways' frequent schedule, incentive winners had flexible departure times to linger in London or proceed early to Edinburgh.
Highland themes were a central part of the opening night gala in Edinburgh, with a rousing Celidh (traditional Scottish music and dancing) at the company's world headquarters.
The program in Edinburgh focused on meetings, leisure activities and sightseeing. Delegates were invited to join a guided city tour, or hop on a double-decker tourist bus. Besides golfing at the St. Andrews Old Course, other options included visits through Scotland's verdant landscape to The Glenturret Distillery and picturesque Loch Lomond, the watery haven of Nessie, the legendary Loch Ness Monster. The closing gala at The Balmoral Hotel sent guests twirling the Highland fling to Celtic music.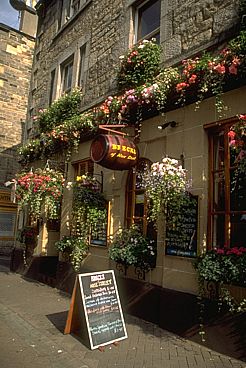 A popular pub on Rose Street serves traditional Scottish fare and ale.
Planners dream up endless variations on the Highland fling theme. Two years ago, Heather Douglas, manager of product purchasing and development at Maritz Canada Inc., culminated her client's stay in Edinburgh with a fling in Hopetoun House, a castle outside the city. "We rented costumes for the full Scottish black tie event: kilts for men, sashes and brooches for women. A 'dresser' helped the 40 members of the multi-national insurance company get the accoutrements in order before ushering them into Daimlers headed for the estate, where they were greeted by Highland dancers, musicians playing pipes and drums, and kilted staff proffering champagne and hors d'oeuvres." After hearing an 'address to the Haggis' (a funny Scottish toast to a food), guests dined on a gourmet meal. The evening ended with a rousing pipe and drum 'retreat'.
When pitching Edinburgh as a meetings or incentive destination, it helps to know that your client has a significant budget, in tune with the British pound, says Douglas. She positions Edinburgh as "high end", supplementing four or five nights, "preferably at the Balmoral - the first choice in Edinburgh's meeting hotels" - with a three-night golfing stay at Turnberry or Gleneagles, where "the resorts alone are fabulous party venues."
Linking Up on the Links
An incentive trip to Scotland wouldn't be complete without a golf component. And despite the fact there are 400 courses in Scotland - with the famed courses of Gleneagles, Carnoustie, and Turnberry less than 90 minutes from Edinburgh - everyone wants to play the famed Old Course St. Andrews. But that's easier requested than done.
"It's essential to learn the booking protocol for golf," says Hoskin, admitting his company's formidable presence in Scotland helped facilitate the often impossible-to-get tee times for his group at St. Andrews. Arranging that dream golf game for clients can be a nightmarish experience, says Rybak, who is in the throes of orchestrating a seven-night meeting and incentive program to London and Edinburgh for 30, high-performing automotive dealers and their spouses.
"Gleneagles is flexible [for booking tee times], St. Andrews is another story. The only way around the uncertainty of St. Andrews' ballot system [which draws names of confirmed players no earlier than 24 to 48 hours in advance] is through a wholesaler who packages hotel-and-golf at the Old Course, which raises the ante on food and hotel costs. You can't even book one foursome for the president or CEO of the company."
With golf the main motivator, Rybak is considering basing his group in the Gleneagles Resort, 30 minutes outside of Edinburgh, and day tripping in for the culture. To round out the program, he's considering staging a "Scottish Games" event, where groups may choose to be spectators or participants, testing their skill at sports like discus throwing. "Where ever I go," says Rybak, "I like planning everything to extremes - showing off the destination from both sides of the spectrum. Planning theatre nights with a twist. Mixing casual pub meals with deluxe evenings. In Edinburgh, you can do it all."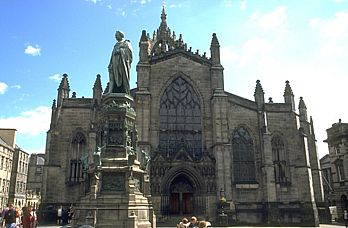 For ghoulish thrills, take the Witchery Tour at night.
A Planner's File of Favorite Edinburgh Sites
Compact Edinburgh is easily explored on foot. Planners often choose a walking tour with one of the city's well-versed Blue Guides. Or give coupons for Double Deck Bus Tours, allowing the flexibility to linger in galleries or browse in shops brimming with goods from bespoke (custom) suits to cashmere shawls to curios.
Blue Guides lead guests through history from Castle Hill, where Edinburgh Castle commands a strategic view, downhill on the Royal Mile past St. Giles Cathedral and the Supreme Court (where Scotland's first Parliament stood) to the Palace of Holyroodhouse, Queen Elizabeth's official domain in Scotland. Along the way, passing the Scotch Whiskey Heritage Centre, the guides digress down steeped stairwells to tiny courtyards, telling historic tales. Of bitter feuds between the English and Scots. Of the evangelical Reformation that transformed 15th century social mores. Of witch hunts and public executions. Of plagues that devastated the Old Town which people dubbed Auld Reekie. Of the sparkling New Town, built for upper classes, on the sweet side of the Nor'lock River. And of characters whose legacies left Scottish imprints on history, religion and literature: among them Mary Queen of Scots, Bonnie Prince Charlie, John Knox, Robert Louis Stevenson, Sir Arthur Conan Doyle and Sir Walter Scott.
Double-deck tour buses: Passengers hop on and off at the prime sites.
Witchery Tour: A night-time ghost prowl with a "ghoul" illustrates Edinburgh's history in a unique tour full of morbid fun and hilarious surprises. While leading guests through back alleys, the "ghoul" tells stories that "curdle your blood" about witch burnings, the town councilor who was the real Dr. Jekyll and Mr. Hyde, and the little boys called "caddies" who caddied buckets of fresh water during the Black Plague.
Scotch Guarded: Prime Venues
Historic castles and national buildings in and around Edinburgh are prime venues for special events. Kathleen Leuba, of Mondotels, who represents the Scottish Convention Bureau in North America, advises: Enlist a reputable DMC who knows Edinburgh's protocol of booking venues, and book as early as possible.
Edinburgh Castle, perched on Castle Hill, and the Palace of Holyroodhouse, which sits at the base of the hill at the end of the Royal Mile, are favorite reception venues. Holyroodhouse, the official residence of Queen Elizabeth and Prince Philip, may be available for certain functions when the Royals are not in residence. Edinburgh Castle can accommodate up to 1,000 for a reception.
Edinburgh's art galleries and theatres provide stunning venues for gala receptions. The National Gallery of Scotland has skylit ceilings and octagon shaped rooms. The neo-classical Scottish National Gallery of Modern Art has an outdoor sculpture garden set on a rambling estate. The Royal Museum holds up to 650 people for dinner in a magnificent glass-roofed hall. The new Festival Theatre, boasting the biggest and best-equipped stage in Britain, is a triumph of artistic reconstruction and restoration. It houses the Lyreic Theatre, Variety Palace and Opera House - all of which are accessible at times for receptions and events. The former Royal Yacht Britannia, Queen Elizabeth's former floating palace, now berthed in Edinburgh's Port Leith, can accommodate 92 for banquets and 250 for receptions. Two brand new, unique attractions offer halls that for receptions and special events: The Museum of Scotland showcases Scotland's natural and cultural heritage from the Stone Age to Romans and Vikings to the present. The Dynamic Earth, a science and entertainment complex adjacent to the new Scottish Parliament Palace of Holyrood House, pits guests into different stages of the earth's evolution.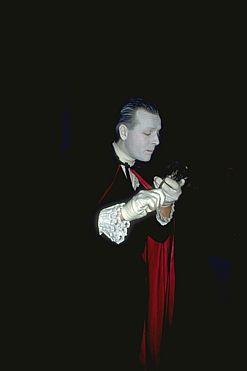 For ghoulish thrills, take
the Witchery Tour at night.
Outside of Edinburgh, several castles offer grand halls that inspire Scottish themed events. Stirling Castle, royal residence of the Stewart's and childhood home of Mary Queen of Scots, considered to be Scotland's finest castle, boasts the country's largest medieval hall, holding up to 300 guests for a formal dinner. Blair Castle, a 13th century fairytale castle, whose main ballroom can accommodate 220 for a formal dinner, recently added new conference suites. Worth considering for their historic charm is Hopetoun House, called "Scotland's finest stately home".
Night Lines: Edinburgh's Top Incentive Properties
The Balmoral Hotel Built in 1902 as the former North British railway hotel, the elegantly refurbished Victorian property has 164 rooms and 20 suites that feature lovely views of
The Caledonian Affectionately dubbed "The Caley" by Scots, this turn of the century, red sandstone hotel overlooking Edinburgh Castle has 246 rooms and 23 suites. George Inter-Continental Edinburgh Built in the heart of the city as Scotland's original banking hall, the recently renovated hotel has 195 rooms, 10 suites.
Howard Hotel Perfectly charming for small groups who don't require large meeting facilities, the Howard Hotel is composed of three combined townhouses, circa 1766, that are tucked away from the mainstream in New Town. It has 13 rooms, 10 suites.
Details:
Edinburgh website: www.convention.scotland.net
Virtual tour of Edinburgh Conference Centre:
See website: www.edinburgh.org/conference
Scottish Tourist Bureau, Canada:
Phone: 905-405-1720 Fax: 905-405-8490
The Scottish Convention Bureau, USA:
Contact: Mondotels in New York
Phone: 1-800-262-8244 / 212-575-2229
Fax: 212-719-5763
e-mail: scotland@mondotels.com
British Airways has frequent connections between London and Edinburgh. British Rail's speedy rail link from London's Kings Cross Station to Edinburgh takes four hours.