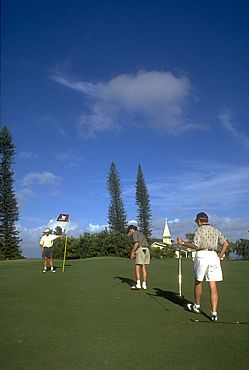 On the green at Ritz Carlton
Kapalua Bay Course.
The Beauties and the Beasts
Hawaii's islands teem with golfing thrills,
But a wayward shot can be trouble in paradise.
The best way to play? Stay on one isle,
fly from isle to isle, or cruise around the isles.
Text and photos by Toby Saltzman
Just as I was lining up to putt at Mauna Kea, a trio of whales flipped and sprayed close to shore. Captivated, I paused to watch till someone shouted, "Hey! Keep pace!" That's the challenge of Hawaii - distractions are so breathtaking, it's tough keeping your head down. Where else are you likely to be bamboozled by whales on the green?
Hawaii boasts some of some of the world's most spectacular par threes, with holes so near, yet so far away. Take this signature third hole at Mauna Kea. The tee and green crown opposite cliffs separated by 190 yards of blue Pacific. This par-3 ocean hole has notoriously intimidated the masters. On opening day, Jack Nicklaus, Arnold Palmer and Gary Player all missed the green.
Hawaii's diverse isles teem with golfing thrills. No other destination offers so many unique courses sculpted around such wildly shifting topography. The courses hug seashores, straddle lava flows, climb hills or wind up mountaintops. It's a place to rejoice in golf, take good shots and bad in stride. Mis-hit, and you find trouble in paradise.
For a luscious Hawaiian cocktail, mix sightseeing with golf. Stay on one isle, fly from isle to isle, or cruise around the isles. Luckily, I've played the islands several times. First, on an island-hopping jaunt with my husband, Ken. Later, on an American Hawaii Cruise with my friend, Donna.
Island Hopping from Green to Green
The moment we arrived at Oahu's Pink Palace, as the Royal Hawaiian Hotel is dubbed, and saw the arc of white beach curving around the bay to the emerald peak of Diamondhead, golf slipped from our minds. We ran to curl our toes in sand and float on rolling waves. We left Waikiki Beach only to cruise the vast bay at Pearl Harbor and see its feature attraction, the USS Arizona Memorial.
Early the next morning, we hopped a flight to Lanai. Famed for pineapples, it's a paradise of absurd beauty shifting from pristine beaches to forests to dry gulches to red cliffs to mountains. We split our stay between Lanai's two luxurious golf resorts, which sit at opposite elevations - the glamorous Manele Bay Hotel, on the sunny coast at Hulopo'e Bay, and the woodsy Lodge at Koele, high on the mountain summit.
The Challenge at Manele is a sensational Nicklaus-designed, target-style desert links course chiseled into the skirt of a steep volcanic cliff. It gained celebrity status when Bill Gates' dreamy wedding, held on the emerald spur where the 12th and 17th holes abut, eluded the paparazzi. If the par-3 12th is a fairy tale hole, it's Beauty and the Beast, the crashing waves ready to swallow stray shots, the manicured green waiting to welcome successful ones.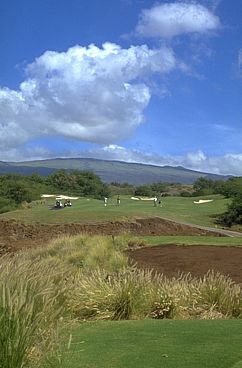 The Hapuna Course, scattered with wheat-colored grasses and shrubs that skirt
desert dunes, is "the most environmentally sensitive" course in Hawaii.
Koele's Experience of Lanai, designed by Greg Norman, is remarkable for its contrasting elevations, vegetation and bunkers, which have white or red sand. A narrow cart path winds to the mountaintop front nine, rolling along a ridge fringed with stately Norfolk Island Pines. At this altitude, only the birds heard us cheer when we parred the fourth, and gasp when we saw the tee on the signature eighth, set about 250 feet above a fairway cloistered by the rainforest and a pond.
The next day, disaster! Exploring Lanai by jeep, we ran a puddle on a secluded road and sank into a muddy trench. Anxious hours later, a thick mist was rolling in when cyclists found us. That night, we toasted champagne to dry mud on our shoes.
At dawn we flew to Maui. No wonder it is touted as the world's best island. Besides being circled by sugary white and jet-black beaches and gorgeous golf courses, Maui is a hub of activities. Lahaina, an old whaling port, once the capital of the Hawaiian kingdom, buzzes with bistros and galleries. The Lahaina Basin is the winter playground of humpback whales. On a whale watching boat, we delighted in the antics of a mother whale and her cub being pursued by two avid males. Our daylong trek to Hana - winding up to the mountainous, wild corner of Maui - merited every tight, hairpin curve for views of the coastline, waterfalls, and rainforests.
Maui's windswept Kapalua Plantation was a phenomenal challenge with sprawling fairways, mammoth bunkers and undulating greens that break, like clockwork, to the ocean. Standing on the 16th tee, surrounded by the emerald land, sapphire water and blue sky, I could see why Sports Illustrated Magazine dubbed this Arnold Palmer designed course tucked behind the Ritz Carlton "golf played off the edge of the world."
By noon the next day we were swimming on the Big Island of Hawaii. Its Kohala-Kona Coast boasts Hawaii's best weather, best beach, best preserved Hawaiian temple, and the world's clearest astronomical vantage from the Mauna Kea Observatory. We lucked into two exotically different coastal idylls. At Kona Village, a balmy oasis on a salt-and-pepper beach, our thatched-roof hut, perched on stilts speared into the lava coast, had a verandah facing the ocean. Days were lovely, but nights were magical under the hula moon and star-studded sky. We explored tidal pools brimming with butterfly fish and sea urchins before heading up the Kohala Coast to Hawaii's most beautiful beach - Hapuna Bay - where the contemporary Hapuna Prince Hotel boasts two famous golf courses.
Most courses on the Big Island are chiseled and gouged out of nature's harshest concoction of 5,000-year-old lava fields, scrubby savanna, damp rainforests and parched deserts. Golfing here pitches you against daunting elements. You must hit strong over ocean carries or gulches of crusty lava or mangled scrub. Losing a ball in scrub is like losing a sequin off a gown on a crowded dance floor. Mauna Kea - an undulating, sea level coastal course, crafted by Robert Trent Jones with tight fairways lined by trees, scrub and clefts of lava - plays tough. But its well-placed, often elevated forward tees inspired smashing drives.
We regretted not playing Mauna Kea's sister Hapuna Course, this time around. Designed by Arnold Palmer and Ed Seay on an elevated, lunar landscape called a dryland forest, it is scattered with wheat-colored grasses and shrubs that skirt desert dunes. Hapuna is designated "the most environmentally sensitive" course in Hawaii by the U.S. Golf Association. Both courses gave dreamy views of the sea melting into the sky.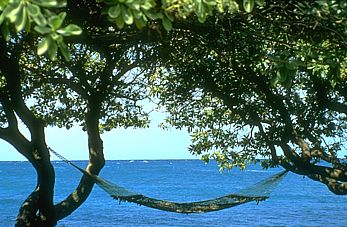 A hammock in paradise at Kona Village.
Early the next morning we drove to Hilo. The views at Volcanoes National Park were something else. Heeding warnings of the park's fickle climate - which shifts radically from steamy rainforests to chilly summits to dry plateaus - we geared up with layers of clothes, sturdy shoes and hoards of water. Peering down from the rim of the immense Kilauea Caldera, we saw a troupe of gutsy adventurers, scurrying like ants across the lava floor. While following the Crater Rim Trail through fragrant forests to vast swaths of land devastated by lava flows, we vowed to return to beautiful Hawaii.
Cruising the Fairways
A few months later, when I spotted an ad for the affordable American Hawaii Cruises, I called Donna. "Sail around Hawaii and golf?" Donna said, "I'll be ready faster than you can play nine." The cruise promised pre-arranged tee times at select courses, shuttle services, plus cart and club rentals.
Though bigger and grander ships may dot the horizon now, the ship was a comfortable treat. Its seven-day itinerary loops from Honolulu's historic Aloha Tower to five ports on four islands in the Hawaiian archipelago: Oahu, Kauai, Maui, and the Big Island. We planned three golf games in between sightseeing.
En route to Kauai, a school of playful dolphins escorted the ship for miles, arching in and out of the water, their shiny skins glistening in the sun. The sun was rising as we warmed up at Kauai's Kiele Lagoons Course. A parade of auburn roosters strutted across the first tee, celebrating dawn's early glow with boisterous "Cockadoodledoos." The Lagoons is dazzling, but wicked. Sculpted marble beasts hold court over tees banked by blossoming frangipani and tulip trees. Fairways roll through rainforests, where wild peacocks and herons seek shade, to valleys framed by purple mountains, to cliffs jutting above turquoise seas. We knew the weather might kick in. Kauai is the rainiest place on earth. Sunny skies over the ninth hole turned drizzly gray by the tenth. Two holes later, a rainbow arched over blue Nawiliwili Bay. Gusty winds came into play often, forcing us to use low punch shots over roughs, and bump and run shots with long putts on undulating greens. It was breathtaking and sobering to drive off the 16th tee: it juts above crashing waves, over a volcanic gulch and onto a skinny fairway that slopes along the coast to sea level, where a tiny green hugs an old lighthouse.
Still exhilarated by golf, we boarded a helicopter tour of Mount Wai'ale'ale. We soared over the razor-edged cliffs and palm-fringed beaches, deep canyons and cascading waterfalls that were natural sets for the filming of South Pacific, Raiders of the Lost Ark and Jurassic Park.
The next two days in Maui were splendid. Other passengers raved about luaus where bare-chested Hawaiians roasted fat pigs. Some rose early to see sunrise over Haleakala, the world's largest dormant volcano, then bicycled down the volcano wall. Donna and I raced to Wailea. We booked too late to play the new Emerald Course, home of the Kemper Womens' Open. Designed by Robert Trent Jones with four to six boxes on every hole, it's rated among the most women-friendly courses in North America. To our delight, Wailea's challenging Gold Course turned out to be a thinking woman's facility that rewards smart lay ups. We both parred the eleventh, a sweet par-3 cloistered by four bunkers. Besides rough gullies, hazards on the Gold include segments of papohau - remnants of ancient, lava rock walls built by the early settlers. Every hole on the Gold has spectacular views of majestic Mt. Haleakala rising, 10,000 feet to the east, with the blue Pacific on the west.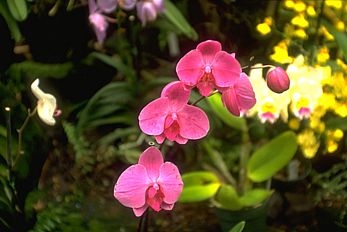 Besides golf, the American Hawaii Cruise organized
visits to local attractions like Hilo's Orchid Gardens.
Thursday at Volcanoes National Park, fitness fanatic Donna cajoled me into taking a seven-mile hike of the crater. Once we descended through the rainforest, we spent most of our time watching our steps on the crater floor, straddling fissures and circumventing plumes of steam that hissed up from the crusty lava. As we sailed past the volcanoes that night, pu'u Huluhulu eruption glowed red under the starlit sky.
After tendering ashore in Kona, we headed to the Mauka Course. By the second hole, we were gritting our teeth. Mauka, which means mountain, winds up and around the steep, undulating slope, past wide ponds and lava gulches, before winding back down to sea-level. We learned quickly that bouncing balls roll down to the fairway below. While chasing one ball, Donna shouted, "Ya gotta be a mountain lion to play this course!" For all our nerve-wracking play, we found golf heaven here at the top of the world. Perched high in the sky on the green crest of the mountain, playing the 12th and 13th fairways, the only sound we heard was music of the birds.
When the ship returned to Honolulu, we took a day room at the Royal Hawaiian and rushed down to the beach. The sand was warm, the ocean shimmering silver and blue. We burst out in unison, "Let's do this again!" Yes! After we practice our target drives, low punch shots, bump'n runs, and long putts.
Details:
American Hawaii Cruises: 1380 Port of New Orleans Place, New Orleans LA 7031-1890 Phone: 800-765-7000 / 504-586-0631, Fax: 504-585-0694
e-mail: ahcpr@cruisehawaii.com
American Classic Voyages will launch the new United States Lines in December: Phone: 877-330-6600 Fax: 504-585-0630 Website: www.amcv.com
For Canadian, excellent air-hotel packages to Hawaii are offered by Signature Vacations, Sunquest Vacations and World of Vacations.
Hawaii has many bed-and-breakfasts ideal for golfers. Barbara Campbell, who runs Hawaii's Best Bed & Breakfasts, will help plan your itinerary and reserve your accommodations.
Phone: 800-262-9912 or 808-885-4550. Fax: 808-885-0559