Santa Fe is an art-lover's paradise.
Art aficionado Mary Ann Hemphill tells you where to start looking, where to stay, where to eat. Text and photos by Mary Ann Hemphill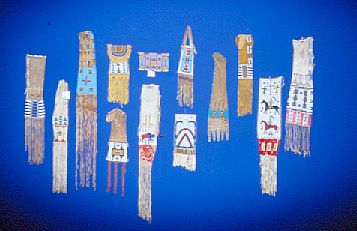 Morningstar Gallery features intricately beaded
tobacco bags made by the Plain Tribes craftsmen.
Santa Fe boasts of a million works of art within a square mile and more than 250 art galleries. Mind boggling. What's the art-lover to do?
After two days of exploring this bounty of treasures, I narrowed my prospects. Given an unlimited budget, here's my fantasy shopping spree would take me. These are the galleries whose works made me sigh.
Andrea Fisher Fine Pottery is the only gallery of its kind anywhere. It handles just one medium--pueblo pottery--and the very best of it. This well-organized, soothing gallery has a very narrow focus of contemporary and historic pueblo pottery, with works from 19 Rio Grande pueblos, plus Hopi and Zuni pottery. Within this focus, the specialty is the black-on-black work of the late Maria Martinez, the "grande dame of pueblo pottery." Martinez was from the San Idlefonso Pueblo, 20 miles north of Santa Fe. Four generations of her descendants, all represented here, have made pottery.
At Andrea Fisher's I fell for the outstanding geometric patterns of the Acoma pottery. One pot had mirrored images of its black on white designs on opposite sides. When Fisher asked how this was done, the artist replied, "I copy them - from my head."
The pottery artists at Robert F. Nichols have pushed beyond the ordinary in contemporary Southwestern Indian pottery. Take, for example, the figures by the Ortiz family from Cochiti. They just made me grin: a chunky lady in a black bikini with a heart tattoo on her ample bosom, hippie couples, a reggae band, a 100-piece circus ensemble that includes clowns and a bearded lady.
Given that I live in earthquake-prone Southern California, the antique Indian baskets at the Kania-Ferrin Gallery might be a more practical choice. These baskets are marvels of patience and skill, the finest examples of a very labor intensive, time-consuming, complex art form. My favorite was a tiny Pomo basket, only an inch high. This tribe, renowned for its exquisite, elaborate, finely woven baskets, lived in California's Mendocino/Sonoma area.
The Morning Star Gallery is a stellar collection of museum-quality Indian antiquities, most of it from the 19th century. Plain tribes tobacco bags ($7,500 to $25,000) hang on a deep blue wall. A Sioux woman's dress from South Dakota, circa 1880, had a fully- beaded yoke ($22,000).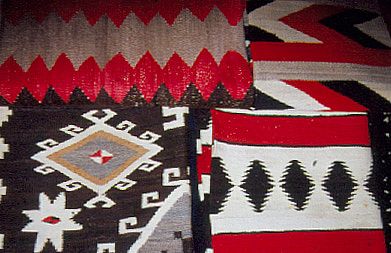 Navajo blankets are found at The Rainbow Man.
However, Morning Star's distinction as the country's largest gallery of antique Indian art has given the staff a bit of an attitude, so if were to spend my money on Indian antiques, I'd prefer to do so at the shopper-friendly Rainbow Man. Here, owner Bob Kapoun has traded directly with the Indians for more than 30 years. Specialities include old (pre-1940) pawn jewelry, such as Concho belts, often made from melted coins, trade blankets and Edward Curtis' vintage photos of American Indians. I was particularly captivated by the two-inch-high Kachina dolls by Bess Yanez, a Hopi.
Good Hands Gallery is one of the oldest and finest sources for Hispanic art, mostly by artists from New Mexico. The proprietor, Ramón José López, is an artist himself, self-taught, a recipient of a National Heritage Fellowship from the National Endowment for the Arts. López is also a santero, an artist who makes images of saints. His are in the folk tradition of New Mexico, often adorned with silver crowns.
Many of the works here are by members of the López family. One of the sons is a painter. His twin does silver engraving. Ramón's wife, Nance, is winding down the making of her "Treasure Necklaces"® and moving into landscape painting. These multi- strand necklaces are fascinating amalgams of glass beads, small hand-carved animals, Victorian lockets, various hearts and bits of Ming Dynasty porcelain.
In an 1886-built Territorial style house on a shady side street, Jackson-Kirkland is a collection of fine arts and antiquities of 19th- and 20th-century Western America. Here I got a sense of the spaciousness and people of early Western America, a vast landscape without development. Jackson-Kirkland features works by early members of the Cowboy Artists of America, such as James Boren and Frank Tennei Johnson. These two were working cowboys who captured the people, way of life and scenes of the late 19th and early 20th centuries.
But it's not all just Southwestern art in Santa Fe.
At the Munson Gallery the highest quality contemporary American art, most of it representational, shines in a light, spacious, airy setting. This, the second oldest family-owned gallery in the country, also features ceramics, sculptures and "assemblages." Eddie Dominguez's "Black Velvet Fish Dinner" is the most intriguing assemblage. It's literally framed dinner ware. Just take the components out of the cabinet, use the brightly colored ceramics, then put it all back together, following the re-assembly directions! Outside is Beverly Magennis' "Garden Art," mosaic seats and footstools made from the tiles she manufactures.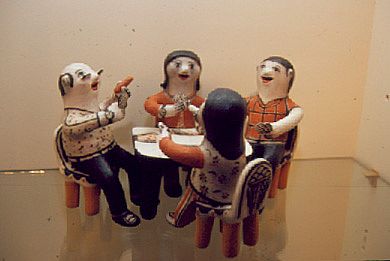 Robert Nichols Gallery is known for pottery by
the Ortiz family who live in the Cochiti Pueblo.
Nedra Matteucci Galleries (formerly the Fenn Gallery) specializes in 19th- and 20th- century American art, encompassing a broad range of works, from Native American artifacts to sculptures by Glenna Goodacre, who fashioned the Women's Vietnam Memorial in Washington, D.C. Here, in a spacious, inviting adobe, are works by the Taos Society of Artists, who used European techniques to depict American subject matter, contemporary works (even some Russian realist paintings) and Indian antiquities, such as a Blackfeet beaded vest ($9,500). Outside, the one-acre sculpture garden, with a pond and the lushest greenery I saw in Santa Fe, is worth at least an hour's contemplation.
My pick here? American impressionist Theodore Butler's, "Schoolhouse under Snow," for $175,000. (I can dream, can't I?). It would hang in the same room with my choice from the Munson Gallery, James Cook's large scenic oil, "Hayspur Green and Gold," ($12,000).
If my budget could accommodate such purchases, I might be invited to stay in the Nedra Mateucci Galleries' guest quarters, where serious clients and VIPs savor their own art-filled habitat. One gallery owner described the Nedra Matteucci Galleries as the "master example of everything Santa Fe represents--the best in architecture, the Taos school, New Mexico, contemporary, Indian. It's the best all round experience of the Southwest." In Santa Fe, that's saying a lot.
Details Note:
The zip code for Santa Fe, New Mexico is 87501
For online information on Santa Fe's galleries, go to: http://www.collectorsguide.com/sf/sfall.html
GALLERIES
ANDREA FISHER FINE POTTERY
221 West San Francisco St.
505-986-1234
http://www.andreafisherpottery.com/
GOOD HANDS GALLERY
700 Paseo de Peralta
505-982-3352
http://www.goodhandsgallery.com/index.htm
JACKSON-KIRKLAND
222 Shelby St.,
505-983-8700
KANIA-FERRIN GALLERY
662 Canyon Rd.
505-982-8767
NEDRA MATTEUCCI GALLERIES
1075 Paseo de Peralta
505-982-4631
MORNING STAR GALLERY
513 Canyon Road 505-982-8187
www.morningstargallery.com
THE MUNSON GALLERY
225 Canyon Road 505-983-1657
http://www.munsongallery.com
ROBERT F. NICHOLS
419 Canyon Road
505-982-2145
http://www.robertnicholsgallery.com/about_gallery.htm
RAINBOW MAN
107 E. Palace
505-982-8706
ACCOMMODATIONS
While gallery hopping, stay in a hotel that is a work of art.
The Inn of the Anasazi takes its architectural inspiration from the area's ancient Anasazi pueblos, evident in details such as sandstone walls and kiva fireplaces. Works of local art, from blankets to carvings adorn the public rooms and 59 guest rooms. Room amenities include 100 percent cotton sheets on the four-poster beds, fireplaces, cedar-scented toiletries, coffee makers (with your choice of whole beans), TVs and VCRs. You can request an in-room massage or an in-room exercise bike. Rates: $ 259 to $429 Inn of the Anasazi
113 Washington Ave.
1-800-688-8100 or 505-988-3030
www.InnoftheAnasazi.com
La Fonda: Right on the Plaza in the heart of town, La Fonda has antiques and Indian art in the lobby, and guest rooms have hand-decorated wood furniture. A classic: the hotel has hosted both Kit Carson and John F. Kennedy. Rates: $189 to $500. La Fonda
100 E. San Francisco St.
1-800-523-5002 or 505-982-5511
http://www.lafondasantafe.com/
Water Street Inn: A bed and breakfast in a restored abode, just a couple of blocks from the Plaza. All rooms have private baths and four poster and antique beds, some have fireplaces. Decor is a mixture of cowboy, Hispanic and Indian. Rates: $155 to $215.
Water Street Inn
427 W. Water Street
1-800-646-6752 or 505-984-1193
http://waterstreetinn.com/
DINING
The Anasazi Restaurant: A fine, unique blend of New Mexican and Native American fare. At the Inn of the Anasazi, 113 Washington Ave.; 505-988-3030.
Geronimo: Contemporary Southwest cuisine in the elegance of a 150-year-old adobe 724 Canyon Road, 505-982-1500
Santacafé: One of the city's best, in an historic adobe or in its shaded . Bistro-style food with a southwestern flair. 231 Washington Ave., 505-982-8608.
Ta Sophia's: Casual dining on a breakfast burrito or blue corn enchiladas at lunch. 210 West San Francisco St.; 505-983-9880.
Mary Ann Hemphill is a freelance travel writer and photographer from Newport Beach, California. Her work appears in major magazines and newspapers, and she recently won a Silver Award in the annual Lowell Thomas Travel Journalism Competition.