Fifty-six years late,
New Orleans gives D-Day
its Museum The D-Day invasion
blasted 55 miles off the shoreline of Normandy in France. So why locate a museum to this epic battle in New Orleans? Read the exciting account by Arturo and Maureen Brigid Gonzalez
"World War II's veterans are dying now at a rate of 1500 a day. And the total's ever rising. That's more deaths than when they were fighting. What we've just built here in New Orleans honors them. And captures many of their wartime memories before it's too late."
We're talking to Beverly Gianna, a New Orleans spokesperson, in front of the 70,500 square-foot, green-hued, four-floor, former Nineteenth Century brewery and warehouse in the city's Canal Street Historic Warehouse District - the National D-Day Museum that opened on June 6th, the 56th anniversary of the greatest seaborne invasion in all history.
That invasion of 5,333-ships, 11,000 planes, and 250,000 soldiers blasted 55 miles off the shoreline of Normandy in northern France. So what is the logic of locating the museum commemorating this epic battle in distant New Orleans, at the mouth of the Mississippi River?
"It's Ike Eisenhower's fault," smiles Dr. Stephen Ambrose, the historian, best-selling author and New Orleans University professor who spearheaded the 15-year effort to open this memorial to D-Day. "Eisenhower was interviewing me about being one of the scholars to edit and publish his memoirs. He noted that I was from New Orleans, and, out of the blue, asked me if I knew Andy Higgins. I didn't know Higgins personally, but I knew his reputation as a tough-talking, hard-driving World War II shipbuilder whose company launched an armada of WWII landing craft. Ike expanded on his interest, saying 'Andy Higgins is the man who won the war for us'."
Then and there, Dr. Ambrose decided America ought to do something to honor Higgins and the boats he built. And that it ought to happen in New Orleans, where, at the peak of WWII production, Higgins had eight factories employing 30,000 men, women, whites and blacks, elderly and handicapped, turning out the flat-bottomed, front-ramp-dropping plywood and steel boats which carried 36-fully armed troops at a time, or their jeeps and light artillery, ashore into Normandy, and onto beachheads all over the globe.
By September of 1943, the US Navy had 14,072 vessels under commission. Some 12,964 of them (92%) had been designed by Higgins, and many had made their first test cruises on the city's neighboring Lake Pontchartrain. To impress Navy buyers and prove that they were battle durable, Higgins would sometimes deliberately ram them into the sea wall.
Walking into the D-Day Museum's enormous entry hall, we spot, to our left a huge American flag, and under it, the last Higgins LCVP (landing craft, vehicle/personnel) ever built. Hardly a single Higgins boat from the World War II era is still afloat today. This last vessel was created less than a year ago, using salvaged blueprints from World War II days, by a small, intense cadre of retired Higgins workers eager to build just one last boat in memory of the old man, who died in 1952. It was christened by Gayle Higgins Jones, Andy's grand-daughter, in 1999, and made its shakedown cruise on Lake Pontchartrain (as during World War II) before being transported to the D-Day Museum to become its premier exhibit.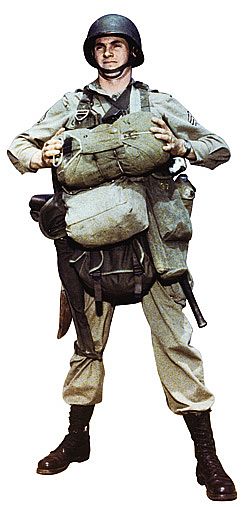 An American paratrooper in
complete jump equipment
Around it are camouflaged German vehicles salvaged from Normandy's beaches. Above swoops an RAF Spitfire carrying the six white wingstripes used as quick battlefield ID during the invasion. Sharing its patch of the museum sky is an American Army spotter plane, a spindly khaki-colored Piper Cub which loitered over the invasion beaches, calling in artillery strikes on the entrenched German defenders. An American half-track displays on its side the saucy female figure of the driver's girlfriend, a very human touch often seen on Allied war machines.
For 48 minutes we sit in the 110-seat Forbes Theater and experience D-Day as it was reported by military and civilian cameramen who went in with the first waves. D-Day Remembered, directed by Charles Guggenheim, is a gripping, Oscar-nominated documentary, showing the Higgins boat ramps dropping and the men dashing for shore as Nazi machine gun bullets ping. A few GI's crumple in the hail of fire among the several thousand Allied troops who perished on this longest day.
This is not a museum filled with thousands of invasion day artifacts. Instead, this $25 million exhibition marries narration, audio-tapes in nine separate oral history booths, vintage photographs and battlefield artifacts into a dramatic and compelling account of what the landing looked like, and felt like, from the moments when soldiers clambered down netting into their Higgins boats, through the noisy, dangerous shellfire to the beach, until after the ramps dropped and the troops carved out the Allies' first perilous foothold on Hitler's Fortress Europe.
We look out at the massive invasion armada through the slits of a German pillbox. We wander onto a field where a British glider carrying troops has just crash-landed. There are electronic maps of the shifting battle lines, panels of texts, photo-murals, and replicas of battlefield items we can pick up, and even wear. The exhibits reach back into the past to explain how history led up to D-Day, and cover some of what happened in Europe after the invasion succeeded.
Vets dug into their foot lockers to bring D-Day artifacts to the museum. There is, for instance, a battered, folded copy of the Order of the Day, which Eisenhower printed and issued to all his troops on their way to battle. Nicholas Butrico, a private in the Rangers going into one of the hottest landing zones, scribbled a prayer on the top of his. Later, he wrote on its back his memories of the day, including that of squadmate Chester, who couldn't swim, and was the first soldier out of the boat, only to have a wave lift up the craft and drop it down on him, crushing and drowning him.
Paratrooper Ford McKenzie donated the most innocent looking artifact: a child's brass "cricket", the clicker all the jumpers carried into battle. In the dark, it was the unit's ID. One click had to be answered immediately by two clicks. "If you didn't click back," McKenzie says, "it was assumed you were the soon-to-be-dead enemy."
One of the most lethal-looking weapons on display is "Dutch" Schultz's World War I-vintage trench knife, with a knuckle-duster handle, which the paratrooper took into France. He used it only once, to cut himself out of his entangling chute when he landed, not realizing until later that he had cut off a finger in the process. He still recalls vividly talking at length to a paratrooper alongside him, without reply, until he realized that the silent soldier had a bullethole right through his forehead. "It was the first dead man that I'd ever seen in my whole life."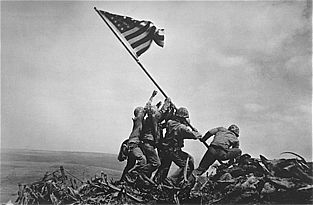 United States Marines raising the American flag
on Mount Suribachi, Iwo Jima 1945
A 9th Air Force bomber pilot, Asa Clark, Jr. was aboard a B-26 on his 45th mission when D-Day occurred. His contribution is a cardboard tag - the type attached to the arming pin of each bomb, removed in flight before they were dropped. Clark saved a tag from each raid, and wrote on the back if the raid was hot, a milk run, or whatever. Of this D-Day sortie, he scribbled. "The big show is on."
Other exhibits feature a watch worn on D-Day, a soldier's private bible taken into battle, a rifle with its stock shattered by machinegun fire, a helmet that stopped a bullet, and a paratrooper's boot sliced through by a Nazi round.
The most poignant exhibit is a simple GI web belt, carrying on it the standard issue canteen and trench knife plus a number of the simple first aid kits issued to each GI. A sailor named Leo Scheer wore it ashore; he was a medic attached to the beach battalion. He explains, "All the bandages but one, mine, were taken from dead soldiers along the shore. This was because we lost all our medical supplies…and we were forced to take the bandages from the dead to use on the living. The belt is dear to me because the bandages came from GI's who gave up their lives at Omaha Beach."
The gala opening of the new museum on June 6, this year was seen by the largest collection of D-Day vets to gather in the States in recent memory. There were numerous Medal of Honor winners in the stellar audience, along with Tom Hanks and Steven Spielberg, both Oscar winners for their Saving Private Ryan, and NBC's Tom Brokaw, author of a best seller about the WWII generation. Secretary of Defense Cohen presided over the accompanying military parade and flyover by 64 planes from the US military.
Today, the D-Day Museum commemorates the landing at Normandy. But expansion is already under way, and the new wing to open in August 2001 will play tribute to all the many landings leapfrogging across the Pacific, and elsewhere in the world, where Allied GI's and Higgins boats combined to win victory over the Axis and, later, Communist forces around the world.
"Of all the things I've done in my life," Dr. Ambrose says of this magnificent museum, this is the one of which I'm proudest. By far. It will teach billions of young Americans that freedom doesn't come free."
Details:
The National D-Day Museum is in New Orleans' Historic Warehouse District at 945 Magazine St, New Orleans, LA 70130. For general information.
Phone: (504) 527-6012.
Website: www.ddaymuseum.org
The Museum opens seven days a week, 9 am to 5 pm, except on New Year's Day, Thanksgiving, Christmas and (since this is New Orleans) Mardi Gras. The charges are $7 for adults, $6 for Seniors over 65 and students with ID, $5 for children aged five to seventeen, children under five, free. Visit PJ's Café and the Museum Store, free during museum hours. The Museum is wheelchair accessible.
Arky Gonzalez is a Florida-based free-lancer and Past President of the Society of American Travel Writers. He and his Irish-born journalist wife, Maureen, met in Europe, lived overseas for almost 20 years and have chased down stories on all seven continents.