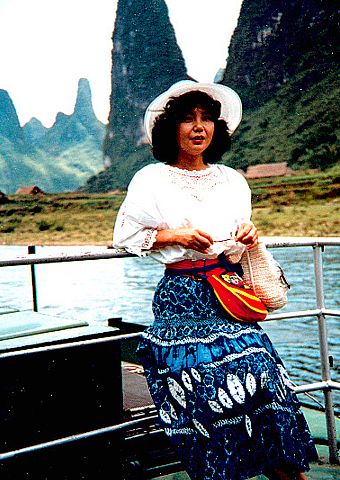 A tourist enjoys the views on a Li River cruise.
Photo: Toby Saltzman
GUILIN DAYDREAM
China expert Ruth Lor Malloy finds solace near the Li River
As you travel around the world, do you keep looking for the perfect place in which to retire, write your novel, or perfect your golf?
My perfect place must have mild weather - at least most of the year. It must be cheap, beautiful and have clean air. For my social life, I need a foreign community. I envision myself learning the local language, but speaking Chinese all the time can be tiresome.
In China, Guilin and Yangshuo come pretty close to my vision of a perfect place. The area is beautiful and the weather sub-tropical. Winters are short and mild. It never freezes. And there are two golf courses.
Guilin and Yangshuo are merely a 90-minute bus trip apart on either end of the famous Li River cruise. This is where those lovely karst, or limestone mountains rise out of land flat enough for a retiree to bicycle on. It is one of China's main tourist attractions, a place that old friends would include on a dream tour of China. They could easily visit me too.
Making a choice between Guilin and Yangshuo is a problem. Guilin is the bigger city, now becoming modern with a huge new city square and shopping centers. It has 22 universities where I could keep my mind active or teach English.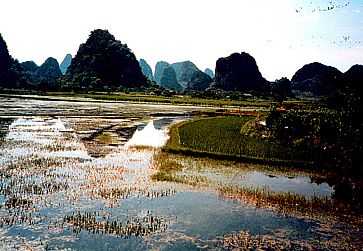 Dreamy Guilin Karst or limestone mountains rise from the Li River
Photo: Toby Saltzman
It has many teachers of English already, people who could become my friends. With its direct flights to Japan, Hong Kong and Macau, and a host of cities in China, I could easily visit other parts of China and Asia too.
Guilin even boasts a few interesting restaurants now. There's a Korean restaurant and a vegetarian eaterie with a creative menu. The Aunt Restaurant has very cheap Chinese food and a hundred little stalls. The variety is amazing and you just have to point.
The English is better and western food available at the Sheraton, Royal Garden and Bravo Hotels. Eating there might be too expensive on a regular basis but I'd relish the nice change. I'd trust the salads there.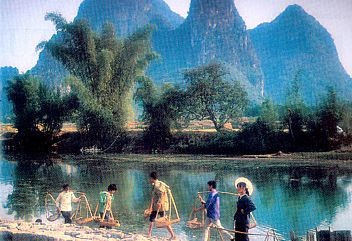 Fishermen on the Li River
Photo: Toby Saltzman
Yangshuo has more English-speakers than Guilin. It is a tiny town of about 12,000 where, for decades, foreign backpackers chose to prolong their visits because it is so cheap and pretty. It too has 70 meter-high karst mountains right in town. Decent, basic hotel rooms there cost very little. A farm house hostel in a village on the edge of town sits in the shadow of famous Moon Mountain. The owner is a tour guide who speaks fluent English.
Signs on the main tourist street are in English. West Street is full of internet cafes, bars and westernized restaurants where you can buy a latte or cappuccino, and a high fiber breakfast. I met one restaurant owner who used to cook at Hong Kong's flossy Regent Hotel. He pointed out that he knows about soaking raw vegetables in disinfectant. I assume he knows how to cook some of the Regent's magnificent dishes. I'm already thinking about ordering his repertoire one by one, at Yangshuo's much lower prices.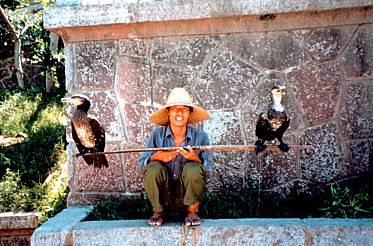 In Guilin, a local fisherman poses with cormorants.
Photo: Toby Saltzman
Recently, a chef from France opened a continental restaurant in an old fancy Chinese guild hall. Many other restaurants offer versions of pizza and spaghetti, dumplings and sweet-and- sour pork. Their menus are printed in English.
Cruises on the Li River are much cheaper from Yangshuo than from Guilin and they sail to the same beautiful area. The ships aren't as nice, but they're adequate. Friends visiting from abroad would get a bargain.
People walk or ride bicycles, buses or taxis. The air is cleaner and will probably remain cleaner than Guilin's. The larger city will probably get more cars as it grows in prosperity. Yangshuo will always be a tourist town and agricultural center.
I found Philip Van Zandt and his Chinese wife Li Wei through the web. They bought a house in Guilin and on my last trip there, I met them.
Philip was a sailboat shop owner who lived 25 years in Florida. He retired in 1999 and intends to spend part of the year in Florida, and part in Guilin. "Guilin's winter is damp and cold," he said, "And it rains a lot from November through May. Summers are quite warm, but not warmer than in Florida."
I think "damp and cold" are relative terms. I'm from Canada. So, such winters don't discourage me.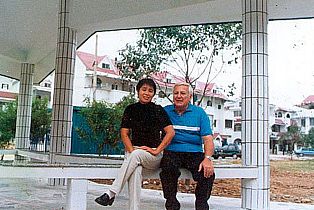 American Philip Van Zandt and his
Chinese wife in front of their Guilin home.
Photo: Ruth Lor Malloy
Philip and Li Wei had no unusual problems buying a fully-furnished, three-bedroom townhouse for US$43,500.00. They paid extra for air-conditioning and heating apparatus and upgrading the electrical fixtures.
They love Guilin and spend their time bicycling or boating, exploring caves and villages and taking photos. "What I truly like best is autumn," said Philip, "When the mist rolls in from the Li River bathing all the landscape in white billows except the peaks... it is truly a magnificent sight beneath a full-moon!"
By now they are accustomed to a regular weekly power-outage for the same predictable six or seven hours, not an insurmountable problem.
As for the formalities, he is a "tourist". Philip explained, "China's officialdom seems to care only if you overstay. Getting extensions 90 days at a time makes you legal; you can also get a new F-tourist visa issued for six month periods in Hong Kong and other cities." He has several acquaintances who have been here up to six years, renewing their visas yearly through a travel service.
Guilin as a retirement home was sounding very promising. Then Philip talked about English-speaking doctors. He had met two. "I don't really like to think of problems like heart attacks, though I know I am at risk," he said. "I have had previous surgery and being heavy I keep up my medicines, keep in touch with my daughter and son-in-law, both doctors, and check my blood pressure regularly. But I'd like to find a good dentist."
I started to wonder about my teeth after hearing stories of Chinese dentists who are more anxious to pull teeth out than try to save them. Maybe Philip had the ideal solution. Maybe I should be thinking of commuting between Guilin and Yangshuo, and spending summers in Canada getting my teeth fixed.
Details:
Ruth Lor Malloy is the author of China Guide (Open Road Publishing).
For information about Guilin visit her website: www.china-travel-guide.com