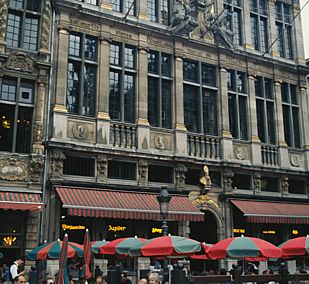 Brussels lively café scene.
Brussels on Business
Expert advice on where to stay, what to do and Brussels' business etiquette
Text and photos by Joanna Ebbutt
Brussels must appear in the dateline of news articles thousands of times, in any given year, since it's the headquarters of the European Union and the North Atlantic Treaty Organization (NATO). It's also a base for 159 embassies (along with 2,500 accredited diplomats), 60 foreign banks, approximately 1,000 international organizations and 1,700 multinational companies. All of which makes it the world's seventh largest financial marketplace and a leading hub for trade. Although the country has two official languages, Flemish and French, it's advisable to initiate communications in English, which most Belgians speak.
Don't for one minute think that Brussels is all work and no play. For a small country, approximately the size of Maryland, Belgium overflows with diversity - and nowhere more than in its capital. Brussels is home to some of Europe's top restaurants, and utopia to beer aficionados (a passion since the Middle Ages, much of Belgium's 400 types of beer is produced by small family-run breweries and monasteries). You'll find an eclectic range of cultural and sporting events, and galleries whose exciting collections range from Flemish primitives through to Cubist, Expressionist and Surrealist paintings and sculptures - all in a city where the well-preserved 17th century architecture is a joy to behold.
Getting down to business
Brussels' central location - 1-1/2 hours by high-speed train from Paris, three hours from London, two hours from Amsterdam and three hours from Düsseldorf - works to its advantage for business meetings and conventions. If you arrive by air, Brussels International Airport is only 20 minutes from the city centre.
There are some 125 hotels in Brussels, including 12 five-star deluxe hotels and 42 four-star deluxe hotels. With the mass exodus of business travellers on Fridays, weekend rates plummet dramatically, should you decide to incorporate a weekend into your trip. Consider the Spanish Renaissance styled Hotel Amigo, close to the Grand- Place (1-3 rue de l'Amigo, tel: 547 47 47). Its 152 rooms, furnished in a variety of styles, from Louis XV to Empire and Colonial, feature every technical convenience that a business traveller requires. During the week, room rates (single occupancy) range from 7,700 to 15,500 Belgian francs. On Friday, Saturday and Sunday nights, year-round, a superior room can be booked on the Internet for 4,900 Belgian francs including taxes, service and continental breakfast, while a deluxe room sells for 6,900 Belgian francs. Visit http://www.hotelamigo.com
In the past year I have stayed at two other hotels that I can comfortably recommend. The Hotel Le Dixseptième (25 rue de la Madeleine, tel: 502 57 44 or www.ledixseptieme.be ) is centrally located between the Grand-Place and Central Station. Most rooms overlook a quiet inner courtyard and all are named after Belgian painters. Each comes with telephone, fax and e-mail facilities. During the week, nightly room rates range from 6,300 BEF to 15,800 BEF (single) including taxes, service charge and breakfast, and special weekend rates are available.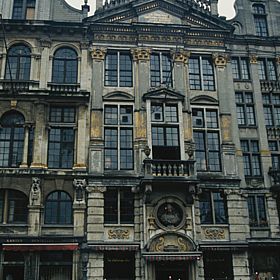 17th century guildhouses in Grand Place
Close to the EEC headquarters, Hotel Montgomery (134 avenue Tervueren, tel: 741-85-11 or www.montgomery.be) is an elegant yet intimate hotel that smoothly combines old world charm with 21ST century efficiency. Every guestroom has a private safe, a fax machine, a large working desk, and three telephones with modem and computer connections. There are also fitness facilities and a Scandinavian sauna. From Sunday to Thursday, their rates (including taxes and service charge) range from 10,400 to 19,400 BEF single occupancy. Weekend rates drop to 5,200 BEF single occupancy.
A culinary gem
Belgium is paradise to epicureans. Its cuisine is generally regarded as one of Europe's finest, combining French flair with the best of Flemish. On one cobbled Brussels street, the Petite Rue des Bouchers, every house is a restaurant! Although famous for its frites, mussels and chocolates, local specialities such as Flemish carbonade (beer stewed in beer) or Choesels au Madère (sweet breads with Madiera sauce and mushrooms) should be tried. Seafood also features prominently on many menus. While dining may seem expensive, remember that taxes and gratuities are included. In addition, you can eat very well in many cafés for under $30.
A few eateries worth trying include Chez Vincent (8-10 rue des Dominicains, tel: 511 23 03), which is renowned both for its fish dishes and for red meat cooked in many wondrous ways; Ultieme Hallucinatie, (316 rue Royale, tel: 217 06 14) is a "must see" for art nouveau enthusiasts, and you can sample its sophisticated French cuisine in either the main dining room or the more informal café; or L'Ecailler du Palais Royal (18 rue Bodenbroek, tel: 512 87 51) which serves only seafood within its high-ceilinged, club-like rooms.
With just a minimal amount of research, you're likely to find that Brussels is as conducive to pleasure as it is to business.
Business etiquette
It's always helpful to know how business is conducted in a particular destination. Andrea Murphy, a cultural officer at the Belgian Embassy in Washington, D.C. recently provided some insight into business dealings in Belgium:
Belgians shake hands with everyone, from the secretary to the president, at the beginning and end of a meeting; a brief, lightly pressured handshake is all that's required.
First names are rarely used, and when you are introduced, it's a good idea to repeat your name.
Most international business negotiations are conducted in English.
Belgians are more formal than North Americans; don't request a drink that has not been offered (for example, if you're offered beer or coffee, don't ask for wine).
While gifts are not customarily exchanged at business meetings, a bottle of wine, flowers (but not chrysanthemums) or a book are appreciated if you're invited to someone's home for dinner.
Do not suggest a breakfast meeting, as this Type A style of doing business is not popular in Belgium.
Women in the business world are treated equitably, and it is perfectly acceptable here for a female to host a male at a restaurant and pick up the tab.
Remember that Belgians are known for their skill at compromise and negotiations.
Prolific freelance writer and editor Joanna Ebbutt is a member of the Society of American Travel Writers. She contributes to The Toronto Star among other publications. She wrote the Insight Pocket Guide: Toronto and co-authored Off The Beaten Track: Western Canada. She is also Update Editor on Insight Guides Canada, Insight Guides Montreal and Insight Pocket Guide Quebec.