Fraser Island
Magical Mysterious Island
Text and photos by Toby Saltzman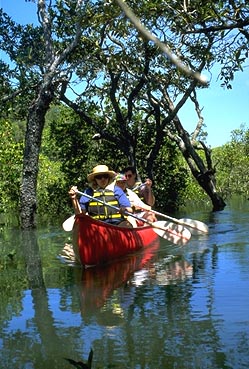 Canoeing through the mangrove
bay of Fraser Island at high tide.

Going troppo in Oz means reveling in a sublime, tropically induced state of mind. Australia abounds with heavenly places to lose yourself in, such as the Daintree Rainforest, the phantasmagoric coves of the Great Barrier Reef and the Jurassic heights of Tasmania's Central Plateau. Lesser known, by virtue of its isolation at the southern tip of the Great Barrier Reef, is Fraser Island. A captivating wilderness of rare beauty, it is as much a learning center as a paradise.

From a distance, Fraser Island wafts like a mirage, unreal until the catamaran nears and you see dense green foliage sprouting from white, sugar-like sand. No wonder the Badtjala Aborigines, who lived here some 40,000 years ago, called it "Kgari" - Beautiful Paradise - believing it was the spirit incarnate of the goddess K'gari, who helped their god, Beiral, create the land.

Created by winds blowing grains of sand over time onto three rocky outcrops, Fraser Island is the largest sand island in the world: 120 kilometers long, 184,000 hectares overall.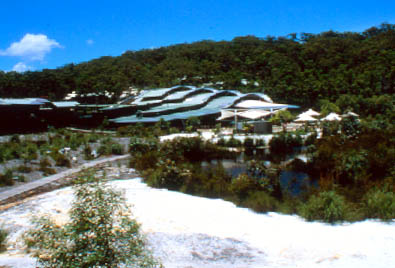 Kingfisher Bay Resort melds into
Fraser Island's landscape

It is unique because of its astonishing composition of diverse coastal forests, primeval rain forests, sandy beaches and fresh-water lakes. Like Daintree, the Reef and the Plateau, Fraser Island is designated a World Heritage Site.

After stepping ashore, we followed a wood-plank path through primitive wallum trees and scrub to the inconspicuous entrance of Kingfisher Bay Resort. Inside, we were surprised by the combination of luxurious ambience and the intelligent approach of its ranger-naturalists who were eagerly waiting to initiate us into the subtropical environment.

Momentarily we balked, enticed by the lofty lounge, flooded with sunlight streaming through the ceiling-high glass walls that revealed the skyscape, landscape and an enormous free form pool.

But this was Fraser Island, where going troppo had a more exotic allure. As we piled into a mammoth four-wheel drive, our ranger Steve warned: "Hang on! You're in for a bumpy ride."

Virtually indestructible, the vehicle had enormous wheels - each with independent suspension - which heaved in different directions, bouncing us rudely over the terrain. The concept of sand island hit home: no solid surfaces, no roads, just deep, sandy paths cut willy-nilly through dense forests by loggers long ago.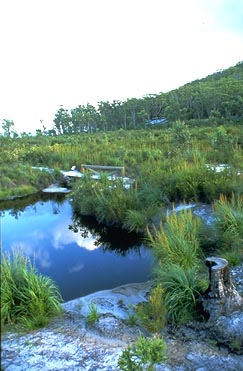 View of Fraser Island's pristine
landscape from the suite at
Kingfisher Bay Resort.

"There's more sand here than on the Sahara Desert," said Steve. "The island has three significant aspects: the beach, the rainforest and the lakes. It's like an old quilt of vegetation your grandmother tossed on the road." Each patch is a world of its own.

"Imagine planting a tree in pure sand. Sand can't normally support dense vegetation. But here, spores and seeds carried from the mainland by wind and birds created blankets of humus capable of supporting tall trees, rainforests and wildflowers."

Fraser Island may be the epitome of nature's efficiency. "Plants survive in this infertile sand by recycling nutrients: when a leaf or branch falls or a plant dies, fungi, bacteria and insects break it down to nutrients which are quickly absorbed by plant roots." Some tree trunks support leafy pouches called birdsnest ferns, or epiphyte staghorns, created by spores that collect leaves, fungi and water, to mimic total environments like the forest floor.

In a small clearing amid towering Banksias whose rubbery leaves obliterated the sun, we left the van, our feet sinking in sand, to approach a break in the forest wall and a stunning view of a sand blow. "This is evolution in motion," said Steve, explaining that the undulating dunes at the crest of the island were growing with grain upon infinitesimal grain of sand blown from the mainland.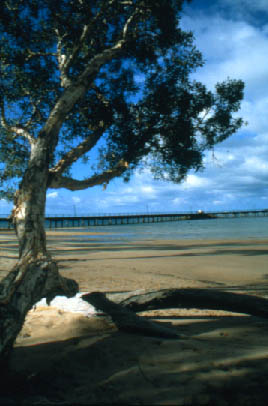 Casuarina trees grow in
Fraser Island's pure white sand
Steve led us on a fascinating tree-trek. Starting the growth line were tall Casuarina trees. Their thin, droopy branches suck nitrogen from the air, then drop roots into in the soil to increase nutrients for other plants. Farther inland were giant ferns, tall grasstrees - like spears sprouting tufts of grass - then myriad eucalyptus. The scribbly gums had grafitti-like marks on their bark, while the tall palms were really macrosamra, a rare species millions of years old.
Back in the van, we drove through forests of rare satinays, hoop pines and kauri pines with trunks bearing twining emerald creepers, lime birds nest ferns or brilliant dangling orchids. In the past, these trees brought Fraser Island fame and misfortune. The pines made sturdy lumber. The satinays, which grow six metres thick and some sixty to ninety metres tall, proved perfect for ships and pylons.
But in the 1840s, as Europeans began colonizing the island, the invaded Aboriginal villages, virtually eliminating the population to create a lumber camp, then a sand-mine for heat- resistant mineral alloys. Certain areas were denuded - some 20,000 satinays were felled to build the Suez Canal. Logging on the island ceased only in 1990.
"Let's hit Seventy-five Mile Beach!" shouted Steve. In a quick turn, we drove to a gorgeous stretch of sand. Australia's third-largest beach is a haven for RV campers and day-trippers. Near the Pinnacles (a bank of high sand dunes with hues of red, yellow ochre and orange minerals) a lone dingo came loping out of the bush. Then we stopped to plunge, fully clothed, in a stream cooled by waterfalls.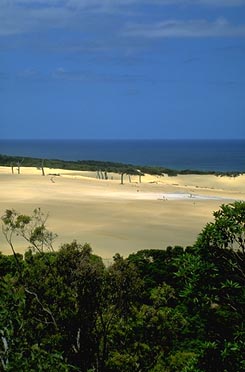 A rare sandblow on Fraser Island,
the world's largest sand island
That night we dined on fresh barramundi, washed down with Australian wine, served al fresco at Kingfisher Bay Resort. I must admit that I was less amused later on, as I walked to my room beneath starry skies in the uninvited company of a dingo, who eyed me with a docile grin.
Early next morning we visited Wanggoolba Creek, the steamy sanctuary of the island's primeval rainforest. Fragrant and overwhelmingly green, it occupies a shady world barely tickled by sunbeams.
A wooden platform threaded among awesome trees with buttressed roots growing in the water. We marveled at some of the world's rarest species, such as the angiopteris fern, thriving much as it did 50 million years ago. In the pure water of the creek, against the white sand banks, every leaf, every root was a treasure to behold.
Hot, mesmerized and exhilarated, we were totally troppo by the time we reached Lake McKenzie. It is one of Fraser Island's 40 "perched" lakes, created when rainwater filled hardened, saucer-like sand dunes. The water, perhaps the purest on earth, has so few nutrients that few fish survive here. Deliriously we splashed about, cupped our hands to sip the water and finally flopped on the beach in mindless submission to the sun.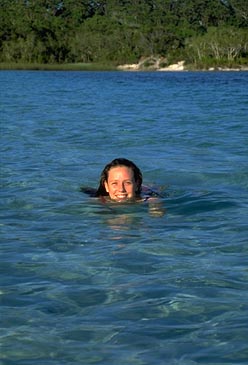 Swimming in the pure waters of
"perched" Lake McKenzie
We never did see brumbies or dugongs. And we just missed pods of migrating hump-back whales. But we did share the incredible sensation of discovery while canoeing in a mangrove bay during rising tide. Tony Charters, the resort's resident environmentalist, discovered a new primeval species of flowering mangrove.
Getting to Fraser Island:
Fraser Island is accessible from Hervey Bay by catamaran or launch. Hervey Bay is a one-hour flight or a three-and-one-half-hour drive from Brisbane. The award-winning Kingfisher Bay Resort, designed to integrate inconspicuously with the landscape, reflects the undulating motion of the sand dunes. The main building, a masterpiece of timber and corrugated steel, houses the lobby, reading loft, conference facilities and restaurants. The comfortable low-rise residences have balconies overlooking the landscape. The resort's environmentalist and rangers offer free, daily escorted nature walks to find birds, animals and bushtucker (wilderness food). Fraser Island is subtropical year round. Casual clothes, sandshoes, hats, insect repellent and high sun protection are essential.
Details:
Kingfisher Bay Resort & Village, PMB 1, URANGAN, HERVEY BAY Queensland 4655.
Toll Free: 1-800-072-555
Phone: 07-4120-3333
Fax: 07-4120-3326
International Telephone: + 61 7-4120-3333 International Fax: + 61 7-4120-3326
To reach the Australia Tourist Commission from Canada or the United States
Phone: 1-800- DOWN UNDER
Website: www.australia.com