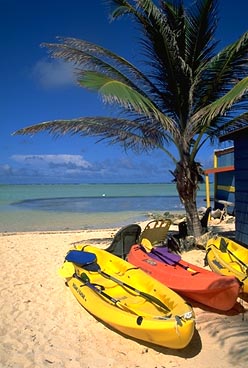 On the beach in beautiful Bonaire
The ABC's of a delicious escape
The neighboring islands of Aruba, Bonaire and Curacao offer unique temptations
Text and photo by Toby Saltzman
Dreaming of an island escape? Pondering the shimmering sea that is delectable alphabet soup of Caribbean isles? You'd do well to dip in for a taste of the ABC's - Aruba, Bonaire, and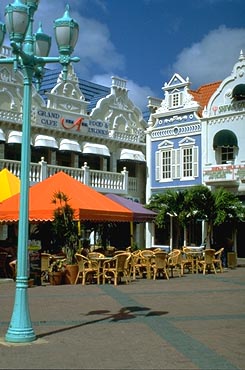 Central square in Aruba is marked
by Dutch architecture.

Curacao - the cluster of Netherlands Antilles that grazes the equator near Venezuela.

That's not because they're quintessentially lush, palm-fringed idylls (these volcanic isles are not), but because each island, lovely in its own way, has tropical climes, perennially sunny skies, warm turquoise waters, and plenty of activities, not to mention some of the Caribbean's most gracious, hospitable people.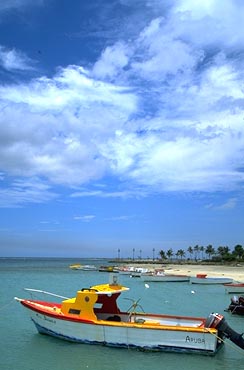 Desert isle of Aruba is always sunny.

"Bon bini, welcome," the first greeting you're likely to hear in Papiemento (the local dialect, a medley of Spanish, Portugese, Dutch, French and Arawak) is a genuine overture. The isles were originally inhabited by Arawak and Caiquetio Indians, as the Spaniards discovered when they arrived in 1499. The islands later fell under Dutch rule. By 1636 the Dutch West Indies, particularly Curacao, had become essential links along the European trade route to the Caribbean and South America. Later on, the trio of isles became a haven for people in search of asylum: English Pilgrims, South Americans and Jews who fled the Inquisition in Spain and Portugal found sanctuary here. Under Dutch influence, the islands began to mimic the architectural charm of Amsterdam, with buildings embellished with decorative facades.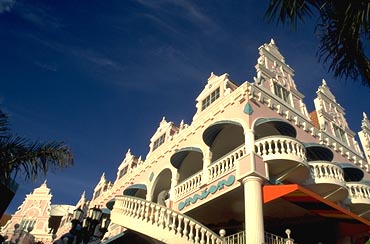 Aruba's candy floss architecture distinguishes shopping malls
near the cruise port.
Over time, the islands' economies languished. Prosperity returned to a degree when oil was discovered in Venezuela.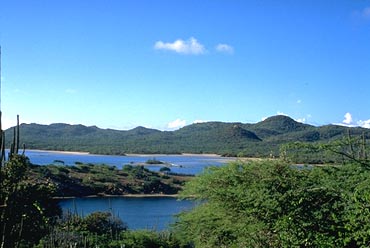 Washington-Slagbaai National Park,
a beautiful wildlife reserve rife
with rare birds.
Curacao, the largest island, with a huge harbor and deep-water port, gained a major oil refinery. Aruba's refinery closed in 1985, but reopened in 1991. Tiny Bonaire relied on harvesting salt. It's no wonder the islanders embraced tourism. Curacao, the largest of the three and the administrative capital of the Netherlands Antilles - which also include Saba, Sint Maarten and Sint Eustatius - has a sprawling harbor and deep-water port, colourful Dutch architecture and fantastic scuba diving. Aruba is known for its beaches, casinos and friendliness: as the national anthem puts it, "The greatness of our people is their great cordiality." Tiny Bonaire, which still relies on harvesting salt, is the least commercialized of the islands and is a mecca for divers who flock there to enjoy one of the most unspoiled reef systems in the world.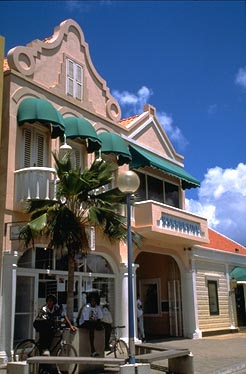 On the isle of Bonaire, The Kralendijk, is a cluster of streets near the harbor
where wooden fishing dorrys
mingle with fancy yachts.
At first glance, the islands seem almost otherworldly with their bizarre blend of rocky deserts, cactus jungles and secluded coves. But Aruba, Bonaire and Curacao are similar in geography, yet very different. The muggy Caribbean heat is less noticeable in Aruba, where you are always kissed by a breeze. Indeed, the strong trade winds "bend" the famous Watapana or Divi Divi trees. In Bonaire, where the air is moist, fluffy white clouds drift constantly across blue skies. But it's the water that's so alluring. Aruba's beaches are gorgeous swaths of powdery white sand stretching along the coast. Bonaire, on the other hand, has few beaches around its crusty, volcanic coast, but magnificent coral reefs abound in the calm, shallow waters near shore. Curacao has many small beaches, the best of them secluded in tiny perfect coves.
Each island's capital is easily seen on foot. But the best way to explore inland is by jeep. Just take care, though. Remember to fill the tank before you leave because gas stations are few and far between. Your best bet is to stick to main roads. And watch out for wild goats that may suddenly dash across your path.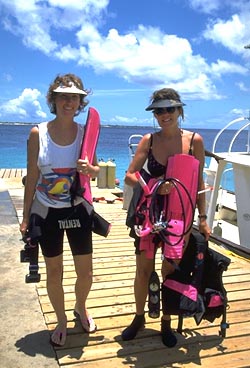 Bonaire is arguably the best place
in the world to learn scuba diving.
At first glance, Aruba's capital city, Oranjestad, is like a set from a fairy tale. Thanks to the Dutch influence, the island's architecture has a charm reminiscent of Amsterdam. Pretty buildings painted in frothy pastels house boutiques selling everything from expensive jewelry and leather to Dutch cheeses and Delft tiles.
Palm Beach, the center of Aruban tourism, is lined with swanky resorts, jazzy casinos, cheerful cafes and grass palapas (umbrellas) perched into the sand. Beachside shops rent scuba and snorkeling gear, windsurfers and sailboats. There's great diving off both the south shore, where the reefs teem with aquatic life, and the northwest shore with its shipwrecks to explore. If you're more inclined to dive in dry comfort, the Atlantis Submarine will take you down almost 140 feet (45 metres) below sea level to the Barcadera Reef.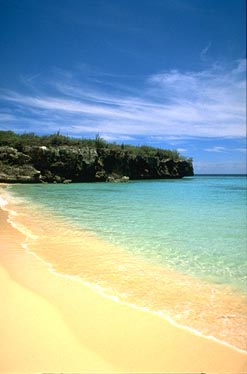 Curacao has many small beaches, the best of them secluded in
tiny perfect coves.
Exploring the Aruban countryside is bound to yield a few surprises, geological contrasts and historic sites. The tour guides boast that the future of Aruba's wild and wonderful landscape of cacti, scrub and Divi Divi trees looks promising since the government decided to turn one quarter of the island into a conservation park. Walk out to the coastal reefs and you'll find tidal pools filled with tiny sea creatures. En route to the Natural Bridge, a coral reef phenomenon carved by centuries of crashing waves, stop at the Ayo and Casibari boulders and the nearby Guadariki caves to see ancient Indian petroglyphs. Keep your eyes peeled for two special flowering plants: One, the Sceida, dubbed the local "penicillin," is used medicinally as a gargle or to soothe wounds; the other, Bringa Mosa, which literally means "fight with your girlfriend," is poisonous and potentially deadly. If you're a golfer, the Tiera del Sol course poses a tremendous challenge, with strong winds over-riding its desert-target layout.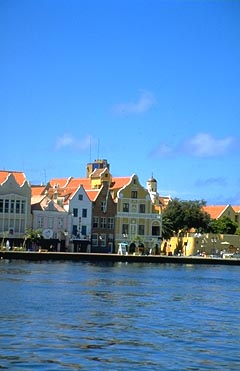 Curacao dazzles on first impression,
especially if you enter its capital,
Willemstad by cruise ship.
Tranquil Bonaire is arguably the best island in the world to learn scuba diving or snorkeling. Thanks to an impressive reef ecology program (revolutionary by world standards when it started in 1960) which outlawed spearfishing, harvesting conch, anchoring at random or removing coral from the sea, Bonaire is still a pristine paradise. Lush reefs can be found so close to shore that it's possible to see exotic sea life in water that's barely waist high. Pink Beach, the island favorite, is regaining its coral sandy width after being devastated by a storm a few years ago. The sandiest public beach is on Klein Bonaire, a slip of an out-island accessible only by boat. The loveliest resort beach, at the Plaza Resort, where guests facing the intracoastal waterway may moor private yachts in front of their rooms, has shallow waters calmed by soft sand bars. Bonaire's main city, The Kralendijk, is a cluster of streets near the harbor where wooden fishing dorrys mingle with fancy yachts. For its tiny size, Bonaire boasts intriguing sights: Flamingo pond, dazzling pink because of the thousands of birds which stalk its shallow waters for food; Washington-Slagbaai National Park, a beautiful wildlife reserve rife with rare birds; the salt mountains sparkling in brilliant sunshine; and nearby Rincon, Bonaire's oldest village, where the adobe huts of African slave salt-miners still stand.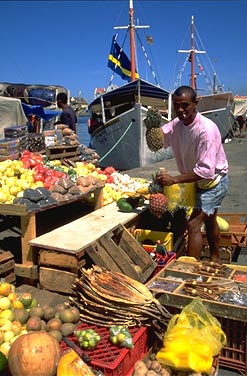 The floating market in Willemstad
Curacao dazzles on first impression, especially if you enter its capital, Willemstad by cruise ship. The Queen Emma Floating Bridge swings aside and you sail past the historic fort and brightly painted Dutch buildings. History credits its kaleidoscopic colors to Governor General Albert "Froggie" Kikkert, who in 1817 demanded that all glaring white buildings, which he insisted provoked his migraine headaches, be painted. Willemstad has undergone a monumental restoration to preserve its architectural heritage. The floating market is a riot of vendors flaunting produce, plants and souvenir tchatchkas from Venezuela. A couple of blocks away stands the Mikve Israel Emanuel Synagogue. The oldest synagogue in Western Hemisphere, consecrated in 1732 by Sephardic Jews, has floors carpeted in sand to symbolize the desert path of the Israelites and the years spent smothering the sounds of their prayers during the Inquisition. An adjoining museum is a treasure trove of ceremonial and historical artifacts. You can spend days exploring Curacao. Christoffel Park, a rugged 4450-acre (1800-hectare) wildlife preserve, offers challenges for bikers, horseback riders and birders. The Boca Tabla coastal plateau and grotto gives an awesome view of a coral island that's emerged from the sea. With 38 beaches tucked in coves around the island, Curacao is a treat for beach hoppers. Don't miss the wide curve of pristine sand at the posh Sonesta Resort Hotel. Big Knip and Small Knip, each protected by coral cliffs, have the best public beaches. The Seaquarium, meanwhile, offers an exciting Animal Encounters program: You can swim with stingrays and exotic fish and sharks through a plexiglass enclosure. (Actually, you're the one who's enclosed - the sharks swim free.)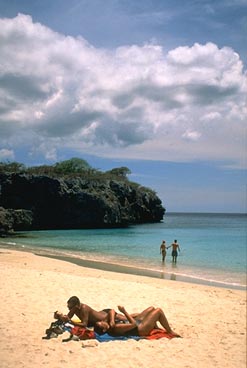 One of Curacao's many
private beaches.
Island Tips: Don't forget your passports, rubber-soled shoes for exploring the reefs, snorkeling gear, a fully waterproof camera for scuba diving shots and a good supply of film. The constant ocean breezes make the ABCs seem deceptively cool, so a hat and suncreen area absolutely essential. Aruba has the best duty free shopping of the ABCs, particularly for watches. The array of sophisticated chronometers with bezels, thermometers, shock sensors, altitude and barometer readers, and pulse monitors will blow your mind. Comparison-shop at home first, especially if you hail from Canada. Check if the imported item includes an international warranty, and if it warrants the hike in currency exchange. Since the islands no longer accept each other's currency, it's wise to use US funds.
Tourism Information Contacts:
Aruba Tourism: 1-800-to-Aruba
(In Canada: 905-264-3434)
Bonaire Tourism: 1-800-Bonaire / 212-956-5900
Curacao Tourism: 1-800-332-8266 / 212-683-7660