Following the Phoenicians
Martini in hand on Crystal Symphony's Wine and Food Festival Cruise
By Toby Saltzman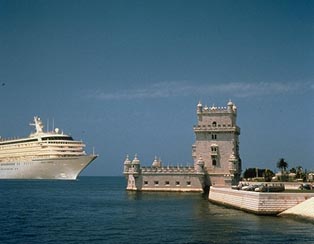 The Crystal Symphony approaching Malta.
It's a long way from the cuisine of Lutece to the floating kitchen bound for Bordeaux, but Andre Soltner, celebrated chef of New York's famed eatery, is in his element. Outside, the sun is shining, the pool invigorating, the music upbeat - a mecca on deck for passengers who care less for culinary art than eating. Inside, the air is fragrant as Soltner dazzles his audience, whipping basic ingredients into salmon en croute, tarte a l'ognion and fruity desserts. As each nuance of skill is magnified on stage-side screens, Soltner peppers his dialogue with anecdotes of Lutece (when the Kennedy's dined, Jackie always said, "Andre, cook what you want.")...the paradox of French diets rich in fois gras and red wine, and the tricks of his trade. "Don't try to be too sophisticated. Cook from the heart...every dish will be perfect."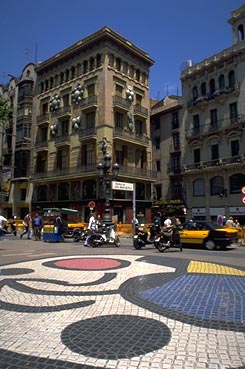 Miro's tile floor graces the
main square of Barcelona.
When samples are passed, along with crystal goblets of Medoc Bordeaux, the audience murmurs delight. Primed by earlier sessions with the sommelier, they are anticipating excursions to the wineries of Bordeaux, Medoc and St. Emilion.
More than a themed vacation for gourmands and oenophiles, the Crystal Symphony cruise around the Iberian Peninsula - from Spain to Portugal, France and Britain - imbues nonchalant eaters and novice imbibers with connoisseur tastes. What with delectables stocked at previous ports (tins of Russian Caviar, cheeses from France ripening in the fridge), regional specialties culled from markets en route (plump fruits and vegetables in Barcelona; escargot in Cadiz; oysters, sea bass andpompano in Vigo; fois gras in Bordeaux) to supplement freezers brimming with North American prime meats and poultry, meals are a sensation.
Feeding temptations is second nature to Nippon Yusen Kaisha of Japan - the Los Angeles based owners of Crystal Cruises' Harmony and her US $200 million sister ship, the Crystal Symphony - who know well the discerning habits of their clientele. Since the vessel is as much a choice destination as the ports, a certain indulgence is their rite. Fine victuals and potables are no less significant than luxuriously outfitted staterooms, impeccable service, absolute discretion from personal butlers, or the amazing grace the ship bears for her size - 50,000 tons, huge by cruise ship standards for a mere 960 guests, one of the highest space ratios afloat.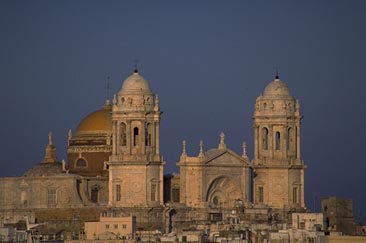 The ancient skyline of Cadiz
glows in the dawn light.

The Crystal Symphony embodies elegant restraint, with tranquil hues, an atrium lobby, and (ignoring one campy bronze corpus - the casino's signature mascot) not a smidgen of affected glitz. The pool and lido areas, among the biggest afloat, include one pool with a retractable magrodome. Activities are abundant and varied with a good balance of intellectually oriented and mindless diversions. If all this sounds contrived, too perfectly orchestrated, it suits the passengers fine.

A foodie at heart, I was ready to fly to Barcelona at the drop of a peseta, but my husband, Ken needed coaxing. Ken, who concedes to like cruising for the fresh salt breeze on his face as he jogs around the track at sunrise, but secretly, relishes a martini and caviar while devouring a book on his private, sun-kissed balcony, needed to know: "Does the ship have an uninterrupted jogging track?" he asked. "A gym loaded with ample gizmos so I get a turn? A golf driving range to practice my swing? A real swimmers' pool? To save my waist, alternative "healthy" meals? And absolutely no demands to join group shindigs or be herded on tour buses?"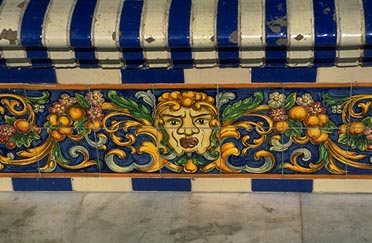 Colorful tiles on street benches in Cadiz.
"For sure," I swore, though I knew he'd never touch a diet dish. Others, I bet, would be enticed by the sophisticated gaming of the ship's franchised Las Vegas Caesar's Palace.
Envisioning centuries of romance and historic folklore inscribed in the time-worn architecture of the ancient Iberian ports on this "Path of the Phoenicians" itinerary, I foresaw days exploring cobbled streets, sipping frosty beers at bistros in sunny squares, returning to the ship for a refreshing swim, or perhaps a massage and snooze before cocktails and dinner. And though the Crystal Symphony offered alluring excursions, I promised to coddle Ken's penchant for leisurely independence by booking private drivers with the ship's concierge, though I knew, somewhere along the line, for efficiency, he'd hop a bus.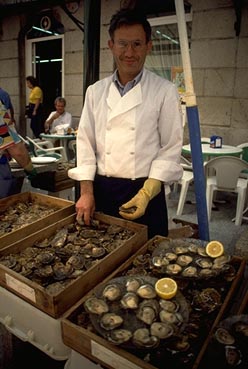 Merchants sell oysters fresh from
the sea on the streets of Vigo.
After a frenzied tour of Barcelona - seeing spirited Catalonians on Las Ramblas, devouring spicy paella al fresco, racing past buskers and street musicians to view works by Picasso et al (not to mention Miro's intricate tiles on the promenade) - the Crystal Symphony was a haven of tranquillity. By the time we unpacked (stashing everything, with room to spare in our spacious, veranda suite) we were ready to explore the ship. So we started - where else? - at the Martini Bar, where a pianist did justice to Debussy on a lucite grand piano. "Perfect," said Ken, about his Stolichnaya Cristall Vodka-Dry Vermouth concoction. My Bombay Sapphire Gin with Blue Curacao was heady stuff, the right shade for a cruise.
Our first impressions of the Crystal Symphony's exceedingly amenable style proved unchallenged after ten days at sea. The host of lounges and eateries, each with unique ambience and cuisine (a clubby western bar, continental style bistro, Italian restaurant, a salon-cum-tea-room evocative of a lushly palmed Polynesian abode), cut the risk of spatial boredom. Fresh flowers, appropriate live music enhanced every venue - indoors and out. The nightly, cabaret was worth seeing, and the bands had the beat so dancing was fun.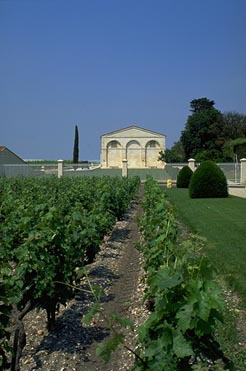 The vineyards at Chateaux Mouton
Rothschild in Bordeaux, France.
Each port was enchanting in its own way. Ancient Cadiz, founded on a breezy peninsula by Phoenicians in 1100 BC, is perhaps humble by Spanish standards, yet rich with baroque cathedrals and warrens of tiny streets adorned by brilliant tiles and intricate wrought iron. Lisbon, a treasure of Moorish and Medieval architecture, which we approached via the Tagus River, slipping under Europe's longest suspension bridge. Vigo, gateway to the Spanish fishing fleet, where Galicia's deep harbor is reputed to hold sunken galleons laden with gold. Beautiful Bordeaux, steeped in 18th century classicism and the best wine country in the world, where we piled into a bordeaux-colored van for a private wine tour past dreamy vineyards and petite chateaux with signs boasting "degustation vente", to visit Chateaux Mouton Rothschild, Lafitte Rothschild, D'Estournel, Beychevelle, and historic Saint-Emilion. And finally, St. Peter Port in Guernsey, spectacular at dawn, when its houses, tiered into the hills, rise above brightly colored fishing boats exposed at low tide.
It was a treat to return to the Crystal Symphony each day. For a ship this size, it conveys the intimacy of a small yacht. If it's trite to say the itinerary was delightful, the cruise relaxing, the ship perfect, I'm at loss for words.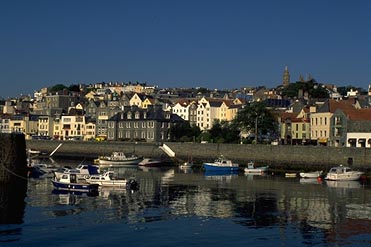 Guernsey is beautiful at dawn when the houses terraced into the hills tower over fishing boats exposed at low tides.
Details:
Crystal Symphony's 104-day 2001 World Cruise from Los Angeles to London, departing Jan. 12, is available in four voyage segments ranging from 24 to 28 days.
"World Value" fares for individual segments begin at $9,850 per person, double occupancy.
Crystal Cruise Line: 800-446-6620