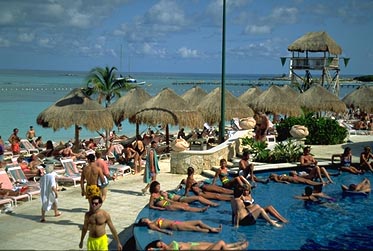 Cooling off in the Maya Riviera
Viva! Mexico
Cancun and the Mayan Coast equals sun, sand, sea and culture
By Toby Saltzman
"You're nuts!" Ken said, as if he could sway me from climbing to the top of the Mayan pyramid. Despite his kidding, I was determined to scale the ancient Temple of Warriors to photograph the stone head of Quetzalcoatl (the mythical serpent), and reclining body of Choc-Mool (the god who was ritually blessed with human sacrifices), and to take panoramic shots of the monumental metropolis of Chichen Itza. So with two cameras flung round my neck, I bounded toward the awesome temple. If stones could speak, each step spoke volumes of the tortuous task endured to erect this edifice under the searing sun. Scholars say the Mayans believed that sunrise and nightfall were intertwined like life and death. In their views, the sun rose when the gods were appeased by human sacrifices. The victims were deified as their ultimate reward.
Superstitions and violence aside, the Mayans, who began filtering into Mexico around 1000 BC, left testaments to their incredible ingenuity in the massive temples and relics of Chichen Itza, which thrived under a mystic hierarchy of kings and noble priests during the zenith of their civilization. Renowned for their complex systems of hieroglyphics, mathematics, and astronomy, the Mayans devised a solar calendar in the structure of the Temple of Kukulkan that is accurate to this day. Dubbed El Castillo, the temple counts the days of the year with 365 steps and the weeks with 52 panels on each side of its base. As if by celestial magic, twice a year - at the spring and summer equinox - the sun casts an eerie shadow on Kukulkan that resembles the plumed serpent Quetzalcoatl, slithering up its steps.
Climbing up the narrow steps, I passed some people descending gingerly, and others sliding down slowly - step by step - on their bums. One step from the top, the serpent's head loomed into perfect view, his eye exquisitely carved under hooded brow, his head pockmarked by centuries of wind and rain. For several moments I stood on that step, capturing his intrinsic soul on film. Then I turned around, and froze. From my vantage, the brilliant sun transformed the inclined pyramid into a slippery slide, the stone columns at its base into sharp knives, and Ken and the kids into miniscule ants. Now I've never been height-phobic - not when crossing a hanging bridge over a deep chasm, or soaring over mountain peaks in open aircraft. Yet here I stood, eyeball to eyeball with the serpent, as if spellbound by extra-terrestrial spirits, unable to take that final step to the plateau, or descend. The sky, which had started out clear blue, suddenly clouded over. A breeze ruffled my sleeves. A gust whipped off my hat. I clutched my cameras.
"Are you afraid to come down?" Ken shouted up.
"Yes!" I yelled. Then, as if driven by adrenaline, he raced up the steps and retrieved me, schlepping me along by the wrist. Back on earth, Ken teased, "I thought for a moment I'd lost you for a Mayan sacrifice."
"Intriguing thought," I mused. "If that serpent still has mystic powers…naah."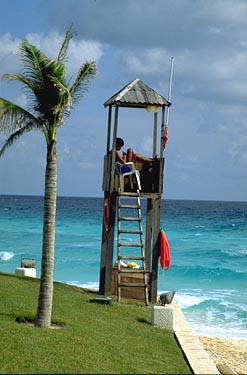 Watching the waves roll in
As we explored the Mayans' sacred wells, and the ball court where they played a ceremonial ball game - and ritually honored the winner by tearing out his heart in sacrifice to Chac-Mool - I shunned photographing stone gods and other creatures.
A thousand years after the Mayans mysteriously vanished from Chichen Itza, the world wonders what turned one generation's paradise into another generation's hell. A millennium later, Chichen Itza is a paradise again, albeit for archaeologists and scholars. Some say there are six million Maya left who still speak the language and follow ancient customs, except for sacrificing humans. None inhabit the ancestral ruins that remain scattered from Chichen Itza to Cancun and along the Yucatan Peninsula's Mayan Coast, which stretches past centuries-old fishing villages and brand new resorts to Tulum, the picturesque Mayan fortress perched on a cliff overlooking the sea. So visitors to Cancun, Cozumel and the Mayan Coast may easily explore the spectacular archaeological sites of Chichen Itza, Tulum, or Coba (a Mayan city still largely engulfed by jungle) on guided day tours, arranged at the resorts.
En route back to Cancun from Chichen Itza, passing the thick jungles and swaths of wild hibiscus, bougainvillea, and flowering jacaranda trees of Quintana Roo State, we came upon pretty stone villages. Their central squares, decorated with festive nativity scenes, proudly extolled the Catholic beliefs ingrained by the Spanish conquistadors. Their local markets bustled with vendors selling colorful pottery, papier-mâché birds, carved wooden boxes, and silver jewelry.
By the time we returned to the aquamarine sea, my encounter with Quetzalcoatl was a quirky memory. We were thrilled that our family holiday had turned into a culturally enriching experience, brimming with more than tropical sun, sand, and sea.
Mexico's Caribbean islands are gorgeous, flat slips of land, fringed by dazzling white beaches, clustered around the northeastern tip of the Yucatan Peninsula that divides the Gulf of Mexico from the Caribbean Sea. For the most part, their grandest tributes to Mayan culture are the decorative details on their modern temples to tourists.
Cancun, Mexico's premier resort island, is separated from the mainland by a calm lagoon. Cancun is flanked 3 kilometers to the north by the tiny isle of Isla Mujeres, and some 25 kilometers to the south by Cozumel, which lies five kilometers off the Mayan Coast - the 160-km stretch of land famed as the fastest-growing tourist site in Mexico.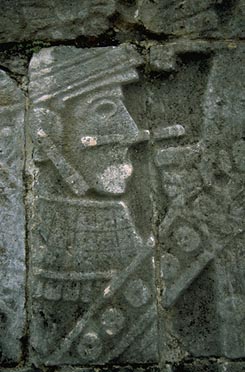 The Mayans carved characters
into stone in Chichen Itza
Cancun resembles a sea horse that is joined by two causeways to the mainland and fringed along its back by beautiful white beaches. Barely fourteen kilometers long and half a kilometer wide, Cancun sizzles with activities, if you can tear away from splashing in the resort pools or azure sea, or snoozing under a shady palapa (a Mexican beach umbrella). There's golfing at the championship Pok-Ta-Pok course designed by Robert Trent Jones Jr.; sailing, kayaking and water-skiing in Nichupte Lagoon, which is blissfully protected from the open sea. If you prefer birdwatching or an energetic hike, head south to the Dr. Alfredo Barrera Marin Botanical Marin Botanical Gardens. This fragrant nature preserve is ribboned with trails through tropical forests. There's good snorkeling at Punta Nizuc, Punta Cancun, and Playa Tortugas. But for a lovely diversion, it's worth taking a day trip by catamaran to Isla Mujeres. The only town has a quaint, slightly dilapidated charm, with huddles of merchants touting coral jewelry and woven serapes (blankets). There's not much to do on the scrubby isle, except ride a moped to Mayan "lighthouse". But its crystalline waters and thriving reefs are protected in an underwater national park that is a snorkeler's dream. El Garrafon is famous for the kaleidoscopic hues of its coral and fish.
Long before Cancun was conceived as a resort island, Cozumel gained fame when Jacques Cousteau showed the world his films of the spectacular coral reefs of the submerged Palancar Mountains. Centuries earlier, pirate Henry Morgan haunted the island. In pre-Columbian times, Cozumel was a hive of Mayan culture and trade. Ruins of Mayan temples and a shrine to the goddess Ixchel still exist in San Gervasio.
Cozumel attracts a lively mix of active sun seekers, fishing fanatics, and deep-sea divers who prefer its casual nature to the glamour of Cancun and the Maya Riviera. The social heart of the island is a shady plaza, filled with shops and eateries, which joins the ferry docks via a seaside esplanade. Most resorts overlook the calm western coast rimmed by patches of white beach and coral reefs. Its eastern side shunts the pounding Caribbean surf. The interior of the island is an undeveloped melange of thick jungle, marsh, and dry scrub that is exciting to explore on jeep safari.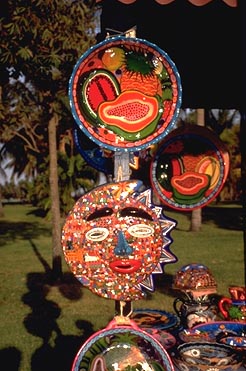 The local markets are brimming with
colorful pottery and papier-mâché
Resorts on the beautiful mainland Mayan Coast strike a happy medium between the fast pace of Cancun and the laid-back ambience of Cozumel. Several resorts - particularly the all-inclusive Palace resorts - ensconce their guests with sumptuous style and delectable cuisine. Designed with huge meandering pools, all Palace resorts include everything from daily meals (both buffet and a la carte) to drinks (including Margaritas at the beach) to complimentary scuba lessons to special tours. The Moon Palace boasts a double-whirlpool in each of its posh suites. The new Aventura Palace resort - an adult-only hotel permitting children over 18 - boasts a double-whirlpool in each of its posh suites plus a hammock on each ocean-view balcony. Each of the three Palace hotels in Cancun has a special appeal. The lively Cancun Palace attracts a youthful crowd. The Sun Palace is a boutique hotel popular with sophisticated types. The Beach Palace is ideal for families.
There's no chance of getting bored at any one hotel: guests of all Palace hotels may use the facilities of any other Palace hotel along the Mayan Coast or in Cancun. In addition, every Palace hotel guest receives a complimentary day tour to Xpu-Ha Eco Park, located fifteen minutes south of the Aventura Resort, between Playa del Carmen and Tulum. Pronounced es-pu-ha, the park displays the area's indigenous flora and fauna. Visitors may swim, snorkel, and kayak in the sweet-water lagoon, or explore its habitat on marked biking and walking trails.
We were sipping frothy Pina Coladas under a shady palapa when a young couple with two teens approached. "We're planning our week. Do you mind sharing what your kids liked best?" the father asked. In a snap, my son said, "Jumping the waves. And rescuing Mom from the serpent of Chichen Itza."