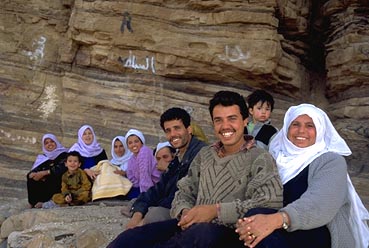 Outside Petra, a Jordanian family relaxes at an oasis.
Walls of Wonder
Getting to Petra takes some effort,
but unique carved cliffs are worth it.
Text and photo by Toby Saltzman
When Cleopatra beguiled Caesar to show his loyalty with a gift of "the rose red city of Petra" her charms fell short. Petra was a commercial gem in the parched desert then, a strategic, albeit secluded, piece of prime real estate straddling the trade routes from Africa west to Rome and east to the Orient. So she settled for the cool, green oasis of Jericho instead.
Petra, ancient capital of the Nabataeans, who carved a city into the sandstone cliffs of a desert canyon 2000 years ago, remains the most spectacular site in Jordan. Other sites, like the incredibly well-preserved Roman city of Jerash, impress. But similar landmarks exist in Israel, Turkey, Greece, Rome and in pockets throughout the entire Mediterranean region. In a world where architectural edifices transcend time, Petra defies all tenets of design with an intrinsic beauty. A mammoth, canyon enclave declared a UNESCO World Heritage site, Petra is a dusty hub of caves, cavernous tombs and elaborately carved temples. Few structures are actually built.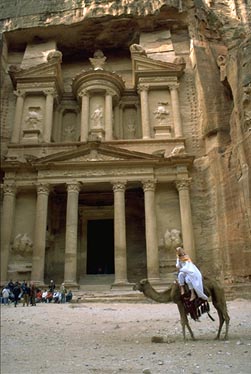 After walking through the rift - the Siq - in the mountains, the first thing a tourist sees is the Treasury of Petra.
Petra has few comparables in the world. At best, slight geological similarities exist amid the (uncarved) rust-colored mountains of Sedona, Arizona; or the Stone Forest of Kunming, China, where villagers traverse fissures between soaring karst limestone peaks. Imagine 800 Greco-Roman style "edifices" cut into sheer, reddish cliffs, with "doors" to impeccably scoured caves. That is Petra.
Nabatean history is vague; it's unknown what lured the semi-nomadic North Africans through the deep rift - the Siq - in the mountains in the sixth century BC to create the remote fortress using the mountains as geological shields. Perhaps they were drawn by the colossal rocks (Petra means rock) glowing, as if spiritually from within, in brilliant hues of russet, plum, crimson and tangerine. Or the proximity to Edomite biblical villages - particularly Wadi Moussa, where Moses drew water from a rock during the Exodus.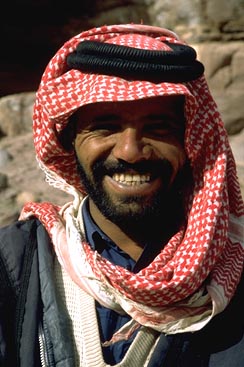 A Jordanian guide in traditional headdress.

By 4 BC, Petra was an essential watering hole, a pit stop for trade caravans bearing spices, silks, ivory and copper. The Nabataeans "protected" the caravans (mandatory tolls guaranteed safe crossing) and mediated disputes. At about this time, the city was thriving, its dwellings, tombs and temples embellished with architectural bibelots gleaned from afar: Roman Corinthian capitals, Hellenistic pediments, Egyptian obelisks, Assyrian sacrificial altars.

Since success breeds envy, the Nabataeans were forced to defend Petra against the Seleucids (Alexander the Great's heirs in Syria) and Greek and Roman crusaders. During the sixth to eighth centuries, they suffered devastating earthquakes. By 106 AD, the Nabataean lands, Jordan and most of Palestine became the Roman Province of Arabia.

They carved a massive, 7000 seat amphitheater, erected a colonnaded street, a temple with baths. When the Romans began shipping goods from South Arabia through the Red Sea, the caravans dwindled, eliminating Petra's prominence. Over time, Petra fell under Byzantine rule, then Islamic. Six centuries later, faded from memory, it was secretly inhabited by Arab tribes.

In 1812 a Swiss adventurer, inconspicuously dressed in Moslem garb and fluent in Arabic, was enticed by the Bedouin legends of Petra. John Burkhardt gained entrance on the pretext of sacrificing a goat at the Shrine of Aaron (built by Mamelukes in 13 AD, it is where Arabs annually commemorate Abraham's sacrifice of Isaac). When British artists appeared soon after, locals worried pictures would erase Petra's power. Once they realized Petra's value in tourist dinars, their fears dispersed like dust in the desert.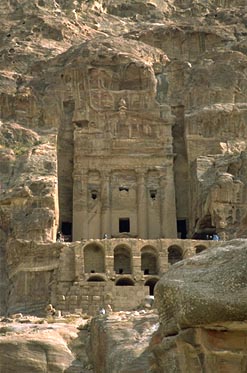 A carved facade in Petra towers
over visitors on the terrace.

My morning approach to Petra from Wadi Moussa is underwhelming. Like most scattered villages rooted in the bible, its hilltop huddle of sandstone buildings reflects a transitional jumble of primitive habits and modern influences. Sun-wizened men in checked keffiyehs (head-dresses) ride horses past crowded Toyotas, veering around tour buses stopped at Moses' Spring (a roof-covered rock beside a spring bed) and its obligatory souvenir souk piled with carpets, carvings of camels and T-shirts blazing dual flags of Jordan and Israel. School girls, wearing white headscarves, sport denim mini skirts tugged over indigo dresses. In a quiet corner giggling teens, their veils folded back over shoulders, puff on cigarettes. On the outskirts, the desert road to Petra, humming with Mercedes vans full of foreign tourists, connects distant clusters of humble Bedouin tents pitched on barren soil, their satellite dishes flashing absurdly in the sun.

My guidebook says to see Petra "you should be in good health and forget the world for two-three days or more". Indeed - with sturdy walking shoes to boot. There's a 1-½ kilometer trek through the narrow Siq before your first glimpse. In the valley basin at the foot of the limestone hills guarding the Siq, there are guides waiting with docile horses and chariots to ease the stretch.

The route to Petra slopes downhill, across an ancient Nabataean bridge above a dam dam that ingeniously protected the Siq by channeling heavy floodwaters from the wadi (valley) into a complex system of canals, reservoirs and irrigation streams. (Incidentally, that dam was authentically rebuilt in the 1960's after it collapsed in a flash flood, trapping tourists.) A narrow chasm, barely wide enough for passing horses, winds between 100-meter-tall pillars. The silence is immense.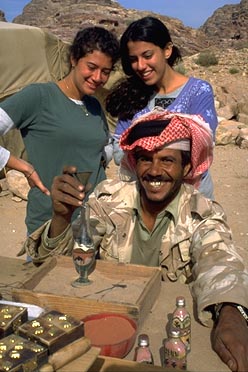 American students buying souvenir "sand art" in glass bottles from a Jordanian artisan.
The drama of Petra begins with simple initiation, past crudely inscribed Egyptian-style obelisks; carved niches that once sheltered idols (raided aeons ago), and slabs of Roman paving. Finally, a sliver of light opens to a courtyard circled by crimson mountains and the jewel of Petra: the Treasury, al Khazneh.
Majestic in shade, it gleams when the sun slides across its chiseled facade, illuminating columns, forms of Gods, horsemen, scorpions, eagles and an incongruous melange of architectural accents. Its mysteries intrigue: probably built as a tomb for the Nabataean King Aretas III in 1BC, archeologists believe the figures represent Alexandria and the goddess Isis; a high urn held Pharoah's treasure; perhaps pirates hid stolen bounty here.
Following my guide, Ibrahim, through a wide chasm walled with carvings of camels and ornate "doorways", we begin to explore. Terraced into a stone mound is the Street of Facades: haunting tombs-cum-dwellings, crowned with Nabataean signature crow-step designs. A massive amphitheater carved into a cliff reveals every striation of Petra's rocks. At its gate, an Arab, pausing from a game of chess, beckons us. After animated haggling, Ibrahim translates his incredulous proposal: he promises me three camels to become his thirteenth wife. Thanks for the honor, but I have family in Canada, I say. I rush off, solo, up high steps to the Royal Tombs. A monumental series of tombs and "buildings" forged into the curving face of a mountain, they once housed Law Courts, prisons and, by 446 AD, a Byzantine church.
Petra's charms never cease to awe. By the time I climb to ancient cisterns, the ruins of Nymphaeum (a fountain for nymphs of the stream), the High Place of Sacrifice (where animal sacrifices honored Dushara, Petra's supreme deity), stop to admire stalls of silver trinkets and carpets, watch a Bedouin create sand scenes in tiny bottles, and trudge to the foot of the Roman street, I'm weary, yet too exhilarated to miss the rest: temples, a museum boasting artifacts to 10,000 BC, and if I can conjure the stamina, hike 1050 vertical steps to ed-Dier - Petra's "monastery" where, supposedly, human ashes filled urns and carrier doves were dispatched.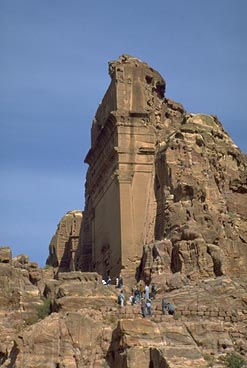 Climbing to the heights of Petra.

A grinning Arab trailing two camels approaches. "Welcome, Canada lady. I give you safe ride to temple, back to theatre." How does he know I'm Canadian? Turning, I see my suitor, three camels lined at his side, waving madly. A ride is tempting. The smaller camel flutters his lashes, flares his nostrils, makes a gnawing grimace, belches loudly, then spits. I imagine heaving on his hump, smelling like camel for weeks, so I walk. Seeing Petra is worth every step of the way.

Details:
For visas call the Jordanian Embassy:
in Canada: 1-613-238-8090
in USA:1-212-752-0135 / 1-202-966-2909
Watch travelterrific.com for future stories about Petra, in the Hashemite Kingdom of Jordan, detailing nearby sites, hotels and restaurants.