Hawaii: a State of Mind
Visit Maui, jewel of the Hawaiian archipelago, then hop from isle to isle
By Toby Saltzman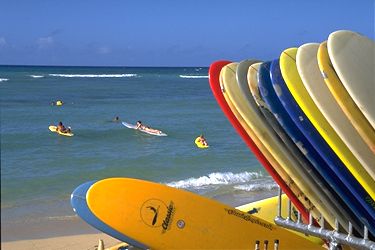 Surfing at Waikiki Beach
The surf was roaring dangerously high at Hookipa Beach. But the rolling swells and crashing waves were just too tempting for the string of spellbound surfers who stood staring at them from shore, weighing the odds of thrills and spills. Boards in hand, they splashed into the sea then paddled away, forever in search of "the Big One."
Surprisingly, these sun-wizened musclemen were not youngsters; in fact, most of them were in their 40s and 50s - the original folk-singing flower-children-cum-surfers who invaded Maui in the '60s, vowing to surf till they died. They settled in Paia, now an aging hippie enclave, to create jewelry, weave baskets and bake bread to sell to tourists who visit the gorgeous and wild territories along the hairpin Hana Highway - one of Hawaii's most beautiful drives.
For years, Hawaii's palm-fringed beaches, lush rainforests, secluded waterfalls and sybaritic resorts seemed elusive. When the islands became accessible via easy and relatively inexpensive flights from the eastern states and provinces, temptation and curiosity led many northerners to discover the exotic diversity of the isles in the archipelago. When my husband and I finally decided to make the trip, we were ecstatic. But could we pack all that Hawaii has to offer into a couple of weeks? For a leisurely trip, narrowing our sights to four islands made sense.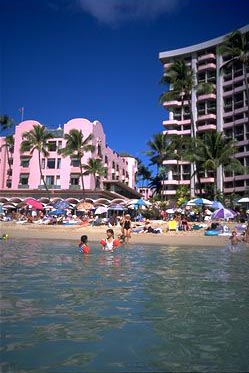 The historic Sheraton Royal Hawaiian Hotel is known as
"The Pink Lady" of Waikiki.
Maui beguiled us with its natural beauty, the historic charm of Lahaina - the old whaling port, once the capital of the Hawaiian kingdom, is now a haven of chic eateries and galleries - and its options for diverse activities, especially golf. Oahu, famed for Waikiki Beach and Pearl Harbor, would be our gateway. Lanai was irresistible for its secluded resorts. Hawaii, dubbed The Big Island for its size (twice that of the others combined), offers the rare spectacle of active volcanoes, not to mention the best beach in all the islands. We had no time for tempting Kauai.
Historians figure that Hawaii's earliest settlers migrated to the Big Island's tranquil Ka'upulehu Bay from Marquesa and Tahiti about 1500 years ago. Sparse evidence of their culture still exists in the form of petroglyphs (primitive stone etchings) and in the crude remains of ancient heiaus - the stone platforms where leaders decreed laws and honored gods with rituals and human sacrifices. When explorer James Cook arrived, the people lacked a written language. Their history remained an oral one until 1820, when missionaries translated their words phonetically using five vowels and seven consonants. Today, Hawaii boasts a rich melange of Polynesian, Asian and American cultures on its seven inhabited islands.
For us, Maui proved to be an island full of memorable experiences and overwhelming beauty. The trek to Hana and the gorgeous waterfalls and ponds of the Seven Sacred Pools - a daunting expedition that led us up to the mountainous, wild corner of the island - was worth every tight, hairpin curve. Since Hookipa Bay was so rough that day, many of the hippies were out flaunting their caches of crafts at volcanic beaches, hidden waterfalls, and all the other sites en route that draw tourists - which was fine with us, since their friendly chatter added some local color to each spectacular viewpoint.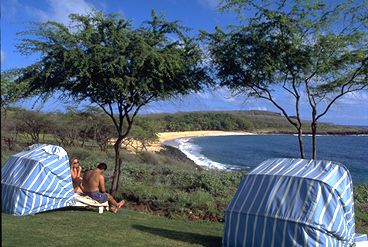 Quiet luxury at the Manele Bay
Hotel on the isle of Lanai.
We hiked through shady bamboo forests, the Keanae Arboretum - a wonderful park of rare, exotic trees - and stopped to look out over the wet taro fields where farmers harvest the roots by hand, much as they did centuries ago. We rested on velvety jet-black volcanic beaches and explored shallow tidal pools brimming with strange marine life: yellow butterfly fish, prickly sea urchins, bloated starfish and nimble-legged crabs. We watched whales flip and spray delightfully close to shore. On the Road to Hanna, the world seemed a perfect place and Hawaii became a state of mind.
Things to see and do on Maui
Vibrant Lahaina was once the bastion of bible-thumping missionaries who clashed with the whisky-drinking and womanizing whalers. The 1800s trading port and former whaling town is now a National Historic Landmark, albeit a commercialized one. Go at night for the street and gallery scene, and during the day for a historic walking and cultural tour. Guide maps are available at the Baldwin House Museum on Front Street. (Tel: 808-661-3262)
For information on the scores of other activities available, from whale-watching to scuba diving to day trips on other islands - like trips to Volcanoes National Park on the Big Island or to the day resort of Club Lanai - check with your hotel's concierge or any tourist booth in Lahaina.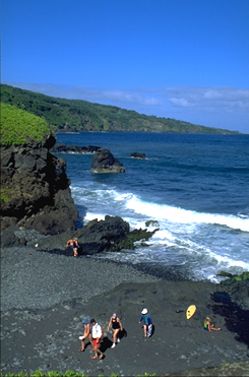 Tourists explore the jet black volcanic
beaches on the Road to Hana.
The Road to Hana, Maui's thrilling day-long scenic drive, is best enjoyed at your own pace in a rental car, provided you relish the challenge of navigating the narrow, often steep, and always breathtaking hairpin turns. A map or audio cassette highlighting the stops en route will enhance the experience immeasurably. There are few stops along the way, so take a full tank of gas, a picnic lunch, and plenty of water. Wear peelable layers, a rain-proof shell and sturdy shoes for the short hikes. By the way, anyone considering a swim in one of the inviting mountain pools might want to reconsider - some may be contaminated by wild pig dung swept by streams into the waterfalls.
But the West Maui Mountains pale in comparison to the 3050-metre-high Haleakala, the largest dormant volcano in the world. Haleakala, also called the House of the sun because the sun seems to rise from inside its crater, is now the center of a national park beloved by photographers, birders and nature lovers. Hikers, drivers and horseback riders are advised to bring trail maps and to register at the Haleakala Visitor Center.
Island Hopping
OAHU
If only for its sunners and surfers chasing ocean curls, tradition dies hard on Honolulu's legendary Waikiki Beach. Across from the hotels lining the shore (like the Royal Hawaiian and Sheraton Moana Surfrider, to note the historic beauties), booths offering various touristy excursions sit amid swank designer shops, chic eateries and tacky posters of Don Ho. We were amazed by the Pearl Harbor tour, the famed USS Arizona Memorial and the USS Missouri Battleship, though we were more impressed by the numerous Japanese tourists so palpably intent on learning the true story.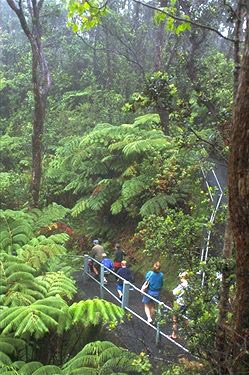 Hiking through the rainforest on
Volcanoes National Park.
LANAI
A quick flight took us from Maui to Lanai, where we came across what seemed like hundreds of pediatricians at one of those "splurge of a lifetime" holiday-cum-conferences. Lanai, famous for pineapples, is a paradise of solitude with a beauty that shifts from pristine beaches to forests to dry gulches to mountains to red cliffs. Lanai resists crowds, with only three hotels - one economical, in town: two ultra-luxurious, at opposite elevations. To maximize our experience, we split our stay between the Manele Bay Hotel on the sunny coast at Hulopoe Bay and the woodsy Lodge at Koele near the misty mountain summit. We saw whales breaching at dawn from our Manele Bay suite, and then later again while we played golf on the magnificent cliffside Nicklaus course. We explored the island by jeep, ran into a puddle, sank into a trench of mud. Hours later, after being rescued by police from the island's only station, we headed for the Garden of the Gods - a surreal landscape of strange lava formations and multicolored boulders. When thick mists rolled in behind us, we sped back to Manele Bay.
THE BIG ISLAND
Considering that the Big Island boasts Hawaii's most reliable weather (on the Kona-Kohala coast), best beach, most diverse scenery, and best preserved Hawaiian temple, not to mention a landscape burgeoning with new lava flows and the world's clearest astronomical vantage point (Mauna Kea Observatory is the premier site for optical infrared submillimetre astronomy), surprisingly few tourists see it. We preferred our accommodations Hawaiian-style, and were enchanted by two exotic but completely different coastal properties: Kona Village, an enclave of authentic-type Polynesian hales (thatched huts) blissfully tucked on the edge of the world; and the Hapuna Prince Hotel that sits on Hawaii's most beautiful beach - Hapuna Bay's wide arch of sugar-white sand.
You must visit Hawaii Volcanoes National Park, home to the famous Mauna Loa - the most massive mountain on Earth - and Kilauea Caldera, a smaller volcano tucked into Mauna Loa's side. Although witnessing a glowing eruption from within the glass bubble of a helicopter may be thrilling, nothing beats a hike for a more palpable sense of the volcanoes' potency, their capacity for devastation and the powerful beauty of natural regeneration.
According to Hawaiian mythology Halemaumau Crater, Kilauea's steaming fire pit, is home to Pele - the Goddess of Fire. Many islanders still believe that it's she who spews up plumes of sulfuric steam, belches flames skyward, and commands the fiery lava. In spite of the seismic activity recorded at Halemaumau's rim, bribes to Pele - orchids, ohelo berries - are often left here. Hawaiians seem to thrive under the threat of Pele's fury.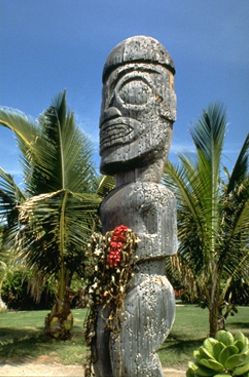 Hawaiian's say: If you give your lei to a Tiki God you are sure to return to Hawai.
The 80-kilometre drive along the Chain of Craters Road will blow your mind, especially if you stop en route for short hikes. Since the park's terrain changes quickly from steamy rainforests to chilly summits to parched plateaus, remember to bring plenty of water, layers of clothing, a waterproof shell, long pants and sturdy, closed-toe shoes to hike in. Stop first at the Kilauea Center for an essential guidebook and to view a fascinating film that puts the obliterating power of volcanoes into perspective. Take a jaunt behind the Volcano House - a 1941 lodge perched precariously close to the crater's edge - for an astonishing view of the immense Kilauea Caldera and the steam curling from the vents in its parched floor; the fiery hole of the Halemaumau Crater; the reddish cinder cone of Kilauea Iki Crater; and in the distance, the snow-peaked majesty of Mauna Loa. Somewhere along the Chain of Craters Road, you'll also catch a glimpse of puu Huluhulu erupting: Soaring white plumes escape by day while volcanic steam glows red at night, all of it rife with hydrochloric acid and glass particles that can cause respiratory distress and irritate skin and eyes. Note: the parks' steam vents and sulfur banks aren't recommended for people with respiratory problems, infants, young children and pregnant women. Also keep in mind that some paths run dangerously close to the crater's rim, so rambunctious kids should be held by the hand at all times.
One final - if mystical - detail to remember if you visit Volcanoes National Park: Stealing volcanic rocks or sand angers Pele. Skeptical? Don't take the chance. The manager of the nearby Volcano Hotel receives dozens of mailings of lava rock each year from visitors who, citing bad luck, want their cache of stones returned to Pele.
ISLAND INFO
Island Hopping
Aloha Airlines (Tel: 800-235-0936) provides frequent service among the Hawaiian islands. Flights average about US$69. Travel lightly: you may be charged for overweight luggage.
Getting Around
If you choose to rent a car or a jeep, note that the rental companies stipulate that your insurance coverage will be forfeited while you drive on certain off-the-beaten-tracks like the ones near Hana or in Hawaii Volcanoes National Park. Convertibles aren't worth the premium if you intend to sightsee in rainy areas such as Hilo on the Big Island, where it's wet 300 days a year.
Tourist Details
Get a free, comprehensive travel guide to the Hawaiian Islands.
Visit: Hawaii Visitors Bureau: 2270 Kalakaua Avenue, 8th Floor, Honolulu.
Phone: 800-Go-Hawaii
Website: www.visithawaii.com