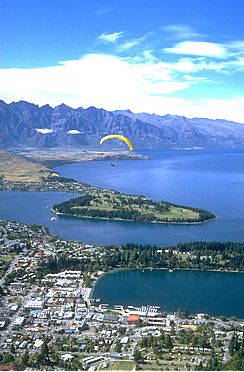 View of Queenstown from Bobís Peak
by Donna Carter
KIWI MAGIC
Queenstown is New Zealand's pot of gold.
By Donna Carter
In a country whose cup overflows with scenic splendor, New Zealand retains an enduring reputation as one of the world's great beauty spots. Overall, this far-flung domain in a remote corner of the South Pacific is perfection personified. Yet within this realm of geographical pulchritude it is possible to isolate a favorite spot. After two separate visits to this country where sheep dramatically outnumber a population of 3.8 million, my pick goes to Queenstown, a charming English-style community neatly nestled in the southwest corner of the South Island.
New Zealand - current holder of the America's Cup racing championship and home to the famous flightless Kiwi bird - consists of two large islands, the North and South, plus a scattering of smaller islets. Separated from Australia's southeast coast by the Tasman Sea, New Zealand is clearly a long haul destination but one that is worth the more than 20 hours it takes to get from Canada to Auckland, the country's North Island gateway. A domestic flight to the South Island and Queenstown adds another two hours to the overall trip.
Yet, any misgivings about making the tedious journey to the other side of the world instantly melt away at the first sight of the compact community that hugs the shores of Lake Wakatipu. Flanked by a bastion of mountains called the Southern Alps, Queenstown is frequently referred to as "the adventure capital of the world." The town that started out as a frontier gold mining settlement in the 1860s has it all in terms of outdoor activities: hiking, biking, sky diving, rock climbing, skiing, golfing, bungy jumping, hang-gliding, jet boating, gold panning, 4-wheel drive excursions, fishing and truly amazing sightseeing.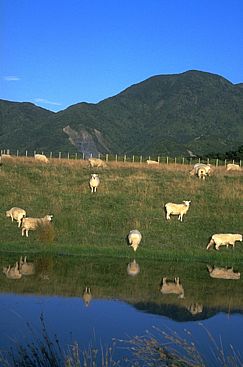 Sheep dramatically outnumber
New Zealandís population of 3.8 million.
By Donna Carter
The best panorama of Queenstown and the surrounding region is viewed from a mountaintop lookout above the town. More than 250,000 visitors a year ride the Skyline Gondola to Bob's Peak where the views of lofty mountain chains, sparkling lakes and rugged river gorges present a virtual alpine wonderland. It's not surprising that Queenstown and its environs attract hordes of visitors year-round, often swelling the resident population of 9,000 to triple its numbers.
First impressions suggest that if you're not wearing a backpack and hiking boots, you're somehow out of the loop. On further examination, however, it's clear there's a wide range of activities not demanding outfitters gear. One of the many options is a day-trip adventure aboard the vintage steamship TSS Earnslaw, affectionately known as "the lady of the lake." She departs daily from the Queenstown dock and her coal fed engines ferry passengers across Lake Wakatipu to the Walter Peak High Country Farm. Here, the 1912 double-decker waits dockside while passengers enjoy lunch in the homestead restaurant, followed by an optional garden tour, horse trekking, or a genuine sheep shearing demonstration. The Earnslaw, built the same year as the Titanic, is the last of New Zealand's coal fired steamboats and during the trip passengers can witness stokers manually feeding the fire boxes that consume a ton of coal per hour to maintain a cruising speed of 13 knots. The only downside to the Earnslaw is that her stack belches out a trail of sooty smoke, a situation that angers environmentally conscious locals.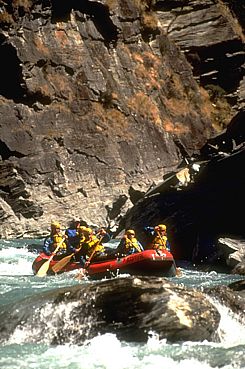 River rafting is a thrilling experience
in Queenstown region.
However, most Queenstown and area activities present no threat to nature. Several tour companies offer guided 4-wheel drive excursions to famous Skippers Canyon where the goldrush days of the last century can be relived. Even today, the rocky mountain road to the canyon is steep and treacherous in spots, so it's best to reject any notion of renting a car and doing a self-drive trip. Tour guides generally offer visitors a chance to try their hands at gold panning, a fun experience that glorifies the possibility of getting rich. Realistically, however, the payoff is at best a few glittery particles. Indeed, the age is long gone when men pulled nuggets as big as golf balls from Skippers Canyon streams.
Most guided tours include a stop at Arrowtown, a former frontier goldrush community that strives to maintain the trappings of the period when miners, gamblers, and claim jumpers filled its saloons, dance halls and gambling dens. Some New Zealanders say the place is too commercial but almost all visitors rank the town as a must-see attraction. In addition to a slew of quaint shops and good eateries, Arrowtown's Lake District Museum traces the important history of the area's 19th century goldrush. Today, liquid gold can be found in the Queenstown region's wineries. The area has recently earned widespread acclaim for its pinot noir and to a lesser degree, it's sauvignon blanc. Pinot noir production has become so popular that area growers can barely keep up with domestic demand let alone entertain the idea of export. Winery tours and tastings draw flocks of visitors daily, consequently it's a good idea to pre-book or join an organized tour. Many of the wineries have outdoor restaurants where only the magnificent alpine scenery surpasses the wine and delectable New Zealand cuisine which always includes lamb, succulent seafood and local cheeses.
Queenstown is also surrounded by several great golf links including the 18-hole Millbrook Resort course designed by Kiwi golf icon, Bob Charles, and played by U.S. President Bill Clinton during his 1999 APEC visit. Area courses typically lie in valleys and foothills of the Southern Alps, a landscape setting that is incomparably beautiful. During New Zealand's winter - which is our summer - a visitor can ski the mountains in the morning and play a round of golf in the afternoon. Five area snowfields offer great alpine skiing and snowboarding and the Queenstown Winter Festival is held in mid-July.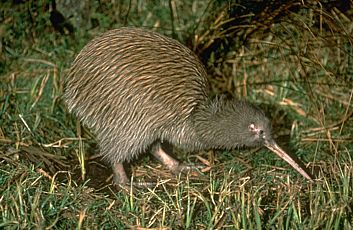 Yes! There really is a New Zealand Kiwi.
Kiwi winters are decidedly different than the cold months in Canada. A typical winter day there might be crisp and clear with temperatures reaching 10 degrees Celsius. Daytime summer temperatures in December and January can climb to 30 degrees. Extremely pleasant spring and fall weather rounds out an overall climate that makes Queenstown a year-round destination. Naturally, the best travel bargains can be obtained during winter and the summer/fall shoulder seasons.
While climate is a definite plus, my personal passion for Queenstown is fueled almost entirely by the area's stunning landscape. Apparently my opinion is shared by others. Mike Stewart, a local outdoor adventure operator offered this. "I've seen the beauty of this place bring tears to people's eyes." At the very least, it habitually leaves visitors in a perpetual state of awe.
Details:
New Zealand Tourism: Phone: 1-877-978-7369
Website: www.purenz.com
Award-winning travel writer Donna Carter is a member of the Society of American Travel Writers.