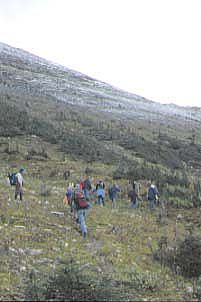 Hiking the Burgess Shale.
Blisters & Burgundy
Stalking fossils on the Burgess Shale Trail in Yoho National Park, Holly Quan discovers the beauty of British Columbia's
UNESCO World Heritage Site
Text and photos by Holly Quan
Grab a souvenir fossil when you're hiking the Burgess Shale and you're liable for prosecution. There are no bars across the trail, but signs are posted warning hikers to stay out. Getting caught within the restricted area can net you a fine. That's not surprising. Parks Canada is serious about guarding the precious fossils of the Burgess Shale, situated in British Columbia's Yoho National Park, a two-hour drive west of Calgary, the closest international airport.
The only legal access to the Burgess Shale is with a guided hike, so here I am, in company with an eclectic band of fellow fossil seekers. Our guide is a congenial graduate student in paleontology, one of several highly qualified trip leaders employed by the Yoho-Burgess Shale Foundation to lead the hikes. We've already climbed the switchbacks to tree-lined Yoho Lake, where we stopped for the first in a series of en-route lectures on local geology and the current theories about how the Burgess fossils came to be.
A Paleo-fairy Tale
Over lunch, we learned that the entire Burgess Shale story involves a series of accidents and coincidences. It seems that during the Cambrian era, some 560-530 million years ago, the critters destined to become these famous fossils crawled, swam and otherwise lurked in the shadow of an undersea reef that formed a cliff more than 100 meters (300 feet) high. Periodically, soft mud would slump down the reef face, carrying plants and animals to the bottom and burying everything like a marine avalanche. The soft bodies of creatures entombed in the mudslides didn't rot. Instead, they were compressed and gradually turned to rock.
That was coincidence number one. The next took a long time but is no less astounding. Through the cataclysmic geological events that formed the Rocky Mountains, the reef and its fossils were thrust nearly 2300 meters (7600 feet) into the air. The surrounding rocks were eroded by wind and water, exposing the fossil beds.
And there they remained until a fateful day in 1909 when one Charles Doolittle Walcott just happened to be riding by. Walcott, an eminent paleontologist and secretary of the Smithsonian Institution, had come to the Canadian Rockies specifically because of the exposures of Cambrian-age rock. Riding along the base of Fossil Ridge, he noticed a large rock that had evidently tumbled down from a higher position on the slope. Walcott dismounted to inspect the boulder and found it to contain a myriad of fossils he'd never seen before.
The Weird and Wonderful Burgess Fossils
To date, approximately 120 fossil species have been identified in the Burgess Shale, including trilobites, worms, sponges and other identifiable things. Although they're the ancestors of recognizable creatures, the Burgess animals' almost nightmarish appearance bears scant resemblance to animals we're familiar with today. Others are complete oddballs with no known modern descendants.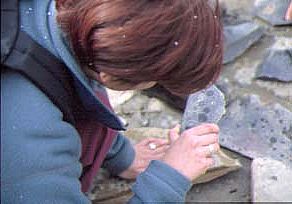 Examining an ancient fossil.
Among the Burgess creatures is a multi-legged animal called Marrella, after trilobites, the Burgess Shale's second most common fossil. Marrella's mouth was at the back of its head, protected by a double-horned "shield." Yohoia (many of the Burgess fossils are named for local mountain peaks and lakes) had two appendages on the front of its head, each ending with four "fingers." Leancholia was legless and swam by means of undulating lobes along its sides. It had three great appendages on the front of its head. Pikaia was a primitive backboned creature, a distant precursor to fish, dinosaurs and humans.
In 1981 the Burgess Shale was declared a UNESCO World Heritage Site and the 1989 publication of Stephen Jay Gould's book Wonderful Life brought even greater public attention. These events led to the Yoho-Burgess Shale Foundation, a not-for-profit fundraising and planning group founded in 1989. The Foundation conducts guided hikes to the fossil beds and is currently raising money to build an interpretive center devoted to the Burgess Shale. Which brings us back to me, on the trail, huffing my way ever upward.
At the Quarry
We reach the bottom of the final pitch, a thigh-burning, lung-bursting lunge. I stop, breathing hard, and look up to see fellow hikers straggling up the hill in a scene reminiscent of Klondike gold-seekers on the Chilkoot Trail.
And here we are at the quarry site, a level bench strewn with shards of split rock. The guide gets out hammers and magnifying glasses. Immediately everyone begins picking up pieces of rock. Fossils are everywhere. The group's excitement is palpable. We're all kids again, on a field trip like no other.
Eventually, our excitement subsides and I realize just how cold, tired and hungry I am. But we still have to hike down. Hearing the siren song of a hot meal and warm bed, we wearily plod over Burgess Pass and downward through the primal forest of towering spruce and pine. Almost imperceptible at first, the sounds of traffic on the Trans-Canada Highway gradually grow to a roar. Suddenly we emerge from the woods, knees aching, at the highway's edge. The town of Field is visible just to the west, where transportation back to Emerald Lake awaits.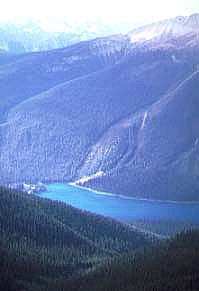 The pristine beauty of Emerald Lake.
Emerald Lake Lodge
The original timber-and-fieldstone Emerald Lake Lodge was built by the Canadian Pacific Railway in 1902. Renovated and updated in the early 1980s, today the lodge is one of three Canadian Rocky Mountain Resorts properties (the other two are in Lake Louise and Banff). Each of the lodge's 24 chalets contains four individual units. Each of these has a balcony overlooking the turquoise waters of Emerald Lake, a wood-burning fireplace, and beds furnished with cozy duvets. After a grueling day in search of fossils, that bed beckons almost as loudly as the steamy outdoor hot tub. First things first, however: dinner.
Former executive chef Hubert Aumeier created "Rocky Mountain Cuisine" especially for Canadian Rocky Mountain Resorts. His menus emphasize game such as venison, buffalo and caribou; fish, especially trout and salmon; and wines from BC and the Pacific Northwest. Aumeier's creations live on in the imaginative menu presented at the Lodge's Mount Burgess dining room. How about a salmon terrine, caribou steak with cranberry relish, smoked trout or a platter of game sausage, all washed down with exceptional wines from the Pacific Northwest, Australia and France? Lighter, less fussy fare is offered at Cilantro's Café, an independently-owned restaurant a short distance from the main lodge, serving up pizza, pasta and daily specials in a casual atmosphere.
How about a well-deserved meal, a bottle of fine wine, then linger over coffee and dessert while debating the Darwinian theory of evolution? On second thought…maybe a stroll back to my room for a liqueur by the fire, then the peace of a silent mountain night and dreams of fantastic creatures swimming through an ancient sea.
Details:
Costs are noted in Canadian funds.
The Yoho-Burgess Shale Foundation, P O Box 148, Field, BC, Canada, V0A 1G0
Phone: 800-343-3006.
Website: www.burgess-shale.bc.ca/fndtion/foundation.htm
Hikes go every Friday, Saturday, Sunday and Monday from early July until late September.
Cost $25 for kids 14 and up, $45 for adults.
Emerald Lake Lodge, Box 10, Field, BC, V0A 1G0
Phone: 250-343-6321 or 800-663-6336
Website: www.crmr.com
Summer rates: $275 - $435 per night.
Holly Quan is a Calgary writer and editor. She's the author of Adventures in Nature British Columbia, a guide to outdoor adventure activities throughout BC.