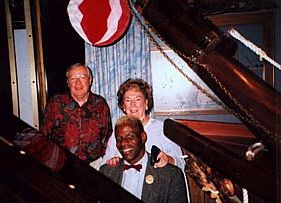 Gordon and Laura pause for a souvenir photo
with pianist Walter Ahart in the ship's cocktail bar.
Cruising Around the World
in 127 Days
Travel writer / broadcaster Gordon Garrison visits exciting and isolated ports on a global voyage from Athens to Antartica and back again.
Text by Gordon Garrison. Photos by Laura Garrison.
Home at last! What a wonderful feeling to be greeted by family; to fall asleep in your own bed again; to have friends calling to ask, "How was your trip?"
Our trip was fantastic, thank you! We were away from home for four months: 127 days to be exact. We had always wanted to sail around the world. When we heard about this around-the-world cruise that was planning to call at out of the way, exotic ports - more than any we had ever seen on other itineraries - we said, "This is it"!
My wife and I have had the good fortune to be able to travel. During the past forty years we've set foot on all seven continents and many islands. But it's a big world out there. Many places are positioned where the term isolated is an understatement. But here they were: 34 ports of call with no fewer than 23 brand new out of the way experiences waiting for us.
How did we plan for such a venture? Fortunately we had several months to prepare. The brochure stated that informality would be the custom on board. Great! That meant no tuxedo, only one jacket with trousers, a couple of sweaters, the necessary unmentionables, and comfortable footwear. We were bound to pick up T-shirts en route. For these, plus souvenirs and gifts for the grandchildren, we took along a couple of empty sports bags.
On November 16th, we flew to Athens, where our ship the Ocean Explorer 1 was waiting. After a couple of days of renewing our love affair with the ancient city, we presented ourselves at shipside in the port of Piraeus.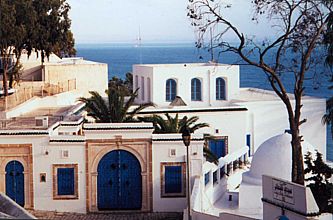 An artists' colony in Sidi Bou Said overlooks
a magnificent Mediterranean seascape.
We were not alone. Some 600 other travelers, off to see the world, were congregating, having their credentials checked, their baggage taken aboard. We wondered: Who are these people? Would we like them? What reasons did they have to cruise the globe? Did they do their homework?
The cruise organizers had made learning easy. Long before departure they sent us a binder covering every stop along the way. It contained geographic, historic, political, and generic information, preparing us well for our adventure. Once on board we were presented with a curriculum binder. Our itinerary was divided into regions with a schedule of lectures given for each segment. Whether you purchased shore excursions from them or not, the ship's tour office gave detailed advice on conditions, money exchange, weather, and customs in each port. No one needed to venture ashore without some local knowledge.
Our questions about fellow passengers were answered rather quickly. A large percentage was obviously retired. Most men had gray or white hair if they had any at all. The ladies ranged from white to gray to blondish to auburn to quite dark. Only their hairdressers knew for sure. We learned that nearly forty passengers had been medical practitioners, and there were many former nurses. There were several ex-lawyers and a sprinkling of civil servants, recently retired businessmen, the occasional ex-serviceman and quite a few teachers, male and female. About 70% were American, 15% Canadian. There were several from Japan, some from Israel, the United Kingdom and Australia. Every one of them, it seemed, had an insatiable thirst for knowledge.
The ship's faculty obliged. Led by former Carlton University professor, Stephen Richer, specialists gave papers on oceanography, wildlife, biology, anthropology, history, business, the arts, even astronomy. Everything from the depths of the seas to the heavens, all of which changed as we moved from ocean to ocean, continent to continent, hemisphere to hemisphere. Now at home, reflecting on the voyage, it's hard to imagine that we experienced so much in what, in retrospect, was such a short time. Here's a mere thumbnail sketch of these experiences.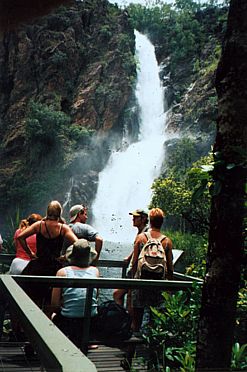 Litchfield National Park, Australia
Our first stop was Tunis, where we stood on the ruins of ancient Carthage, wandered through a labyrinth of souks, marveled at Sidi Bou Said, a white and blue hilltop village overlooking a magnificent Mediterranean seascape. Cameras clicked and hummed as the Ocean Explorer slowly navigated the strait of Gibraltar. Arriving at Casablanca (after seeing the movie in the ship's cinema) some passengers found their way to the American Bar, bringing their own "Sam" to play it again. Walter Ahart, full time entertainer in the Explorer's Schooner Bar looked and sounded the part. Some passengers opted for a daylong journey to the caravan city of Marrakech. The name, translated from Arabic means 'come early, leave soon' We did, after dropping a few dinars to the snake charmers, magicians and other entertainers in the main square.
Still African by geography, the Canary Islands presented a completely different atmosphere - part Spanish, part British through tourism. Cape Verde, different again, showed us many smiling faces even though the overwhelming picture was one of poverty. "Don't worry, be happy!"
Brazil was music: to our ears, to our eyes, to our hearts. Salvador da Bahia showed us how life was lived through many centuries. Rio was Rio, at once reverent and irreverent, shady and beautiful. Our stop here gave us a chance to revisit one of those wonderful churascarias for a never-ending Sunday brunch. Buenos Aires was music too. Tango music, at tango clubs. with tango dancers - stern of face, sure of foot; sounds vibrating to the heartbeat of the country.
Soon we were in what the Argentineans call the Malvinas. The local inhabitants refer to them as the Falkland Islands. Signs of the 1982 conflict are still evident, but life goes happily along, with pub lunches and tea at four. One seventy year old had a huge Union Jack painted on her roof after the Argentine forces had withdrawn.
In the Antarctica we discovered there is no culture, no heritage, and a history that goes back a mere hundred years. We had visited the white continent before and it literally shouted to us to return. For a place with no population it beckons for all to come, admire its wilderness, its outstanding winterine beauty. Again we were captivated.
We berthed at two South American ports that vie for the title of "world's southernmost". Ushuaia in Argentina wins as southernmost city; Punta Arenas claims the title southernmost town. Both are worthy of a visit, if only as a jumping off spot to Antarctica, or Patagonia, a region shared by both countries.
A bumpy ride over heaving seas in the Humboldt Current brought us to Easter Island, which is still part of Chile, but a world apart. The Moais, those incredible stone figures, stare endlessly, challenging imagination. Why were they sculpted? What did they represent? How were they moved? Why were they eventually pushed over? Only recently have a few of the nearly 1000 gigantic figures been set back on their ahu or platforms. The ship's lecturers taught us a great deal, but we came away with more questions than answers.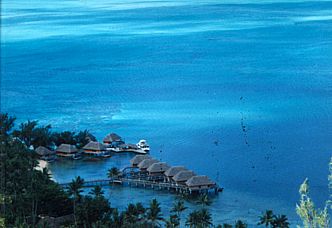 "Bora Bora is still the most beautiful island in the world."
We had more answers at Pitcairn. In fact we met most of the 44 remaining residents who inhabit this mid-Pacific refuge for mutineer Fletcher Christian. Nearly all were descendants of Christian and his fellow defectors. The Bounty itself was scuttled here at Bounty Bay to prevent detection by the British Navy. Only the anchor remains, salvaged from the sea as recently as 1957. It occupies a proud place in Adamstown's square.
Epic tales of the sea and seafaring followed us to Fiji where we watched a fire walking ceremony. Then on to Tahiti, which we found still lovely, though far more commercial than it was on our first visit in 1970. Back then, Quinn's waterfront saloon had not yet burned down. Smoky and foul smelling, it had given Papeete a romantic, Bogart-like atmosphere. We missed it, and other portside structures which had been replaced by modern jewelry shops, office buildings, and fast food outlets. But Hallelujah! The market was still there with fish smells and flower smells perfuming the air. Long may it last! Bora Bora has a few more hotels now, but nothing obtrusive. It is still the most beautiful island in the world.
Not many realized that New Caledonia is a French province. Noumea, the capital, is a clean, modern city that welcomes visitors from nearby New Zealand and Australia, but would love to see more North Americans. The Loyalty Islands are an interesting mixture of European French, Tahitians, Asians, Kanaks and a smattering of other indigenous peoples. With the addition of its wildlife, nightlife and beach life, we figured, as the song says: Who could ask for anything more?
The Ocean Explorer 1 made two ports in Australia: Cairns, the gateway to the Great Barrier Reef, and Darwin, which was rebuilt following a devastating hurricane in 1975. Some passengers did the overland thing, leaving the ship at Cairns and experiencing the outback en route to Darwin, where they met the ship five days later.
We found that Bali, Indonesia's best-known island, has everything: tradition, music, dance, history, postcard scenery with volcanic mountains and sandy beaches, shops with reasonable prices, and nasi goreng. Especially nasi goreng! Try it. You'll like it. Then have it again in Java.
Ocean Explorer 1 anchored at Samarang, where a group of costumed ladies danced to a gamelan orchestra. Their upturned fingers with exaggerated nails told stories as old as the country itself. Buddha is worshipped here. There are 72 Buddha images on the top tier of one of the world's true marvels. Borabudur is a long drive from Samarang, but a definite must see.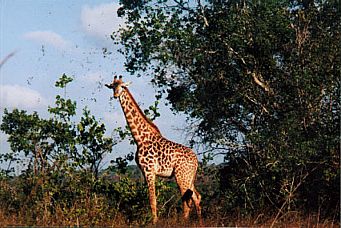 Giraffes browsing at Kenya's Shimba Hills National Park,
south of Mombasa.
Sri Lanka was a conundrum: lovely in the countryside, living up to the translation of its moniker: Beautiful isle. Some sections of Colombo had not seen a clean-up crew in years. Kandalama Resort seemed the perfect getaway, set into a mountainside overlooking a tank, or man made lake. Going to and from Kandalama was hectic. Try to picture erratic drivers, so-so roads, people and animals everywhere. Downtown Colombo has fine high-rise office buildings, set among old colonial style architectural splendors. Several mid-road armed military stations brought home the reality of today's civil unrest. One hopes they can resolve their problems and get on with enjoying life on their beautiful isle.
The Maldives are scattered across hundreds of square kilometers of Indian Ocean. Mahe, the capital, crowds one of the islands that make up the republic. The highest point on any island is not more than three meters above sea level. Diving is the main attraction here. Distinct from the Maldives, which are coral isles, the Seychelles are granite. They too, are scattered, their beauty evident above the sea as well as below. Divers love it, as do birders. It's not cheap, but you get what you pay for.
Mombasa's Fort Jesus, was built by the Portuguese in the 16th century. Dhows from Arabia have called here over the centuries, and some, even today, will take you for a cruise. But this is Kenya, so big game is the draw. Blessed with a multitude of National Parks, the country relies heavily upon tourism for its economic growth. Many passengers left their sea-bound hotel to live in the tented camps of Serengeti, Masai Mara, or the lodge at Shimba Hills. They spoke of their experiences for days, as the ship moved past the horn of Africa into the Red Sea. Our destination: Mit'siwa, Eritrea.
For a while, it was touch and go whether we would call there. However, conditions in the brand new country (independence came in 1993) improved and we kept to our itinerary. We found the people smiling, welcoming. We felt comfortable. There were no hucksters, no peddlers tugging at our sleeves, no bargaining. School kids were clean, playful, beautiful by any standard; oblivious to any conditions that had laid waste much of their small country. Eritrea is a bargain country. Our lunch for four at a Red Sea resort hotel cost less than US$9.00. We had 3 pizzas, 1 lamb curry, 3 beers and 2 large mineral waters!
Aqaba, Jordan's sole outlet to the sea, was our gateway to Petra. The Rose Red City was carved into the sandstone hills of the desert by Nabateans over a 600-year period, two millennia ago. This ancient monument ranks with the pyramids in giving new meaning to the word awesome. The mile long trek through a narrow cleft in the mountains only added to the wonder.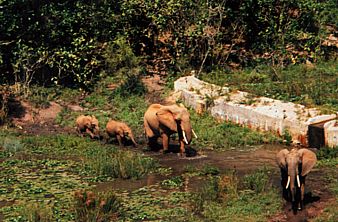 Elephants visit the water hole, at Shimba Hills Lodge, Kenya
A man-made cleft called the Suez Canal intrigued passengers as well. The Ocean Explorer 1 was included in a convoy of mostly freighters on our northbound passage. At Port Said, we dispersed, most heading for the Pyramids of Giza, where civilization has encroached to the verge of disappointment. The Sphynx now overlooks dozens of new apartment blocks, office buildings, hotels and shops. Cairo and its magnificent museum were impossibly crowded. We were relieved to hear that a new museum building was underway, and would soon be able to accept the thousands of antiquities now housed in the original, wonderful, but woefully inadequate structure.
There is a sharp contrast between Cairo and Tel Aviv. The Israeli metropolis shined in its newness, but it too, has its crowds. A visit to the colorful Carmel Market confirmed that. Again, most passengers opted for the obvious, making a pilgrimage to Jerusalem and Bethlehem. Some were fortunate enough to see the Pope on his official visit.
Santorini was to have been our last port of call, but sea conditions (according to our Captain) were unfavorable for our tenders to dock. We had to be content with a cruise around this Mediterranean beauty spot. Again cameras clicked and camcorders whirred. We spent our remaining drachmas in Athens.
Twenty-four hours later we were home. Home to our families, our friends, and our own beds. At last. What a wonderful feeling!
Gordon Garrison, a past Chairman of the Canadian Chapter of the Society of American Travel Writers, has been writing and broadcasting travel features for 35 years.
Editor's note: The organizers of this cruise, the World Cruise Company, just recently ceased operating. Nevermind. Gordon and his wife were among the lucky travelers to enjoy a splendid global voyage on the line's last complete cruise. I hope you find pleasure and inspiration in Gordon's eloquently told story. Future issues of travelterrific.com will feature vignettes of their favorite ports.