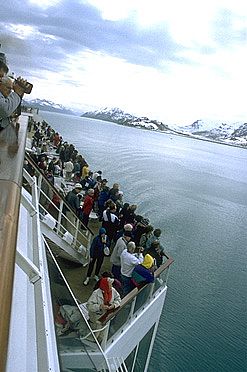 Passengers hug the rails of the Celebrity Galaxy for astonishing views of Glacier Bay.
Cruising Alaska's Inside Passage
Aboard the Celebrity Galaxy
Why Go? For the spectacular scenery and splendid adventures.
Text and photos by Toby Saltzman
It is by sheer, brutal design of nature that we can count on glacier Bay - a precious gem of Alaskan territory inhabited for the world's largest population of harbor seals - to exist pretty much the same for another 1,000 years. Its endurance is aided by the fact it is encircled by 16 sparkling turquoise tidewater glaciers, carving their way down through the mountains to the sea.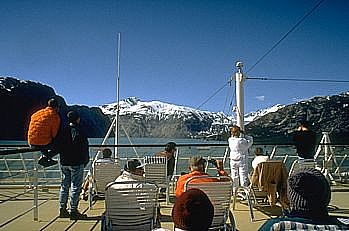 The Inside Passage is the Gateway to pristine forests,
lumbering grizzlies and soaring walls of crashing ice.
Never mind that this year, some 30 cruise vessels - from compact adventure boats to ultra-luxurious ships - will hustle about 100,000 passengers up the Inside Passage from Vancouver to Glacier Bay. Fortunately, the bay, recently designated a UNESCO World Heritage Site, quite naturally restricts close encounters to tourists in light planes or gently approaching vessels.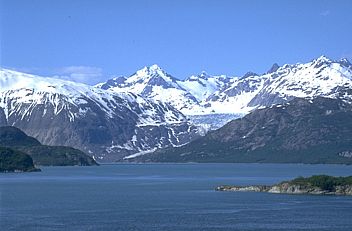 The pristine beauty of Glacier Bay
You cannot get too close to the face of a glacier without the risk of huge chunks of ice crashing to the sea with a roar the natives call "white thunder." You must admire Marjorie Glacier from a quiet distance, its glorious aqua ice side by side with the moraine-blackened and mammoth Grand Pacific Glacier, which is advancing daily because the snow feeding it from the mountains exceeds the melt at its base. While Glacier Bay and the Alaskan wilderness retain their status quo, the port cities along the Inside Passage little resemble the frontier outposts that sprouted a century ago during the gold rush.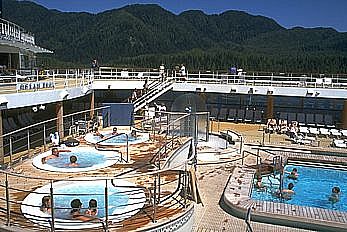 Cruising Alaska's Inside Passage on board the Celebrity Galaxy
In Ketchikan, where ships once anchored and tendered passengers ashore, vast piers stand capable of berthing several ships and supporting a dozen tour busses. Here, authentic Creek Street - the red-light district of gold-rush heydays, where many a stampeder hugged a jug of cheer or a warm-hearted girl - is a row of T-shirt and tchotchke shops. In Skagway, once the last stop for supplies before the treacherous Chilkoot Trail to Dawson City and Whitehorse, you could almost believe you're in Niagara-on-the-Lake, with its kitschy souvenir shops.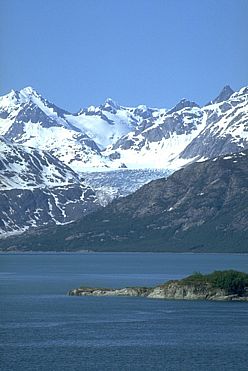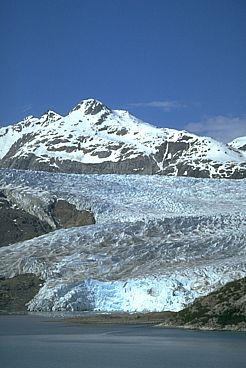 The icy tongue of the glacier carves its way down to the sea.
So why bother cruising to Alaska if kitsch isn't your style? For the spectacular scenery and splendid adventures otherwise hard to reach: for soaring in a seaplane of the Misty Fiords between forested mountains and snow-capped peaks; for the grizzlies lumbering through valleys, deer nibbling shoots at the water's edge, waterfalls cascading through the trees and seals flapping shiny torsos on boulders in mid-sea; for scouting glacial waters of Chilkoot Bald Eagle Preserve on a flat-bottomed skiff and encountering the noblest bird of prey so intimately that you see the yellow ring of his eyes; for the thrill of walking on glaciers; and for a rousing jaunt past the alpine tree line on the original White Pass and Yukon Railway - a feat of engineering chiseled into the sheer face of the mountain.
Most cruise ships plying the passage offer these excursions. So your vessel is the variable that brightens or blurs your pleasure.
The 1,860-passenger Celebrity Galaxy is an excellent choice for those who prefer luxury travel within the limits of good value. We chose the largest cruise ship in Alaskan waters mainly for its reputation for fine cuisine, inspired by renowned chef Michel Roux, and for its spacious Skysuites, which offer the biggest balconies afloat, plus private butlers. We wanted to see it all, yet avoid the masses.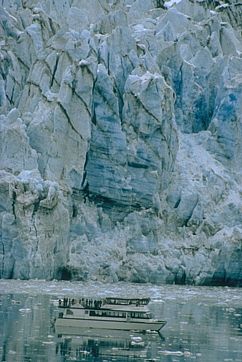 This small, brave sightseeing boat
brushes the tongue of the glacier
as it negotiates the ice floes.
The most technically advanced cruise ship afloat, the Galaxy - in the Celebrity fleet, recently bought by royal Caribbean Cruise Line- is loaded with seagoing firsts. (Though it is outdone by its brand new sister ship - the Millennium - launching in late June 2000.) It has the most elaborate, full-service spa at sea (including a thalassotherapy pool), multiple indoor and outdoor pools, a host of lounges configured so you never sense the passenger population, and an area banked with interactive personal computers. Credit goes to Celebrity's alliance with Sony and SeaVision for the Galaxy's dazzling array of technical gizmos, many of which have yet to be installed at any land-based resort. Huge, programmable "video walls" enhance the lobby and show lounge, which is also geared for laser light show productions. The cushy movie theatre has Dolby and Sony Dynamic Digital sound and a 48-cube video wall. And each stateroom has interactive televisions, programmed in five different languages, so guests craving privacy may order room service, shore excursions, first-run movies on demand and even indulge in serious gambling. The highly touted, interactive golf driving range was always too busy to try.
Meals in the grand, two-level dining salon were consistently delicious. We even dined one evening in our suite when our butler delivered tender, filet mignon. Delightful!
Details:
Celebrity Cruise Line: Phone 1-800-437-3111
Website: www.celebrity-cruises.com
Encore Cruises' Tiffany Collection brochures feature terrific values on Alaska cruises in Canadian dollars. For details contact a Canadian travel agency.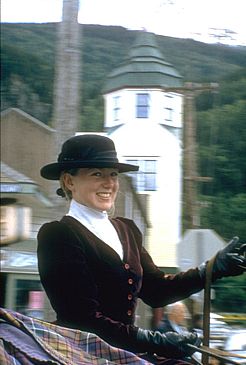 Driving a horse-drawn carriage through Skagway, dressed in "gold rush" costume.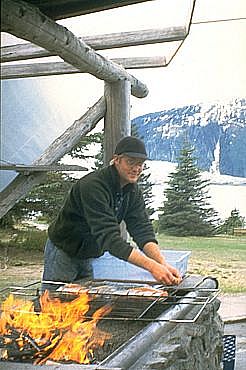 Grilling fresh salmon at Taku Lodge.