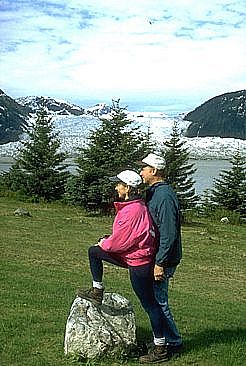 Overlooking the calm splendor of
Taku Glacier from Taku Lodge.
Cruising to Alaska?
Take these cool tips for a hot destination.
Text and photos by Toby Saltzman
Alaska is a hot destination for summer cruise vacations. If you're looking for great deals, compare the promotions offered by various cruise lines. But consider this: On any cruise ship, the potential for splendid adventures is similar. So if you're tallying up the costs and amenities (food, entertainment, service, excursions) you're better off to choose the worst cabin on the best ship, than the best cabin on a poor ship. Choose a ship that suits your style. Certain ships (for example, Radisson's Seven Seas Navigator) suit those with elite tastes. Other posh ships pamper adults, yet offer suitable programs for kids: important if your child is too young, or simply reluctant, to accompany you on excursions. Some cruise lines (for example, Crystal) even offer excellent supervised "just for kids" excursions. Most lines offer worthwhile pre- and post-cruise trips. (For example, Princess offers three-day land tours to the Heart of Alaska, the Denali Princess Wilderness Lodge and Mt. McKinley.) To research the various cruise lines, check the CLIA or Cruise Lines International Association website listed at the end of this story.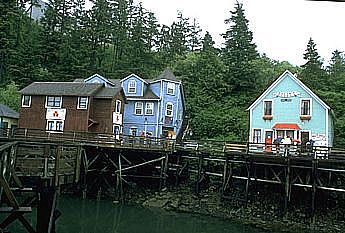 Passengers go ashore at such old gold-rush towns as
Ketchikan, where the flavor of the miners' red-light
district still clings to the piers of Creek Street.
Scenery is everything on an Alaskan cruise, so if you can, splurge for a window or balcony. Bring a variety of clothes. Gear up for warm to cold weather with layers: water-proof jackets, sweaters, gloves, sturdy shoes, shorts, bathing suits. And don't forget binoculars.
It pays to pick your shore excursions selectively. Don't waste time or money on city tours: Alaskan ports are small and fun to explore independently with a map or Alaska guide. But do pre-book flight-seeing, glacier walks and escorted treks into nature areas as early as possible. With the numerous ships in each port, it's worth guaranteeing your choice adventures.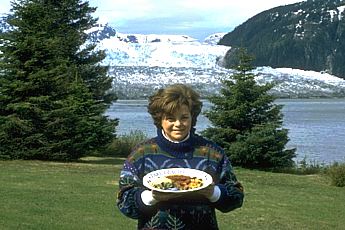 Toby about to dine on scrumptious
grilled salmon at Taku Lodge.
Here are my picks of the best excursions in each port.
Ketchikan: On your own, explore "Creek Street" - the "red light" district of the gold rush days, where many a stampeder hugged a jug of cheer or a warm-hearted girl in Madam Dolly 's brothel. It's worth visiting Saxman Native Village, where Tlingit and Haida artisans work their craft. For a soaring sensation, go flight-seeing over the Misty Fiords, over forested mountains and snow-capped peaks to spot grizzlies lumping through valleys, deer nibbling shoots at the water's edge, waterfalls cascading through the trees, and seals flapping their shiny torsos on boulders in mid-sea.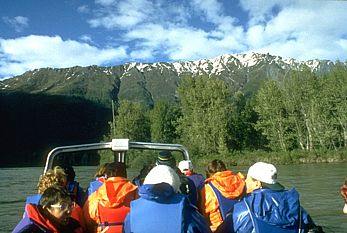 Scouting for eagles on a flat-bottomed
skiff in Chilkat Eagle Preserve
Glacier Bay is awesome in any weather. Gear your cameras for stunning scenery as your ship sails a fast clip to a world gleaming in nuances of blue, where ice floes drifting around you are speckled with mother seals nursing their young.Glacier Bay, encircled by sixteen sparkling turquoise tidewater glaciers, is listed as a UNESCO World Heritage Site for having the world's largest population of harbor seals. You will need to board a small vessel to get intimately close to the glaciers.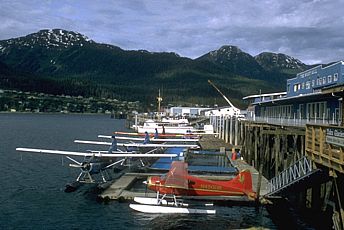 Floatplanes in Juneau take you sightseeing,
salmon fishing, and white-water rafting.
Juneau is the gateway for thrills. From this base, you can walk on glaciers, reel in king salmon, go whitewater rafting, hike through the rainforest or go flight-seeing over the Juneau Ice Fields to a remote place, like Taku Lodge, for a delectable salmon-bake lunch. On your own, explore the museum and city center.
Sitka: On your own, you can easily visit remnants of centuries-old architecture, including the Russian Orthodox Church. An interesting tour visits the Alaska Raptor Rehabilitation Center, where injured birds of prey are rehabilitated for release back into the wild.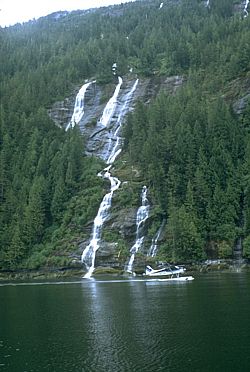 A seaplane lands in the Misty Fiords.
Haines: Board a flat-bottomed boat for an exciting jaunt over the green, glacial waters into the Chilkat Bald Eagle Preserve where you'll encounter this noblest of all birds of prey so intimately that you see the yellow ring of his eyes and their piercing gaze, his small white head, sharply hooked beak, the coarse oily feathers of his outstretched wings, and the thick talons drawn towards his abdomen as he swoops alongside you.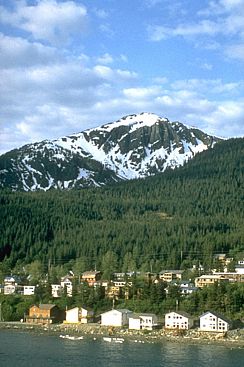 Haines, tucked at the base of
snow-capped mountains, is the gateway
to the Chilkat Eagle Reserve.
Skagway: During the Klondike gold rush, Skagway was the last pit-stop for supplies en route to Dawson City and Whitehorse. Explore the town on your own. For an exciting jaunt past the tree line, ride the White Pass and Yukon Railway; a feat of engineering chiseled into the sheer face of the mountain. Bon Voyage!
For details and research, check the website for the
Cruise Lines International Association: http://www.cruising.org
Encore Cruises' Tiffany Collection brochures feature terrific values on Alaska cruises in Canadian dollars. For details contact a Canadian travel agency.