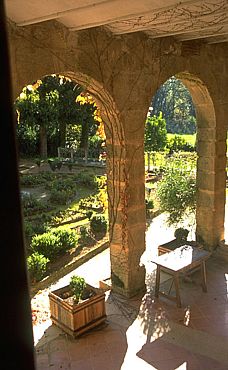 Inner courtyard at Yuste Monastery
Spain's Spectacular Past
Joanna Ebbutt traces the footsteps of Emperor Charles V and discovers that the most powerful man of his time
hid secrets of a mad queen and a bastard son.
Ah, but did his lavish surrounding bring inner peace?
Looking out from the window of the Yuste monastery, over the tranquil gardens towards the remote Extremaduran hills, I was engulfed by a deep serenity. This same vista had greeted Charles V, Europe's last Holy Roman Emperor, every day for the last two years of his life. Everything I had heard about him during the previous week had been absorbed on an intellectual level. But here, I felt as close to him as one could possibly feel to someone born 500 years ago.
Extremadura borders Portugal. It is a region that's not well known by many Spaniards. Yet with its rich history, rolling hills, sprawling forests, some extraordinarily good regional cuisines and wines, there is much to explore. And this millennium year, you can tie your sightseeing to the life and times of Emperor Charles V, whose 500th anniversary is being celebrated in Spain and other countries. But why bother?
First, a little background
We're talking about someone who became the most powerful man in his time, and whose decisions changed the course of history. As the grandson of Queen Isabella and Ferdinand of Spain, he inherited one of the world's largest empires, stretching from the Low Countries to the Americas.
Considered by many to be the first federalist in Europe, he was surrounded by advisors such as Erasmus and artists such as Titian. A true renaissance man, his passions and interests ranged from military conquests, global explorations and trading expansions to the arts, the sciences and a deep spiritual quest.
As Holy Emperor, it was his duty to defend Christianity against the spread of Islam. Yet ironically, it was under his rule that the Reformation took place, dividing Christianity and obliging Charles to declare war on Protestantism. This war was funded significantly by the riches acquired from Spain's acquisitions in the Americas, for it was also under Charles' rule that Hernan Cortes conquered the Aztec Empire and Francisco Pizarro crushed the Inca Kingdom of Peru.
Finally, in 1556, he decided to abdicate. After handing over his vast territories and power to his son Philip II, he retired to the monastery at Yuste to make peace with his God. Despite the remote location, Charles was rarely alone. His entourage at the monastery included a favorite Portuguese chef whose heavy Germanic fare took a heavy toll on Charles' gout and weight. Oddly enough, malaria caused his death, thanks to a nearby mosquito-infested pond. He died in 1558, in a bedroom opening onto the monastery's altar.
Five hundred years later
My crash course on Charles V began in Central Spain. We spent a week visiting significant places and palaces in Charles' life. Our itinerary followed a logistical sequence rather than a chronological one, particularly as he was born in the Belgian town of Ghent.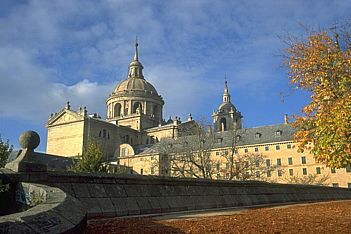 San Lorenzo de El Escorial
Photo by Joanna Ebbutt
First we drove from Madrid northwest to San Lorenzo de El Escorial, high on Spain's central plateau. Here, Charles' son, Philip II, created an immense royal palace-cum-monastery, between 1563 and 1584, from which he ruled his empire. Built from a local grey granite, its imposing backdrop is the foothills of the Sierra de Guadarrama. While the Augustine monastery is closed to the public, there is still much to see. Famous for its artistic wealth, the palace collection includes Flemish, Italian and Spanish paintings and Philip's personal collection of some 40,00 books and manuscripts dating from the 9th century. In the Chapterhouse are paintings by El Greco, Titian and El Bosco and Charles V's portable altar. Magnificent frescoes adorn the ceilings.
The Basilica has an incredibly lavish altarpiece, and Philip, who was equally devout, followed his father's example. His modest bedroom also opened onto the altar, so that he, too, could be closer to God when he died in 1598. An ornate marble entrance and a long staircase leading down to Royal Pantheon (or mausoleum), where Charles V was the first king to be buried. Here, in tiers of sarcophagi, lie the kings and queens of Spain, with Charles V at the very top. As some kings married three or four times, only queens whose children inherited the throne are buried here.
In the small town of Tordesillas, the darker side of Charles V came to life. We learned that he only legally became the king of Spain in 1555! His mother, Juana La Loca (called Joanna the Mad) supposedly went insane with grief after the death of her philandering husband, Philip 1. She wandered around the Spanish countryside for a few years, accompanied by her husband's body in a casket. Eventually, under Charles' instructions, she was kept in confinement in Tordesillas for 46 years, at the Convento de Santa Clara. Although she was constitutionally the queen, Charles ruled on her behalf until her death.
The Convento de Santa Clara is now the main "must-see" in this small town. Built as a convent in 1350 by Alfonso XI, it was converted by his son, Pedro the Cruel, into a residence for his mistress, Maria de Padilla. Homesickness for her native Andalusia inspired her to have the building redecorated with Moorish arches, baths and towels, and the overall effect is stunning.
A short distance away, the vast Castillo de la Mota towers over Medina del Campo. Built as a Moorish fortification during the wars between Arabs and Christians, it's surrounded by monumentally thick walls. Later it became the property of Charles' grandparents, Ferdinand and Isabel.
Medina became hugely wealthy during the Middle Ages when large sheep and cattle fairs were held here. Up to 50,000 traders converged on the town each year, from Flanders, Italy, Germany and France. In addition, it became a gathering place for bankers from across Europe during the 15th and 16th centuries. They came to establish the relative value of national currencies, and the Letter of Exchange in its current form originated here.
Many of the old buildings are in the Muderjai style, designed and built by Moslem artisans who were often hired by Christians. Charles' connections with Medina extend beyond his relatives. Since he occasionally stayed at the Palaceo de Los Duenas, it was preserved, and is now a teachers' training college where you may wander into the main courtyard to absorb its grandeur.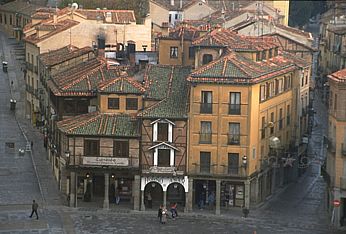 Plaza del Generalizimo Franco in Tordesillas
Photo by Joanna Ebbutt
Finally we approached Extremadura, where Charles spent his final years. Many of its villages seem right out of the Middle Ages. Charles' monastery sits above the village of Cuacos de Yuste, in La Vera, a mountainous corner of Extremadura that claims to produce "the best paprika in the world". In many of La Vera's villages, you'll see red paprika peppers hanging around the doorframes of the old stone houses, drying in the Sierran air.
Cuacos de Yuste is cited as one of La Vera's most unspoiled old villages. Charles V's bastard son, Don Juan of Austria, grew up here, in the care of Charles' butler and his wife. Their house is now the municipal office so you can pop in to check it out.
Along its narrow streets, adobe houses (introduced by the Arabs) are huddled together. The community is tightly-knit in more ways than one. Our local guide was talking in English when a village patriarch suddenly approached him, crying in Spanish, "What kind of language is that, anyway?" Impressed that we were from Canada, he insisted we each take a swig from his freshly produced wine. Considerable facial control was required, as we downed the tart, acidic liquid, but his generosity came from the heart and was appreciated.
In Garganta La Olla, armies of black-clad ladies attacked the alleyways with their brooms, while their male counterparts idled in the sunny town square. Some houses had a faded sign above the door that said "Ave Maria Purissima", which had been painted by Jews who had converted to Christianity, to show that they had converted. We also saw stone pillories, much used during the Inquisition. Reminders of dreadful times that remain terribly important to remember.
In La Vera we stayed in the turreted 15th-century palace where Emperor Charles V had lived from November 1556 to February 1557 while he supervised the construction of his residence at the nearby Yuste Monastery. Winters in La Vera are pretty chilly and as it was used as a summer home only by a noble family, Charles ordered a fireplace to be built in what is now the main hall. The Parador de Jarandilla de la Vera nestles within a grove of olive and orange trees. It was converted into a charming 53-room hotel in 1969. A large covered terrace overlooks a peaceful inner courtyard, the lofty-ceilinged reception rooms are full of earthy colors and magnificent Spanish antiques, and the intimate restaurant specializes in Extremadurian cuisine. An appropriate base for anyone on a royal quest.
Charles' final home
Only eight monks now reside at the Yuste monastery, but visitors can visit Charles' rooms to learn about his final days. He was fascinated by clocks and spent hours assembling and dissembling some of the 159 he owned. Charles was also constantly in mourning for his wife, Empress Elizabeth. A portrait of her by Titian was a prominent feature of his rooms. Whenever he felt that a visitor did not respect his feelings for his wife, the portrait would be covered before they arrived.
From his specially built reclining wheel chair he could gaze out over sweeping views of gardens and valley. Perhaps he dwelled upon the military conquests and global explorations that he had overseen, but more likely his search for inner peace was uppermost in his mind.
Details:
The Tourist Office of Spain: www.tourspain.es.
For anniversary celebrations for Charles and his son, Philip II:
Check website: www.felipe2carolos5.es
Prolific freelance writer and editor Joanna Ebbutt is a member of the Society of American Travel Writers. She writes about business travel for The Toronto Star among other publications and edits Flightlines inflight magazine. She wrote the Insight Pocket Guide: Toronto and co-authored Off The Beaten Track: Western Canada. She is also Update Editor on Insight Guides Canada, Insight Guides Montreal and Insight Pocket Guide Quebec.