Italian links and sand-wedges
Learn to speak the international language of golf in Tuscany
Text and photos by Toby Saltzman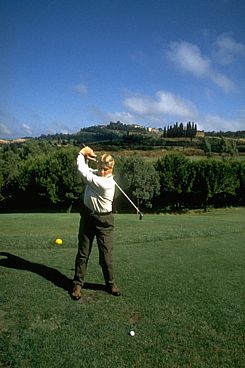 The Castelfalfi Golf Course offers
several dog-legs and water hazards.
The ancient walled village of Castelfalfi sits high on the crest of a hill that towers over an expanse of rolling hills quilted with emerald vineyards and silvery groves of olive trees. Set deep in the valley below is the 17th green of the Castelfalfi Golf Course.
Lining up to putt, I inhaled the fragrant air, looked up at the cloistered village and paused to look around. I couldn't believe that I was really there, golfing in Tuscany. It wasn't because the undulating, par-73 course is the most celebrated course in Italy, it's not; although its fairways are rife with dog-legs, wicked bunkers, long par-fives and tricky elevations. I was amazed, however, that after a snap of torrential rain had flooded most of the sienna-hued bunkers before my game, the roughs and hills were suddenly blooming with zillions of tiny wildflowers in psychedelic shades of yellow, blue, purple and orange. The more flowers that bloomed, the more birds came flying out behind the parade of cypress trees hugging the green. I felt like a tiny voyeur in a vast Renaissance painting.
Green Dreams
"Am I dreaming?" I asked Marella, my golfing partner and the club's assistant pro. "No. In Tuscany, when a heavy rain follows a searing drought, this is par for the course. If you like this, you should come in fall when the leaves turn brilliant colors."
"Aah," I said, visualizing the fall golfing season as it must have looked aeons ago when toga-clad Romans swung wooden clubs to drive feather-stuffed leather balls between olive trees in the game of paganica, one of the earliest versions of golf.
Tuscany is so unbelievably beautiful in the rain that even the downpour couldn't dampen my spirits. As my driver whizzed along the winding roads to Castelfalfi, the mist thinned to reveal ancient stone villages perched on distant hills. We passed vast fields of sunflowers, their yellow leaves cupped tight, sheltering their umber faces from the rain.
I realized Italians are die-hard golfers when I saw Marella waiting with clubs in the cart. "Today the rain is bella bella," she said as she navigated a roller-coaster path past towering cypress trees, toward the first tee, set high above a deep valley.
How could I complain? To our glee, the rain stopped abruptly, allowing a fair game. To say this course is tricky is an understatement. Between the deeply flooded bunkers, the undulating fairways marked by devious dog-legs that forced lay-up shots, and the water hazards lurking in front of the greens (as if the greens weren't tough enough), my game left much to be desired. But I couldn't care less. The bunkers, carved into soil the colours of Umbrian bricks and Sienna rooftops, made stunning contrasts to the green grass. Teeing off between gnarled olive trees that bore fruit in Etruscan times to a green tucked beneath Castelfalfi was exhilarating. And to see a farmer stroll out of the wild bush onto the 8th fairway - holding his hairy black, truffle-sniffing boar on a leash - was nothing short of dazzling. No wonder, I thought, when Mirella said that she's never been inclined to leave Castelfalfi, where she has lived her entire life. The ride back to Villa Delia - past sunflowers whose petal-rimmed faces now smiled at the sun - was the stuff of dreams.
Golf, Italian Style
Italy has roughly 250 courses that range from classical parklands, links-type courses built in the 1920's, to crisply configured designs by Jack Nicklaus. Most of the country's finest golf clubs, absurdly listed as "private", welcome foreign golfers for green fees averaging about US $60 per game. In Italy, golf etiquette is as straight as a dry fettucine noodle. The sport has its own international language, so don't worry about the lingo. For a great round of golf, Italian style, just remember this: Constantino Rocca, the Italian golf champ, is revered more than Tiger Woods. Keep pace, but don't expect the group in front of you to do so on the 10th tee. Italians - so passionate about art, architecture, opera, food, wine, and golf - never down food or wine for a timely tee-off. Follow their style and you'll need a cart for the back nine.
Tuscan Fairways
These courses, among the best in Tuscany, provide preferred tee times to guests at Villa Delia.
Golf Club Tirrenia (Viale S. Guido, 56018 Tirrenia Pisa, Tel: 050-37518 Fax: 050-33286) is considered the best 9-hole course in Italy. This tricky, 3313-yard par-36 riverside course was founded by the US army in 1968. It's situated 13 kilometers from Pisa, 14 kilometers from Livorno (the port for Florence) and is open all year round.
Versilia Golf Club (100-55045 Pietrasanta, (near Lucca) Tel: 0584-881574 Fax: 0584-752272) is a challenging 18-hole seaside course in Tuscany that has many water hazards and tree lined fairways. It's a par-72 at 6450 yards and is open all year round.
Castelfalfi Golf Course (Tenuta di Castelfalfi, 50050 Montaione Tel: 0571-698093 Fax: 0571-698098) is located 300 meters above sea level beneath a picturesque medieval village. The hilly 18-hole course traverses one of the most ancient estates in Tuscany. It's situated in a suburb of San Gimignano, 60 kilometers from Sienna and 75 kilometers from Florence. It's a challenging par-73 at 7050 yards. This course is closed January and February.
Cosmopolitan Golf Club (Viale Pisorno, 60-56018 Tirrenia Pisa Tel: 050-33633 Fax: 050-33085 : website: www.cosmopolitangolf.if ) is a links style, 18-hole seaside course lies 15 km from Pisa and 15 km from Livorno. It plays a tough par-72 at 6880 yards marked by sand dunes and water hazards. The Cosmopolitan Golf Club, with its modern clubhouse and huge pool is noted for good cuisine in Italy's Wine & Golf Magazine. It's open all year round.
Punta Ala (Via del Golf, 1-58040 Punta Ala. Tel: 0564-922121 Fax: 0564-920719) boasts "Italy's most beautiful golf scenery" from its 7th tee overlooking the Mediterranean Gulf of Follonica. Located 40 kilometers north of Grosseto, this 18-hole, par-72 course traverses 6780 yards along a breezy seashore. It's also open all year round.
Elsewhere in Italy
Golf Club Milano (Phone: 039-303081) is one of Italy's most popular courses. It's situated in the Lake Como area of Lombardia, 20 kilometers from Milan. It's an exclusive club dating back to 1928. The lush, 27-hole complex frequently hosts the Italian Open on a 6700-yard, par-72 course.
Circolo Golf Villa d'Este (phone: 031-200200) overlooks Lake Monntorfano and distant snow-capped mountains. Built in 1926 40 kilometers from Milan, the 6300-yard, par-69 course has tight, winding fairways with changing elevations.
La Pinetina Golf Club (phone: 031-933203) is an exciting 6600-yard, par-71 course just 25 kilometers from Milan.
Golf Club Monticello (phone: 031-928055) is a famous, 36-hole resort complex located 45 kilometers from Milan, and has hosted several Italian Opens at its difficult "Blue Course."