A Roaring Good Time in Disney's Animal Kingdom
Family travel expert Kate Pocock discovers this theme park
harkens back to the roots of Walt Disney himself.
It was only after I'd passed under the elephant archway and into the tropical Oasis, strolled through the Safari Village and came up against the cracked ochre walls of the Harambe river port, that I realized that Disney's Animal Kingdom was not a gimmick. This newest theme park really did have the sounds, the smells and even the look of Africa. Sure, there were stores along the way selling Goofy watches. Some of the "trees" on the African savannah were actually made of concrete and topped with "lazy susan" dinner trays of acacia shoots and bamboo. And the dinosaur bones that the kids were digging out of the Texas gritty sand in DinoLand, U.S.A. were not authentic four thousand-year-old quadrupeds.
But the fact that the 500-acre-site was enlivened with 200 species of creatures, more than 1000 breathing animals, was proof enough that the Animal Kingdom moniker was justified. And the setting - the dusty streets, the cracked walls of the buildings, the open grasslands savanna, the parading drummers dressed in brilliant robes - was so reminiscent of parts of Africa that some of the friendly African cast members were reminded of home. Rather than be turned off by peeling paint, graffiti written on walls and the animal smells (where do they put all of that poop?), I was delighted that the park had not been gussied up and polished to the point of theme park fakery.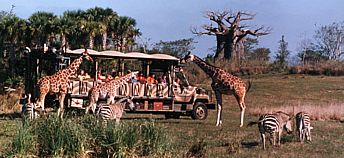 Of course, the kids probably won't notice any of this. Rather, they'll have a ball traveling from the energetic show of the Festival of the Lion King to the 3-D "It's Tough to be a Bug" film and on to an exciting safari journey past elephants and zebras in an open-sided lorrie. And if they're the type of kid who knows his brontosauri from his diplodoci and whose idea of an excellent day is to watch a veterinarian treat a 500-lb Galapagos sea turtle with a stomach virus, they'll be in heaven.
If you arrive early, just after the gates open at 7 a.m. (and on some days they open at 6 a.m.), head for the Kilimanjaro Safaris before the heat lays low the animals who roam the 100 acres of African savanna. It's the highlight for many visitors. "Fasten your seat belts. This could be a rough ride," instructed our driver as we lurched off down a road filled with ruts and rocks. The kids will love the adventure of trying to stop the "elephant poachers" as the vehicle races over bridges and swoops past animals before it comes to a stop in a flooded ditch. Even some of the adults looked aghast when the guide joked, "Oh no, I knew I should have had this truck serviced last week." There we were, stuck in water, with wild animals seemingly all around.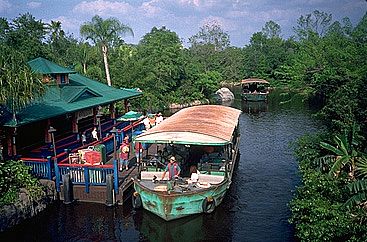 The Riverboat ride in Disney's Wild Animal Kingdom
Photo by Kate Pocock
During one 20-minute safari ride, we came so close to a white rhino that passengers could reach out and touch its very un-Oil of Olay-treated skin. One word of caution - because the sides of the trucks are open and the ride very jerky, younger children should not ride on the outside.
Another sure hit with kids is the "It's Tough to be a Bug" film in the impressive Tree of Life. The audience shrieks with delight as the Stinkbug lets loose. And if you've got too-cool teens along, the terrifying Countdown to Extinction ride should shake their attitudes. Tired parents who want to park themselves under a shady tree should guide their offspring to the Boneyard in DinoLand U.S.A., where the kids can enjoy some downtime unearthing dinosaur bones from a large sand pit. But be warned: the kids may not want to leave. I kept seeing parents drag their reluctant paleontologists away from their "dig".
After hours of excitement, it's time to travel on the Wildlife Express train, with a steam whistle right out of a British mystery movie, to the very heart of Animal Kingdom - the Conservation Station. Here, the keepers, dieticians and hospital veterinarians both entertain and educate. Through large glass windows, kids can watch a wounded bird being fed with an eyedropper, a chinchilla rolling herself in a volcanic ash dust bath to clean herself, or someone's misplaced key chain being surgically removed from the stomach of an unfortunate parrot. A nursery for baby animals is decorated with, what else - murals of Bambi and Simba. As for the food preparation, it's massive. Imagine chopping and dicing three tons of dinner each day.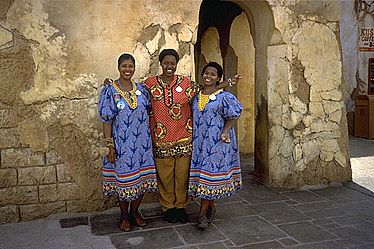 Three friendly staffers greet visitors to the Harambe Village.
Photo by Kate Pocock
Last year, the park added two new attractions: Maharajah Jungle Trek, where tigers, gibbons and other animals roam freely without apparent barriers, and Kali River Rapids, a high-speed, white-water raft trip down a raging river through the rain forest. Next year, visitors will also be able to see animals from their hotel windows. The new Animal Kingdom Lodge will recreate the feel of a South African game reserve lodge and offer views of some 100 grazing animals and 130 birds on the property's private savannah.
In a way, this theme park - the fourth at Walt Disney World in Orlando and the largest ever constructed - harkens back to the professional roots of Walt himself. As the creator of the Steamboat Willie cartoon, with its mouse squeaks and parrot squawks, Disney was the first to give animated creatures a voice. Before that, the cartoon cats had never opened their mouths. People thought Disney was crazy when he decided to make a film on the life cycle of Alaskan seals, with no human in view. The resulting True-Life Adventure series was a huge success. For his animated features, he would hunt for the perfect specimen - a round, furry calico for the animated Lucifer in Cinderella, for example, and he often brought live animals to the studio, to pose for the animators on large beds of hay. He loved to travel and he loved zoos, to the point where when his wife, Lilly, heard of a proposed trip to Europe, she warned him, "Walt, if you're going to look at more zoos, I'm not going with you!"
Disappointed that his Magic Kingdom's Jungle Cruise ride couldn't feature live animals, Disney was furious nevertheless when a ride operator whizzed a boatload of passengers past the plastic hippos and parrots. He wanted his guests to get more than a glimpse of jungle animal life.
Well, Mr. Disney, Animal Kingdom more than makes up for this shortcoming. Enough lions and tigers and hares. Oh yes! And the setting of far-away continents to house them all.
Animal Kingdom Details:
In USA or Canada, Phone: 1-407-DISNEY
Website: www.disneyworld.com
Canada 3000 Holidays flies direct Toronto to Orlando every day except Sundays and offer a great deal on Walt Disney World passes to their passengers. An Unlimited Magic Pass with Disney's Flex Feature gives four days of fun at the Disney theme parks and attractions as well as admission to the water parks and one character breakfast; $340 for adults, $278 for kids three to nine (taxes included). The Park Hopper Plus Pass for those who are not staying at a WDW resort offers a five-day or seven-day Park Hopper Plus pass with unlimited admission to the theme parks and transportation; from $358 for adults and $291 for kids. For these passes (good until December 15, 2000) and flights, consult your local travel agent.
Walt Disney World's new FASTPASS system, where families can arrange visits to the most popular attractions at a specific time (and avoid the long lineups), are available in Animal Kingdom.
To rendezvous with Mickey, Minnie and Winnie-the-Pooh, head to Camp Minnie-Mickey. To attend the daily 10 a.m. character breakfast at the Restaurantasaurus in DinoLand U.S.A., call 417-WDW-DINE; $14.95 U.S. for a full breakfast, $8.95 for kids ages three to 11.
One-day, one-park admission to Animal Kingdom is US$46 for guests 10 years and older, and US$37 for guests ages 3-9.
Kate Pocock's "Family Fare" column appears in the Toronto Sun newspaper. She is also senior editor of Travel & More, magazine for the Air Miles program in Canada, and recently contributed to National Geographic 's Guide to Family Adventure Vacations.