Siberia, A Memoir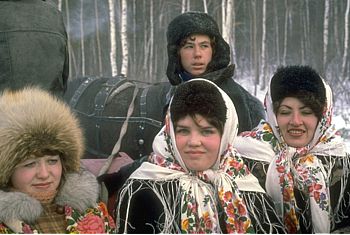 Siberian women in national dress.
In Siberia there is a saying: "100 kilometers is not a distance, 40 below is not a frost, a half liter of vodka is not a drink, and 40 years is not a woman." Going out of 1981 towards a new year, from daylight grey to blackness over the Urals, renowned travel writer Percy Rowe recognized the truth of at least the first part of the aphorism.
Text and photos by Percy Rowe
I spent the most remarkable, maybe the best, New Year's ever in Siberia. It didn't start auspiciously. Although Moscow, on a three-day stopover, was at its best, and the domestic airport from which we set out for Irkutsk was a horror that could have been etched by Hogarth.
There were 25 of us, all Canadians, on what professed to be the first package tour by North Americans to Siberia in winter. That's why I was along, the only newsman, hoping to write about why people would go deep into this glacial Communist world as much as for what they might see.
Moscow, stodgy in other seasons, was a wintry aperitif. Each night, thistledown snow robed the Kremlin. New Year's was coming. Store windows had cutouts of Russia's symbolic, avuncular, milk-bearded Father Time and his beautiful, blonde handmaiden. Army officers in homeward subways, already bunchy, hugged small rolled conifers to their chests. Some Muscovites smiled. The Bolshoi was performing the Nutcracker. (But when I asked Vera, our Intourist escort, whether I could buy tickets, she tersely said there were only five performances and "they were for the children." I mentioned that in Toronto the National Ballet performed it for two weeks. She thought that capitalistic excess, and sniffed.)
The departure airport was afloat with melted snow, jammed with families and troops trying to get home for the holiday. Some had been there for hours. An old woman with a wide, filthy mop continuously swerved around the check-in lineups. Immediately there was a tiny dry oasis, a family would invade it, proprietarily spreading bags from which they would disgorge heavy bread, odiferous sausage and bottles of Kvass.
After an hour, we - the exulted - were whisked through long corridors, back doors, out on a tarmac, to an Aeroflot Tupulov 154.
In Siberia there is a saying: "100 kilometers is not a distance, 40 below is not a frost, a half liter of vodka is not a drink, and 40 years is not a woman." Going out of 1981 towards a new year, from daylight grey to blackness over the Urals, I recognized the truth of at least the first part of the aphorism.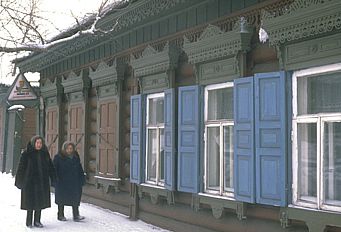 All Siberia is not dull. There are many older, painted homes.
It is a seven and half hour flight from Moscow to Irkutsk - and that is only two-thirds across the girth of Siberia. And Aeroflot, though the biggest airline in the world, is the most penal. No smoking, no alcoholic drinks on domestic flights, no soap, usually no toilet paper, sometimes no water, and, for some reason for which I got no answer, on our flight hardly any heat. The Russians burrowed deep in their furs. Cringing, I considered gulags.
On landing at Omsk, I rushed my wife to an airport bar for brandies - for warmth rather than pleasure. Suddenly the bar was transformed. Rare oranges had arrived from the Black Sea. Splintered hands savaged the crates. Soon, strapping men, roues, drunks had juice-doused chins.
It was New Year's Eve, 2.30 in the morning when we landed at Irkutsk, the trip's nadir. We were put in a beige holding room, rank with urine. It had no windows. The only reading was a translation of Brezhnev's last speech to the Praesidium. The temperature outside was 34 below. Nobody seemed to know what to do with us.
Then all changed. In an hour we were in a modern downtown Intourist hotel. It was warm. The women on each hotel floor, who serve guests tea and mail, were not old and snoopy as in Kiev, Leningrad, Sochi. They were pretty, bilingual, helpful - and young. The radio in our room wasn't. An earthing wire, patched many times, led to a steaming rad. Nevertheless, it became a genie. I turned a knob. Out came Peggy Lee.
At eight I was dragging my wife outside. I was a newspaperman, wasn't I? I had to get pictures. The light was grunge. Across the road, a park edged the Angara River. Two women, muffled like logs, brushed snow from its paths. Bundles of bound twigs lay in one corner, replacements to be tied to their broomsticks.
We made a city tour. At a war memorial, guards changed every 20 minutes, so scabrous was the cold. Outside the permanent circus building, I was shooed away by mothers and teachers when I tried to take photos of crocodiles of zesty kids. In a quarter of 18th century log-built homes, an ancient woman slithered over ice with her bucket of water, gained from a street tap. Beside blue and white onion-dome churches there were graves of exiled Polish nobles. Their fine villas faced the river.
All were so tired by 4 p.m., everybody went to bed, to sleep for six hours. That, I believe, is what made the party a blast. We came, refreshed, at 10, to the hotel's giant dining room. We were at two long tables. Some Italians had another table, French another. Siberians had three. Five glasses were placemat sentries, for vodka, wine, champagne, cognac and water. A good band was playing western music for dancing. The first of many courses arrived.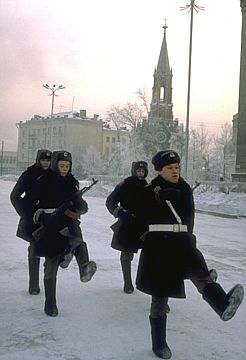 Soldiers marching at the
Great Patriotic War Tomb in Irkutsk.
But something was wrong. Ray and Eda, the Ukrainian-born promoters of this trip, were not there. It was a repetition of our Moscow arrival. Then, we had to wait an hour for them to get through Customs. They had never said why. But now came, possibly, the explanation. For here they were with boxes, from which they were passing out Christmas crackers and sparklers. Perhaps Customs had considered them explosives.
Certainly they were ice-breakers. At the first cracker pop, the band stopped, Russians swarmed to our tables. By eleven they were toasting the Kanadikis. At midnight we were leading them - the Italians and French too - in a conga line, sparklers aloft, a curving tiara.
A middle-aged man, dressed formally, asked my wife, mainly by sign language, to dance. She learned he was a Buriyat. In central Siberia, around Lake Baikal, Buriyats are an indigenous people, traditionally hunters of sables, so expert they shoot them through the eye so that the fur is undamaged. But this one, Muriel gathered after a second dance, was an engineer. By the third she was becoming so used to his mangled English that she learned he knew of three Canadians: Pee-Air Troo-doh; Ispee-zito (the hockey player,) and Fah-le Mow-at (who had been in Siberia to write a book.)
I knew not one Siberian, yet gained a minor victory too. For reciting, as a somewhat vodka-hazed gesture of international amity, the words of John Denver's ballad, Annie's Song, I collected a kitschy wooden hockey goalie.
The following afternoon, I came upon Michelle, 18,our youngest traveler. I reported we left the party at 4.30; how about her? With her response, I said what attention she would get at her first high school recess, when some would boast of being hotdog skiing at Collingwood, one or two of going to Florida over the holidays, and she would trump them all with: " Well, I was still in a disco in Siberia at 7.30 on New Year's morning"
She went back to bed, Muriel went to a children's party, I walked crisply (one never saunters in Siberia in January) to a park, and watched eight-year-olds speeding down a luge run.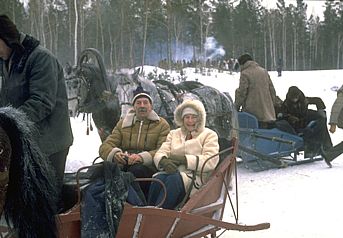 A Dr. Zhivago-like sleigh ride thru the forest.
The other great remembrance was of Dr. Zhivago-like troika rides through birch forests, the horses' breath like malted milk, and intermittent warming at huge bonfires, with blintzes and liquor served by pretty girls in traditional dress covered by the priceless sable coats.
But, usually, it was a visit to a lumber mill, a creche or the office of some Soviet poo-bah, Vera prodding us along with " Look sharp."
There were human exchanges: A stop sign at the exit from a limnolgical museum, given by visiting Canadian scientists to the researchers there into the unique habitat of nearby mile-deep Lake Baikal. And at Bratsk, a new industrial city, where, we were told: the first hundreds of young power dam builders learned of a textile town near Moscow inhabited almost entirely of marriageable women, wrote to its mayor for help, and ended up with a trainload of spinsters. But then it was off to the next shirt factory.
Percy Rowe, a newspaperman for 50 years, served as reporter, foreign editor, news editor, assistant managing editor of metropolitan newspapers before becoming travel editor of the Toronto Telegram, then the Toronto Sun. He has traveled in 150 countries, every U.S. state and, of course, all Canadian provinces. He has had five non-fiction books published, two of them travel books. Percy Rowe resides in Toronto.