Follow the Music to Louisiana
If there is one state that can blow its own horn as the birthplace of three or more musical styles, it's Louisiana, says music buff Pat Dineen.
New Orleans is the acknowledged birthplace of jazz and both cajun and zydeco music developed in Cajun Country in the south-central part of the state. No one is sure where rock and roll was born but the first song using the word 'rock' was New Orleans-native Roy Brown's Good Rockin' Tonight in the late 1940s.
Throw in gospel, swamp rock, the blues, rockabilly, country and even classical, which are all thriving, and Louisiana has events and festivals for visitors no matter what their musical tastes. So important is music to Louisiana's past and its present, that the state is making music the basis for its marketing for the next two years.
Louisiana boasts 600 festivals a year, many of them devoted to music and many of them free. Even a major event like the New Orleans Jazz and Heritage Festival, which drew 455,000 visitors last year, charges an entry fee of only US$15 or $20 on weekends. No matter what time of year a visitor arrives, a music festival will be booming somewhere in the state or visitors can visit any number of spots to hear live jazz, blues, cajun, rock or country music.
Shreveport/Bossier City, in northwest Louisiana near the Texas and Arkansas borders, was the home of the Louisiana Hayride, a radio show broadcast from Shreveport's art deco Municipal Auditorium that launched the careers of Johnny Horton, Hank Williams and Elvis Presley. A Shreveport native, James Burton, has a rock club in Shreveport. Burton wrote Suzy Q for Ricky Nelson and toured with Nelson and Elvis Presley for years. A member of the Rock'n Roll Hall of Fame, he is considered one of the great rock guitarists who is still in demand for session work. He has recorded with scores of the biggest names in music and his club is full of memorabilia.
Shreveport/Bossier City has seen increased tourism since the opening of the Isle of Capri Casino and Resort Hotel. Other casino hotels are now going up on the Red River. Cajun country, in south-central Louisiana, draws visitors for its food and music. Some 30 years ago a representative of the Newport Jazz Festival was in Louisiana to look for acts when he turned on the radio and heard some old timers playing Cajun music, which was then unknown outside the state, on a local station. He searched the group out, signed them up and they were a sensation at Newport, putting Cajun music on the map nationally in the U.S.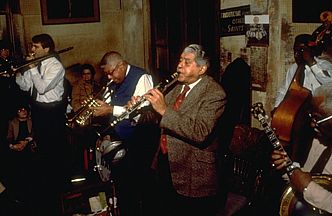 Cajun music is unique in the U.S. because it is sung in French and developed by the descendants of the Acadians expelled from Nova Scotia by the British in 1755. It survives today because of musicians like Marc Savoy who makes his living by handcrafting 77 Cajun accordions each year. This yield may seem low to most businesses, but Savoy is doing more than making a living. He's preserving history, replacing accordions that used to be made in eastern Germany before the Second World War. Like most of Louisiana's musical instrument makers, Savoy was taught by his family to "fait à la main," or "make by hand," musical instruments and how to play them at a very young age. It is this age-old tradition of passing down musical talent through the generations that has preserved unique musical genres, such as Cajun and zydeco.
"In Louisiana, music truly defines our culture," said Lt. Governor Kathleen Babineaux Blanco, who oversees the Louisiana Office of Tourism. "If children are born in a musical family, learning to make the instruments and play the notes is a very dear family value. Parents in Louisiana pass music down to their children the same way they pass down family gumbo recipes." Savoy owns Savoy Music Center and Accordion Factory in Eunice, and he opens his doors every Saturday morning to host a live jam session. He also performs at a number of music festivals held throughout the state.
Cajun music drives much of the tourism to south-central Louisiana and restaurants which feature Cajun music most every night are Prejean's and Randol's in Lafayette, Mulate's in Breaux Bridge and DI's Restaurant in Basile. The Liberty Theatre in Eunice offers the French-language Rendez-vous des Cajuns show on Saturday evenings. Louisiana's musical heritage is also well represented year-round in the state's festivals - events such as the New Orleans Jazz and Heritage festival, the Zydeco Extravaganza in Lafayette, the Cajun Music Festival in Eunice, and the Red River Revel in Shreveport showcase the variety of musical talent that is Louisiana. Live performances are available every night of the week featuring all of these different styles of music.
Anyone travelling through the state could hear great jazz at the Snug Harbor Jazz Bistro in New Orleans one night, then outstanding R&B at Tabby's Blues Box in Baton Rouge the next, rock and roll at Enoch's Pub in Monroe, zydeco at Slim's Y-Ki-Ki in Opelousas and country music at the Piney Woods Opry in Abita Springs.
Details:
Louisiana Tourism: Phone: 1-800-99GUMBO
Website: www.louisianatravel.com
Music buff Patrick Dineen is editor of Travelweek, Canada's most prominent travel trade publication.