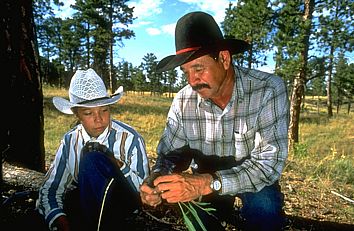 Tricia Anderson and Leo Spring with
Cheyenne Trail Riders, Northern Cheyenne Reservation
Photo by Donnie Sexton
Native American Experiences
National Geographic travel expert Candyce H. Stapen
visits reservations in Arizona, Utah, Montana and highlights the season's best Native Celebrations.
Native American reservations are special places. On the unfenced lands with little development, there's a sense of freedom. The sweeping panoramas are the sort that people crowd to see at nearby national parks, but the Native American lands have relatively few tourists. You may sleep overnight in tipis or hogans (traditional Navajo dwellings of earth and logs), ride horses across the prairie, and take jeep tours to towering monoliths, the site of sacred ceremonies. The spectacular scenery is part of why a stay on a reservation is a little-known gem of a vacation. The other part is the chance to learn first-hand about Native American history and traditions. Kids - even teens - like the combination of camping, culture and wide open spaces.
The Navajo Nation, Arizona and Utah
On Navajo Nation land in Arizona and Utah, the sun turns the slot canyon walls the color of flames and red rock buttes and mesas rise up from the desert floor. A long ridge of sandstone marked with cream, pink and yellow striations dominates the landscape near Will Tsosie's hogan, the traditional Navajo dwelling of earth and logs. On our hike Tsosie spots a row of glistening blue crystals on a petrified log, one of many that line the dry riverbed, and he points out the ancient petroglyphs of animals on nearby boulders. A lone stallion canters across the high plateau, framed by the wind-sculpted spires.
Later that day we visit Dine College, a tribally controlled community college set in the foothills of the Chuska Mountains. At a weaving workshop, we listen to the story of how Spider Woman brought that art to the Navajo. With John Largo, of Largo Navajo Land Tours, we go on a jeep tour through Canyon de Chelly, whose thousand-foot-high sandstone walls once sheltered the Navajo who sought refuge from the Spanish in the mid-16th century. He points out ancient cliff dwellings and petroglyphs of dogs, turkeys and ducks and tells us about the slaughter and the whine of bullets ricocheting across the canyon when Colonel Kit Carson and his troops attacked the Navajo living here in 1864, killing many. Largo also offers customized tours of Monument Valley, a striking landscape of red rock spires and towers. Both Tsosie and Largo arrange custom programs geared to a family's interests. Options besides hiking and horseback riding include learning how to make a traditional meal of dumpling stew and blue-corn tortillas as well as trying Navajo pottery techniques.
Larger than tents, hogans are big enough to stand up in, but like tents, hogans do not come with running water or bathrooms. For those who crave hot water and indoor plumbing, both companies can arrange day trips. Prices vary with experience.
Details: Will Tsosie ,Coyote Pass Bed and Breakfast P.O. Box 91-B, Tsaile. 520/724-3383 or John Largo, Navajo Land tours, P.O. Box 5373, Window Rock;
Phone: 888-726-9084 / 505-863-0050
Website: www.navajolandtours.org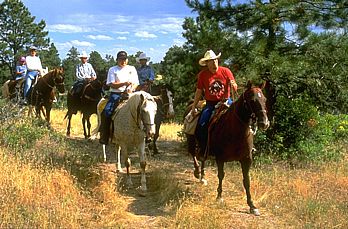 Cheyenne Trail Riders on North Cheyenne Indian Reservation
Photo by Donnie Sexton
Cheyenne Trailriders, Ashland, Montana
The brown hills edged with pine trees seem to stretch for miles as we horseback ride across the Cheyenne Indian Reservation, Montana. When we pause to rest in the shade of a tree, Leo Spang, a Native ethnobotanist, finds mint-scented man sage and explains how it's used for smudging (purifying) in sweat lodges. He picks western yarrow for us, telling us to rub the yellow flowers between our fingers. The plant releases a camphor-like smell. Mixed with leaves, yarrow is used to stop blood oozing from a wound.
Back at Zane and Sandra Spangs' house, Leo's relatives, Jay Old Mouse, a flutemaker for the Cheyenne people, comes to play. His tunes are rich and haunting in the night air. Old Mouse is typical of the artists, elders and craftspeople who share their traditions with guests at Cheyenne Trailriders. "I want people to know that we are real and that we live in two worlds," says Old Mouse. "We have to provide and work - I'm a carpenter by trade - but we hang onto our traditions."
The music makes us feel connected to the surrounding hills. We carry the tunes with us as we fall asleep on the earthen floor of our tipi. Cheyenne Trailriders designs custom trips. For an overnight ride including horse fee, lodging in a tent or tipi, guide, and six meals, the cost is $250 per adult. The ethnobotany course on the trail is an additional $75 per person. Ask about family prices. The minimum age for horseback rides is 8-years-old.
Details: P.O. Box 206, Ashland, MT 406/784-6150.
Email: Cheytrider@mcn.net
Lakota Pony Rides, Manderson, South Dakota.
Alex White Plume, owner of Lakota Pony rides, explains to us that although the majority of outsiders use the term "Sioux", the people call themselves "Lakota," a term that translates as "allies" or "friends." He also tells us how the first horse Wa mni tu came to the Lakota and how, as a punishment for evil ways, the Great Spirit took the horse away from the tribe for 400-years. This tale explains why the Lakota didn't have horses when the Europeans arrived in the New World.
On a horseback ride across the Pine Ridge Reservation, South Dakota, we pass ravines and creek beds laced with cottonwoods and oaks. Soon we ascend a high, windblown butte from which White Plume points to Bad Bear Hill, the place where native leader Kicking Bear received his vision of the ghost dance.
Then White Plume, a descendent of warrior Crazy Horse's band, leads us up the steep slope of an even higher butte. From one direction we see the purple ridges of the Badlands in the distance and from another direction loom the peaks of the Black Hills.
On White Plume's cultural overnights, guests sleep in tipis. Longer programs include an option to spend a night on the prairie, as well as take beading and quill working lessons
Details:
Alex White Plume, Lakota Pony Rides, P. O. B. 76, Manderson, South Dakota, about two hours southeast of Rapid City.
Phone: 605-455-2155.
Rates: $275 per person, per night. 6-day stays are suggested.
Children ten and older can ride with their parents. Younger children ride horses in a corral. Open mid-March to mid-October.
Email: lakota1@gwtc.net.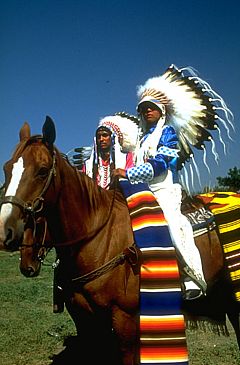 On the Crow Reservation
Photo by Donnie Sexton
Sidebar: Native American Celebrations:
Powwows and festivals are among the best times to visit Native America. During the dance competitions, participants, wearing feathers, shawls, bells, ribbons and rainbow colored beads, swirl to the rhythms of drums. Food booths serve up such authentic Indian fare as fried quail, roasted ears of corn, and Indian tacos, fry bread wrapped around meat, beans, grated cheese and jalapeno peppers and picante sauce.
** Red Earth, Oklahoma City, OK, June 9-11,2000.
Red Earth is one of the largest Native American dance performances in the U.S. with more than 1500 dancers from 100 tribes. There are also storytellers and more than 250 juried artists presenting paintings, silver jewelry, beadwork, photography and other crafts.
Phone: 405-427-5228.
**Plains Indian Museum Powwow, Cody, WY, June 17-18, 2000
The Buffalo Bill Historical Center hosts the 19th annual Plains Indian Museum Powwow. This celebration coincides with the opening of the facility's renovated Plains Indian Museum. Here you can find out about the stories behind the buffalo hunts, walk into a Hidatsa earth dwelling to hear tales of the North Dakota tribe's origins, and sit in a tipi and listen to Crow lullabies.
Phone: 307-587-4771
Website: www.TrueWest.com/BBHC
**Crow Fair, Crow Agency, MT, August 17-21, 2000.
This is one of the largest powwows in the U.S. Highlights include the grand entrance into the arena, the dance competitions, the parade and rodeo.
Phone: 406-638-2601, ext. 104 or ext. 220.
***
Candyce H. Stapen is the author eight travel books, including National Geographic Guide to Family Adventure Vacations: Wildlife Encounters, Cultural Explorations and Learning Escapes in the U.S. and Canada. (National Geographic, April 2000).