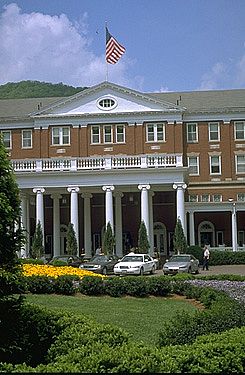 The Old Homestead offers gracious
Virginia tradition and hospitality.
The Old Homestead
Gracious Virginia tradition and hospitality
on the course, in the spa and at the table
By Anita Draycott
I'm a self-confessed golf fanatic with a hedonistic bent and I think I've found Nirvana here at The Homestead resort in Hot Springs, Virginia. There's just one problem. Not enough hours in a day.
My recipe for the perfect getaway is simple: give me outstanding golf, spa and food. The Homestead delivers all of them, in spades. But, if I only had more time, I could happily jump on a horse, play a set of tennis, go fly fishing. I might even take a lesson in skeet shooting or falconry.
But let's start with the golf. There are three superlative courses on this 15,000-acre Allegheny Mountain resort, including the Cascades, ranked number one in the state of Virginia. My hero, Sam Snead, learned to caddie and play here. In fact, he lives just down the road and at age 88 still plays a mean game. I was hoping to bump into him on the driving range, maybe get a few tips, but I hear he's in Scotland. Anyway, I'm signed up for some swing tips at The Homestead's Golf Advantage School. The director, Mark Fry, has caddied for and coaches Snead's nephew, J.C. Snead, who plays on the senior tour, so I'm in good hands.
The Lower Cascades course, designed by Robert Trent Jones, is tucked into a secluded valley crisscrossed by babbling brooks. Boasting generous fairways, it makes a good prelude to the jewel in the crown, the Cascades, known for its long, narrow fairways, fast greens and 12 spectacular waterfalls. Its designer, William S. Flynn, believed that Mother Nature made the golf course. One can just imagine him tromping through briers and cornfields and forging streams while following the rolling lay of the land.
The Old Course, designed by Scotsman Donald Ross, follows his philosophy that power is less important than precision. For the record, I'd like to step up on the first tee, the oldest first tee in continuous operation in the States (since 1893) and let one fly. But I'm going for a vintage soak.
Taking the waters has been a Homestead tradition since 1761, when a men's bathhouse, the first spa structure in America, was built four miles from the hotel at Warm Springs. A women's bathhouse opened in 1836. Known as the Jefferson Pools (Thomas Jefferson frequented them) the spring fed warm mineral pools in each bathhouse were a hit with the Virginian aristocracy. Today they're equally popular among hotel guests and locals, who swear by their curative powers.
The Homestead began as a modest hostelry built in 1766 by Thomas Bullett, owner of a tract of land at Hot Springs. Rumour has it he was tired of uninvited visitors showing up at his home seeking a cure at the springs. But it was in 1832, when Dr. Thomas Goode bought the property that the Homestead's reputation as a spa retreat took off. Goode placed glowing accounts in such periodicals as Harper's Weekly and Mr. Godey's Lady Book, advising that the springs would cure everything from gout to spinal irritations.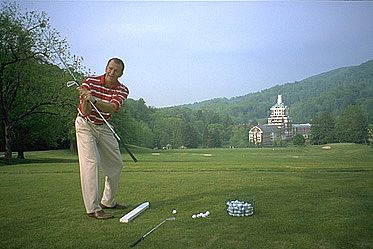 Getting swing tips at The Homesteadís Golf Advantage School.
The same mountain spring mineral waters that soothed Jefferson's aching muscles flow into the modern spa at the resort today. You can refresh yourself with a mountain laurel soak or detoxify your body in a healing sea soak. My personal favorite is the Allegheny Raspberry Relaxer. I lie on a table while Karen exfoliates me head to toe with a raspberry loofah scrub. After a rinse in the18-spouted Swiss shower, I am massaged with raspberry oil and wrapped in a blanket. Karen gives my face a raspberry spritz, dims the lights and leaves me to snooze for about 20 minutes. As I drift in and out of slumber in this raspberry cloud, my mind, predictably, turns to food.
Eating at the Homestead is an occasion at every meal. Breakfast is taken in the formal dining room where a tuxedoed gent tickles the ivories of the grand piano while guests make their choices from a sumptuous buffet. Fresh mango, blackberries, raspberries make a nice start. Can I resist a hot-from-the oven cinnamon bun or homemade doughnut? Omelettes made to order, Smithfield ham, grits, waffles, porridge. If breakfast is the most important meal of the day, you've come to the right place.
At lunch, served al fresco on the sprawling lawn outside the pro shop, even the humble turkey sandwich rises to stellar heights. The juicy breast meat, roasted that morning and piled generously between thick slices of freshly baked whole-wheat bread, comes with red pepper jelly and watercress spread. The toughest decision at lunch is choosing between it or Chesapeake crab cakes. I had both.
Where to have dinner depends on your mood. Sam Snead's Tavern serves up bar food, hickory-smoked ribs and great steaks. Browse around while you're waiting for your order. The place is filled with Snead memorabilia including his 35 hole-in-one golf balls, mounted and framed. I recommend Sam's favorite, the 18-ounce porterhouse. Apparently, the staff saves the bones for his dogs. The 1766 Grille, with its cozy banquettes and New-York-style open kitchen, offers such sophisticated dishes as truffle-infused pasta with wild mushrooms. Divine.
For sheer romance, there's dancing with dinner every night in the formal dining room. Tradition is very much a part of the Homestead experience: flickering candles, glowing crystal chandelier, women in wispy silk dresses, men in suits and ties. It's hard to imagine that only seven years ago the old Homestead had become cash-starved and downright shabby. To the rescue came ClubCorp Resorts who have lavished over $35 million on its refurbishment. The company has managed to add all the modern amenities without destroying the magnificent Colonial architecture and ambience. In fact, you'd swear Martha Stewart and Ralph Lauren had married just the right paint, wallpaper, fabrics and prints to complement the grand columns, palladian windows, intricate millwork and high ceilings.
Take a sip of champagne and imagine yourself here back in the days when J.P. Morgan, the Rockefellers, Andrew Carnegie and the Duke and Duchess of Windsor dined and waltzed in this same room. Mr. and Mrs. Cornelius Vanderbilt III (known as Grace and Neilly by their buddies) honeymooned here in 1899 and returned twice a year for 49 years to stay for a month and escape the demands of the New York social season.
Maybe I should take a lesson from Grace and Neilly. Stay a month.
Rates, including room, breakfast, dinner, afternoon tea and many activities start at $132 per person per night.
Golf packages, including room for two nights, breakfast and dinner daily, unlimited golf and cart on the three courses and use of driving range start at $264 per person per night. There are also spa, family and romance packages.
Phone: 1-800-838-1766
Website: www.thehomestead.com
The Homestead is about 75 miles from Roanoke, Virginia. U.S. Airways offers daily flights to Roanoke from major US cities as well as Montreal, Ottawa and Toronto.
Anita Draycott is Editorial Director of Special Projects for Chatelaine, editor of Travel & More, Your AIR MILES Magazine. Anita is also former editor of City and Country Home and Chatelaine Travels! Magazine.