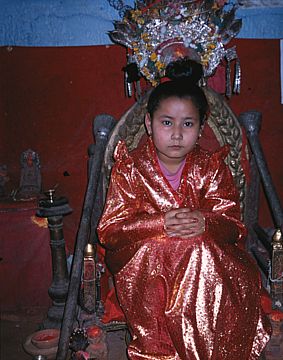 Kumari Chandra Shila is regal on her throne.
Kathmandu's Living Goddesses
Ruth Lor Malloy discovers unique
cultural celebrations in Nepal
The living goddesses of Kathmandu are bloody awful. They first appeared after the king raped and murdered a young girl over three hundred years ago. A spirit came to the king in a dream. As punishment for his crime, the spirit told him to choose a pre-pubescent girl, make her a goddess, and once a year, worship her. The spirit forbade him to sleep with his kumari devi because she was, after all, a deity.
The institution of living goddesses continues today in Nepal. The current king of Nepal still gives his kumari the use of one of his palaces in Kathmandu's old city square. Once a year, at the festival of the god Indra in September, the living goddess blesses the king in exchange for a gold coin. The blessing is important. One former king had a bad accident when the child was too sleepy to do the job properly.
But be that what it may, the poor girl is confined to this palace except for the yearly parade during the festival. Then she gets to ride a chariot around the city blessing everyone else. A guide told us that a teacher is allowed to give the living goddess lessons, but she may only see her family once a year. When we caught a glimpse of the current, 10-year-old incumbent at her window for a fleeting five seconds, it was obvious by the way she was dressed up that she spends her days waiting for tourists and worshippers.
Only girls of a certain low caste can be candidates, said our guide. Priests put them through tests and finally lock them in a dark room for a night with the heads of dead buffaloes and horrible masks. The child who shows the least fear is the winner - or loser - depending on your point of view.
Kumaris are said to be incarnations of the Hindu goddess Kali and since Kali loves buffalo blood, the real kumari should have no fear of buffalo heads.
The living goddess is chosen at any age from infancy to pubescence. As soon as she sheds blood, be it menstrual or even from a cut, her divinity is supposedly finished. Bleeding is considered "unclean." Child birth, too, is "unclean." Nepal is still a male-chauvinist place.
When her reign is over, the kumari has another problem. Her chance of getting a husband is pretty slim. The story goes that any man who marries her will die within a few months. While this doesn't always happen and some husbands have outlived their wives, the stigma is still there.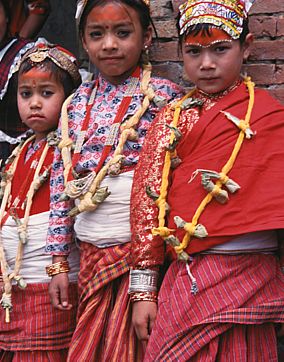 Young girls dressed as living goddesses.
The king's kumari is "number one" in town and cannot be photographed nor visited by non-Hindus. The second of Kathmandu's living kumaris is more accessible. We went to visit her in a far-from-palatial home near Patan's Durbar Square. Patan is one of the three ancient cities that make up today's Kathmandu.
The narrow, three-story walk-up made me think of an old tenement. Outside on the front of the building, a four-inch sign said "Living Goddess" in English.
"How should we behave?" I asked our guide, Prakash. I had never met a goddess before. Should I curtsey?
"You can't talk to her," was all he said as we climbed two flights of gloomy, grubby stairs to meet the kumari's adult brother. The latter showed us into a tiny room with a small gold throne. A crown of sorts was permanently attached to the back of the chair. Aside from a few religious vessels and pictures, the room was empty.
Within minutes a chubby little 10-year old girl, dressed in a red-gold gown walked slowly and deliberately into the room. Her forehead was painted crimson. She was not as glamorous as the first kumari and had no third eye painted on her forehead.
It was obvious that kumari Chandra Shila was also spending her days waiting for people to visit, pay homage and pray to her for help. Her brother said she had been a goddess since she was a year and a half.
She appeared sad and did not smile. She looked like she was obediently and reluctantly going through well-practiced motions. I felt uncomfortable as I photographed her because I too was exploiting her. She should have been laughing and playing with her friends instead of enduring the scrutiny of foreigners. I wondered about the money as her brother pointed to a donation box. At least she was living with her family.
The next day, I was destined to learn even more. As we were sightseeing in Bhaktapur village, the third old city forming today's Kathmandu, we kept seeing men in caps and jodhpurs carrying freshly cut goats' heads on platters. The area looked positively medieval with cobblestone paths, narrow streets and wonderful old houses. The young man there who had pestered us to be our guide said today was the Festival of Goats and he would take us to the slaughter.
Shankar led us to his own village where he introduced us to his mother and sister. Most of the hundred or so people were just standing around. A couple of men were decapitating goats and spraying the inside of a temple and statue of the goddess Kali with blood. It was already congealing red and thick, a horrible bloody mess.
"Kali likes buffalo blood," said Shankar. "Buffaloes are very expensive. So we sacrifice goats to her."
Then we noticed dozen or so little girls dressed up like kumaris in fancy red-gold dresses. They were kumaris just for one day, said Shankar. They were worshipped also as goddesses, given sweets and special foods. They liked being kumaris.
I looked at the children - some five years old, some 10 - all wide-eyed and innocent and apparently oblivious to the killing around them. I looked at the headless carcasses and the lifeless heads on the altars of the shrines and tried to make sense of it all.
When I returned home, I consulted books. Kali's appetite for blood was insatiable, they said. She wears a necklace of severed heads and around her waist, a belt of human arms. She incites terror and is dangerous, but at the same time, she protects, gives potency and abundance. At one time, humans were sacrificed to her. Today, goats are used. Now this is a step in the right direction.
Ruth Lor Malloy, who usually writes on China, visited Nepal on vacation.
Visit her website: www.china-travel-guide.com