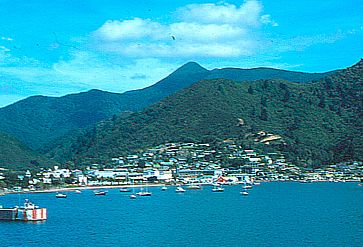 Marlborough Sounds
Sailing Heaven
A bareboat charter sail in New Zealand's Marlborough Sounds
is pure adventure.
Text and photos by Donna Carter
The waters off Auckland harbour may be the best New Zealand venue in which to hold an America's Cup race, however, the Kiwi kingdom's lesser known Marlborough Sounds are among the finest charter sailing waters anywhere Down Under. Why this remarkable South Pacific sailing spot remains largely unheralded baffles me. Having cruised in the four corners of the globe, I can say with certainty that no destination can surpass the exhilarating sail offered in the maze of fjord-like channels and bays of the Marlborough Sounds.
The uninitiated often speculate that cruising there will be like sailing on a duck pond, but they're mistaken. Yet, it's an understandable assumption since the Sound's network of watery veins penetrate deep into the New Zealand landscape, sheltered from the typically rough conditions of the Cook Strait and Tasman Sea. Although they are indeed protected from open water, the Sounds thread their way through a dense gauntlet of steep mountains--a terrain that consistently produces fickle winds, which in the space of a few seconds, can dramatically change both direction and speed.
"We're seldom without wind here," said Tony Cooper, owner of Charter Link, one of two bareboat charter operations in the chain of Marlborough waterways. "It [the wind] may not always be where you want it, but we've always got it." I was unable to argue with this disclosure as Cooper and I made a steady seven knots on a triple-reefed main and a small slice of headsail not much bigger than a large handkerchief. "If you can sail here, you can sail anywhere," he said. "It's a paradise for sailors who love to really sail."
New Zealand consists of two large islands, the North and South Islands, around which are scattered a number of small islets. The Marlborough Sounds lie on the northeast coast of the South Island, eventually spilling into the Cook Strait and Tasman Sea, bodies of water that separate the two large islands. The flooded valleys of the Sounds were created over millions of years when rising seas and a sinking land mass submerged ancient mountain canyons and gorges. Time and nature eventually wrought three separate sounds: Queen Charlotte and Pelorus, plus Kenepuru, the smallest of the three. Together, they provide thousands of miles of strikingly picturesque waterways brimming with bays, coves, and inlets. "You can sail 300 nautical miles in a week in the Queen Charlotte Sound alone and you will only scratch the surface," said Cooper.
In addition to changeable winds, tides are also a constant consideration, particularly for freshwater sailors unaccustomed to them. Tidal flows and currents in the Sounds are intensely affected by the convergence of prevailing winds, the deep valley topography of the sea floor, and a jagged shoreline--a triple combination that produces the strongest and most varied tides in New Zealand. Flows on the sea surface vary throughout the waterways, ranging from a modest half knot to an extreme seven knots.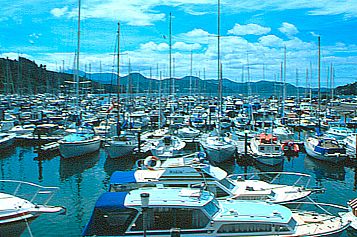 The marina at Marlborough Sounds
Visiting sailors are likewise briefed about recommended anchoring techniques--instruction that contains both good and bad news. In most cases, yachts can snug up to within a few feet of rock shorelines and still have a water depth of nine or more feet. On the negative side, a rocky bottom dictates that holding is not always reliable. Charterers are advised to nudge as close to shore as possible before putting down a bow anchor. For added security, boaters are urged to row ashore and attach a stern line to a tree or rock. Moorings, of course, are the safest bet. Throughout the Sounds, the two local charter companies have sunk numerous moorings affixed to four-ton cement blocks. All moorings are clearly identified on the companies' charts.
Both Marlborough Sounds charter companies, Charter Link and Compass Charters, are located in Waikawa Bay, deep in Queen Charlotte Sound. Here, in a well-protected yacht basin a large, full-service marina is home base for Charter Link's fleet of 12 vessels that includes Beneteau, Jenneau, Carpenter and Bavaria. The Compass fleet is larger and contains a generous inventory of popular yacht models.
From Waikawa Bay, sail charterers launch their voyages into the waterways first discovered by Dutch mariner Abel Tasman in 1642. He was followed in 1770 by British explorer, Captain James Cook. After weeks at sea and following a circumnavigation of New Zealand's North Island, Cook sailed his ship the HMS Endeavour into what is now known as Ship Cove, an inlet of the Queen Charlotte Sound, not far from today's Waikawa charter base.
After several weeks at sea, the Endeavour was in desperate need of cleaning and repair, consequently Cook and his crew hauled the vessel onto the sloping tidal beach and careened her first on one side and then the other. The hull was scraped down, stripped of weeds and barnacles and then treated with a fresh coat of tar. This tranquil retreat that Cook sought out on five subsequent voyages between 1770 and 1777 remains almost as untouched today as it was 230 years ago. In 1912, a large white monument was erected just beyond the beach to commemorate Cook's early visits to Ship Cove.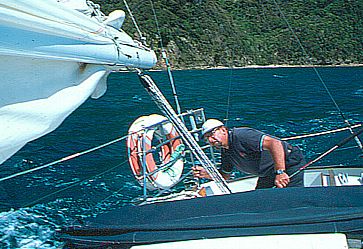 Catching the breeze at sea.
Although the Sounds are now used primarily for pleasure, Cook found them an excellent place to reprovision. On his first day in the Queen Charlotte Sound (named after the wife of King George III) the crew caught 300 pounds of fish, took on numerous barrels of fresh water and harvested a stock of onshore plant foods. Cook's first encounters with the native Maori were friendly, however, on his third voyage ten crew members from a sister ship, the HMS Adventure, were sent ashore at what is now known as Wharehunga Bay to gather wild greens. In an unexpected attack, the natives killed, dismembered and cooked all ten seamen, and for many years following the incident, the bay was known as Cannibal Cove.
Man eating natives are a thing of the past, however, today's sailors will see some of the same wildlife observed by early explorers. Often seen cavorting in the waters of the Sounds are Bluenose Dolphin, and less frequently, the smaller Hector's Dolphin, the world's rarest species found only in New Zealand. Attracted by the abundance of food and good breeding sites in the Marlborough Sounds, numerous varieties of seabirds migrate each year from the Pacific Antarctica and Australia. Blue cod is the most common fish and the marine ecosystem also includes a proliferation of crabs and crayfish. Snorkellers and divers will find the best results in the reefs and kelp beds of the outer sounds. In addition to coral formations and colourful fish there are a number of shipwrecks in less than 40 metres of water.
This wildlife sanctuary is surrounded by some of the most breathtaking scenery in the world. Several forest-clad mountain ranges including the Robertson, Richmond, Bull and Bryant rim the watery tentacles of the Marlborough Sounds. Mornings often bring low hanging clouds that hug mountain peaks like giant bundles of snowy fleece. Typically, clouds give way by mid-day and light morning breezes heighten in the afternoon. The one issue that visiting charterers need to keep in mind is that, by North American standards, the Marlborough Sounds are relatively undeveloped. In other words, don't expect to find marinas, towns and eating places around every corner. Hundreds of miles of pristine coastline yield surprisingly few places to fuel and provision and only two companies are involved in the sail charter business (Charter Link and Compass). In the large Pelorus Sound there are just three places to provision, fuel and take on water. In Queen Charlotte Sound, only the marina in Waikawa Bay, plus Gem Resort in the Bay of Many Coves, offer full service facilities. There are a few small resorts scattered throughout the waterways where boaters can get a meal. The best of the lot is Gem Resort where home cooked dinners are generous, exceedingly delicious and cheap. You'll get the world's best deep-fried calamari here, in addition to locally caught fish dinners, good New Zealand wine and other tasty offerings.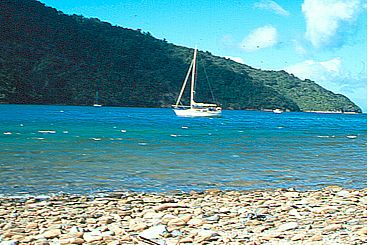 When is the best time to go? When Canada is enjoying summer, the Kiwis are in the middle of winter and vice versa. Charter Link people say you can sail the Marlborough Sounds year-round, but in truth, the best times are the spring and fall shoulder seasons which charter companies calculate to be February through Easter and September to December. Charter prices will be highest during the peak period from Dec. 20 to Jan. 31. For a 7-day sail aboard a 35-foot vessel during shoulder season, charterers can expect to pay about NZ$2,900., and in low season about NZ$2,200. The Canadian dollar is worth modestly more than the New Zealand dollar, consequently the prices are reduced to about CDN$2,600 and CDN$2,000. respectively. A 35-foot boat would also require the posting of a $1,000. bond, refundable within two weeks after the charter, less cost of fuel and breakage.
Overall, New Zealand's Marlborough Sounds represent one of the dwindling places on the planet relatively undiscovered by the masses. Certainly not the charter sailing masses. It's a magnificent cruising destination that you feel privileged to have explored before tourists inevitably start descending on it like swarms of locusts.
Details:
New Zealand Tourism: Phone: 1-800-888-5494
Charter Link New Zealand, P.O. Box 292, Picton, New Zealand.
Phone: 0-3-573-6591; e-mail: charterm@ihug.co.nz
Compass Yacht Charters, Beach Road, Waikawa Marina, Picton, New Zealand.
Phone: 64-3-573-8332
e-mail: directors@compass-charters.co.nz
Website: www.compass-charters.co.nz
Donna Carter is an Ontario-based freelance writer who has sailed extensively in Australia, New Zealand and the Caribbean.