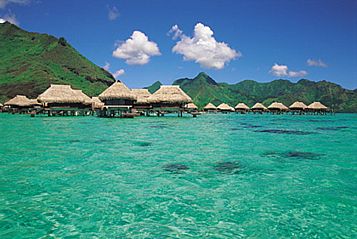 Thatched-roof bungalows at the Sheraton Moorea
Sheraton's New Resorts on the "Islands of Love"
Lavish living in romantic French Polynesia on the isles of Tahiti, Bora Bora and Moorea
By Toby Saltzman
As if just being there on Tahiti, Bora Bora or Moorea wasn't romantic enough, Sheraton's three new resorts in these glorious French Polynesian islands are giving new allure to romancing the South Pacific. In October 2000, the exotic, 106-unit Sheraton Moorea Resort opened on the island known for its chiseled mountainscape and acrobatic Spinner Dolphins. Earlier this year, the Sheraton Hotel Tahiti opened in Papeete, on the fragrant island dubbed "the Island of Love." In 2002, Sheraton will open a lavish resort and spa on Bora Bora, where high peaks rise from opalescent waters.
Set on a private, 10-acre lagoon surrounded by pristine white beaches and volcanic peaks, the Sheraton Moorea features accommodations that blend island ambiance with sybaritic luxury. The prime accommodations are the thatched roof bungalows perched on stilts over the water, clustered on the beach and bordering aromatic gardens. Those over water have glass floor panels that allow views of the brilliant fish swimming below. The resort also offers family units set amid lush flora.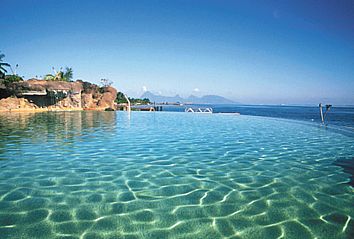 The resortís "infinity pool" drops into the lagoon
The accommodations combine the natural beauty of native materials with contemporary amenities, including satellite television with CNN and HBO, and direct-dial telephones with computer data ports. Apparently no expense was spared by the resort owners, the prestigious Societe des Hotels Tahitiens S.A. Reflecting the island's French Polynesian heritage, rooms feature teakwood floors and spacious bathrooms with elegant French fixtures and cast-iron, claw-footed bathtubs where guests can soak while gazing out to the crystal clear lagoon or turquoise sea beyond.
The Sheraton Moorea offers a wealth of facilities and amenities including an outdoor "infinity pool" that literally drops into the lagoon, a fitness club, tennis, fishing, sailing, canoeing, kayaking, scuba diving and yachting. Guests may explore the crystal clear lagoon surrounding a nearby "motu" or tiny isle with snorkeling equipment provided in their rooms, free of charge. Other services include a business center, gift boutique with pearl shop, babysitting services, facilities for the disabled and rental cars. As well, the Sheraton Moorea boasts two restaurants focusing on authentic Polynesian and French cuisine, featuring tropical fruits, garden-fresh legumes and freshly caught fish.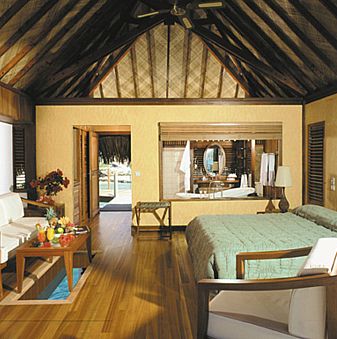 The bungalows feature luxurious amenities
The resort's Mandara Spa is sure to be a holiday highlight. With an emphasis on holistic healing, therapists offer Polynesian massage with Tahitian oil, natural facial treatments, foot reflexology and body scrubs. Massages - even honeymooner massages for two - can be arranged on private bungalow decks, on the beach or in the spa.
As if just dreaming of Tahiti, Bora Bora or Moorea isn't enough to lure you there, take note. Sheraton, a division of Starwood Hotels & Resorts Worldwide, offers its "Starwood Preferred Guests" these stunning French Polynesian resorts as part of their "ultimate 'rewards' destinations." In other words: if you rack up enough points by staying at various Starwood hotels and resorts around the world, you can conceivably save up enough points to earn a "free" stay at one of these French Polynesian resorts. On the other hand, if you can't wait to accrue points, it's easy enough to just go there.
Details:
For details about the Sheraton Moorea Lagoon Resort and Spa
or the Sheraton Hotel Tahiti, consult your travel agent or visit: www.starwoodhotels.com