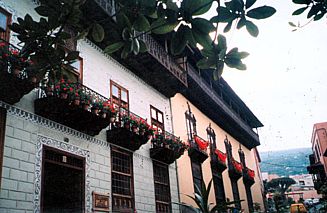 La Oratava's famous 17th century hand-carved balconies.
TENERIFE:
A paradise by any name.
The Canary Islands are "Fortunate Islands" indeed. Gordon Garrison paints a rich picture of his well-researched tour.
Text and photos by Gordon Garrison
Greek Mythology spoke of the Garden of Hesperides, or 'paradise'.
Plato suggested the location - just off the West African coast, where early explorers found the "Fortunate Islands". Early settlers found many wild dogs on the islands, so the Latin term caninus was used to describe their archipelagic home. One thing is certain: those lovely yellow-feathered creatures were named for the Canary Islands, not the other way around. You may spot some songbirds while visiting Tenerife, the largest of the seven islands. Look for the golden breasts, but unlike the caged ones at home, the canaries here have a brownish-gray back.
Tenerife's cabildo, or seat of government, is located at the port city of Santa Cruz, population: 220,000. Surprisingly well kept for a waterfront community, streets are clean, lawns and gardens trimmed and lovely. The city now boasts a brand new botanical garden featuring a palm arboretum. It also has a 100-year-old bullring, but the matadors no longer face El Toro. The graceful building now is home to rock concerts. Garcia Sanabria Park, a wide boulevard with a walkway down the centre divides lines of traffic, with date palms, Indian Laurels and Jacaranda interspersed with rows of poinsettias or other flowers, according to the season. A number of modern sculptures, including Henry Moore's "Fallen Warrior", are strategically placed for the enjoyment of passing art lovers. A four-lane highway runs up the mountain, giving access to the north coast.
Ten kilometers inland, but still in view of the Atlantic, is La Laguna, which was settled by conquistadors in 1496. Now a university town, it was capital of the Canaries until 1797, when Santa Cruz took over. Most visitors will continue on past La Laguna, to the coastal resort towns. Puerto de la Cruz is very popular, combining a sense of old world charm with modern convenience. Here, the beach sands are black. Outcroppings of lava stone serve as centuries old reminders that this lovely spot in the Atlantic was a creation of volcanic eruption. The town is proud of Lago de Martianez, an area of land reclaimed from the sea, now housing condominiums, businesses, public swimming pools and a park with a man-made seawater lagoon.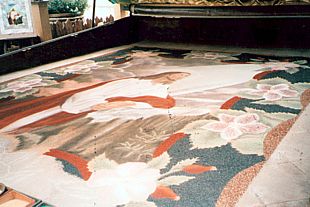 A "carpet painting" of colored volcanic sand
at La Oratava's Casa del Touristica
Puerto de la Cruz is a walking town, but plan to do your window shopping in the afternoon, as Siesta is still in vogue, You can do your real shopping in the morning or late afternoon or evening. Tenerife is officially duty free, so prices are as good as you will find anywhere. Credit cards are widely accepted and there are several banks and exchange kiosks where you can switch your dollars into Spanish pesetas, the coin of the realm in the Canaries.
From Puerto de la Cruz, head up the mountain to La Oratava, where a number of festivals are held each year. The best known is Corpus Christie, held each June for over 150 years. Almost every local resident gets involved with this event, which has a religious theme. Each year, artist designs a 'carpet', to be sketched onto the tiled square in front of the town hall. Other artists using volcanic sand, coloured by natural dyes, fill in the spaces as a child does with a 'paint by number' set. The town hall square is thus transformed into one gigantic work of art. Considered a manifestation of religious feeling, it is a tradition which continues to be passed on to each new generation. In the past, the citizens placed their trust in God to preserve the finished work from the destructive forces of wind and rain. Nowadays, a canvas roof is erected over the project. A festival parade concludes this and other annual events.
If your timing does not permit a visit in June, don't worry. Across from La Oratavo's famous balconies, at La Casa del Touristica, is a display on a smaller scale, of one such lava sand painting. Few could render a picture as fine, using traditional oils and canvas. At the Casa you can also see photos of past town square 'carpets'.
Now, about those balconies across the street. The first of these was hand carved in 1632, a second just ten years later. They were used to haul grain and tea up to the third floor storage area of the domicile. The ground floor surrounds a lovely courtyard, with an old wine press in the rear. Handicrafts from around the Canary Islands can be purchased in the lower floor shops.
Let's continue up the mountain. Just 45 kilometers away is Las Canadas National Park. Along the route you'll enjoy breathtaking views of the valley and the Atlantic coastline. Ahead is Spain's highest point, Pico de Teidi. Snow covered in winter, the peak is 3718 meters above sea level. Its sides are etched with walking trails, but be prepared for a full day's trek. You may want to do the mountain in two days, staying overnight at a mid-way refuge. That way, you can marvel at the glorious scene Mother Nature paints as the sun rises over adjacent mountaintops. Don't want to walk? Take the ten-minute cable car ride. Remember to take a sweater with you. It can be cold at these altitudes.
Las Canada's comes as a surprise. From the banana plantations near the ocean, to the palms, and then pine forests above La Oratavo, to the indigenous broom and parjonera grass at higher altitudes, you suddenly find yourself gazing at a moonscape. Red and black rocks have replaced the verdant scene with dramatic outcroppings, left statue-like following an eruption (actually an implosion) which took place some 175,000 years ago. Look for the Rocks of Garcia. According to legend, Garcia was a shepherd who long ago tended his sheep in this area. Erosion has sculpted the rocks and locals have given names to the formations, such as 'Cathedral', and 'Rock of Sinchada'.
Mount Teidi is still considered an active volcano. The most recent activity occurred in 1909. It's a good idea to stop at the welcome centre, watch a 12-minute video, and learn about the history of the park, its flora and fauna. Established in 1954, Las Canadas now covers 136 square kilometers, and accepts an average of 3,000 visitors a day. Minas de San Josef (Saint Joseph's mines, where pumice stone and obsidian is obtained) offers a delightful scene through the picture windows of the Parador de Canadas del Teidi, a small inn and restaurant which was opened in 1926.
The Inn features cuisine typical of the Canary Islands. Bread rolls are crusty and airy. Try them with seasoned olive oil instead of butter. Ask for a Puchero Canario, a stew, starting with a consommé skimmed from the main dish, followed by a 'help yourself' meal of chick peas, corn on the cob, a local vegetable called zuehino, sausages, pork ribs and beef, all presented in a large bowl. Mojo, a green sauce made from cumin seed, garlic and parsley, adds zest to the meal, once called 'the poor man's dinner'. For dessert, the Inn suggests profiterole, tourine de gofio (nougat), or 'roasted milk' (custard). After lunch, return to the great out of doors to enjoy the sunshine, ideal for trekking, climbing, sailing, cycling, surfing, swimming, lazing about on the beach, or chasing a golf ball around one of the island's six courses. The average temperature year round is 23C. Tenerife comes by its nickname honestly: "The Land of Perpetual Spring". Fortunate Islands, indeed!
Details:
Connections to Tenerife can be made through New York, or your choice of a number of European capitals. Several airlines serve the island, including British Airways, Lufthansa, KLM, Swissair, Sabena, and of course, the Spanish airline, Iberia.
For details on Tenerife and other Canary Islands
Contact the Tourist Office of Spain
2 Bloor St. W., Ste. 3402, Toronto, ON, M4W 3E2.
Tel: (416) 961-3131; Fax: (416) 961-1992
Website: www.tourspain.toronto.on.ca
Gordon Garrison, a past Chairman of the Canadian Chapter of the Society of American Travel Writers, has been writing and broadcasting travel features for 35 years. He explored beautiful Tenerife during an around-the-world cruise.
To read his story, Cruising Around the World in 127 Days, click here.