The beach at Barra is popular all year round.
Salvador da Bahia, Brazil
On his around-the-world cruise, Gordon Garrison finds a bewitching, radiant "Land of Happiness."
Text and photos by Gordon Garrison
"Oh Bahia…
When twilight is deep in the sky
Bahia-ia…"
The song I first heard some six decades ago has always remained with me. Enchanting. Beguiling. Seductive. Can any place on earth lure someone through a melody; haunt one's soul for so long a time? Bahia. Can the place be as exciting, as exotic as the tune that has run around in my memory for so many years? I was about to find out.
As the liner Ocean Explorer 1 approached South America, David Waas, an anthropologist, through lectures, added intrigue to my list of Bahian adjectives. In the European quest for adventure, exploration and conquest, Prince Henry's Portuguese navigators found their way to South America, landing in 1500, at a spot now called Porto Segura. In 1549, Salvador da Bahia was established on a high ridge overlooking the South Atlantic. Government, such as it was at that time, was centered in the new settlement, which remained the capital of Brazil until Rio de Janeiro took over in 1763. In 1960, in an attempt to open up the interior of the country, a new capital was established at Brasilia, some 500 miles to the north of Rio.
The old section of Salvador the locals refer to as Pelourinho (Pell oh REEN yoh), is an interesting jumble of narrow cobbled streets, dotted with the occasional plaza or park. The Colonial City boasts the largest collection of Baroque architecture in Latin America. In "Pelo" you are bound to see Bahian women selling acaraje and abara, typical cuisine of the region. The ladies will be dressed in traditional white costumes called "Baianas", and will be happy to smile for your camera for a dollar or two. You can pick up your souvenir T-shirt and help a good cause at the same time, at MODA AXE, a shop operated for the benefit of Salvador's street kids.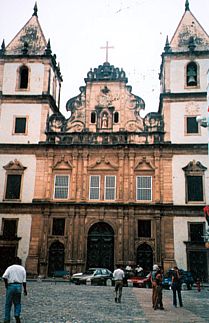 The Church of Sao Francisco in Salvador's "upper town"
In Pelourinho you are always close to a house of worship. The most famous, and consequently the most visited is Sao Francisco. which boasts one of the most ornate interiors of any church in the new world. Adjacent is the chapel of the Third Order of St. Francis. Its Rococo exterior is photographed by virtually every visitor who walks the avenues to its entrance. If you 'collect' churches you will have nearly three hundred to choose from here.
African culture found its way to South America via the slave trade. As a consequence, nearly 85% of Bahia's population has a black bloodline. The slaves had their own superstitions; their own religious rites, so they too erected several churches in Pelourinho. Early discrimination dictated that these must be built at a lower level than the Cathedrals of Roman Catholicism. Today, Candomble, as their beliefs are called, is practiced side by side with Catholic, and often the same church is used for services.
Salvador can no longer be referred to as a 'settlement'. Pelourinho is bordered by a semi-circle of high rise buildings: offices and apartments with spectacular views of the Atlantic and its islands. The upper town is reached by roads, a cable railway, or one of several elevators. The Lacerdo elevator, a local landmark, carries passengers 71 meters from one level to the other. At sea level is Barra, pronounced bah-hah in Portuguese. South America's first lighthouse is here. Built some 250 years ago, it still warns shipping that the coast is near, still lures passengers with its silent, flashing siren's song, to come, see and be bewitched by this Brazilian treasure called Bahia.
Bahia is just one of 27 states in Brazil. Over 100 tropical islands are dotted along Bahia's 932 kilometer coastline. Fifty of them are scattered up and down the Bay of All Saints, adding more beauty to the already lovely peninsular setting for the city of Salvador. For tours outside the city, try Morro de Sao Paulo, on Tinhare Island, with its many coves and coconut plantations. Two communities, Belmonte and Canavieiras feature canals amid a myriad of mangroves. We have already mentioned Porto Seguro, known as the birthplace of Brazil. Ambiance is the operative word here, both day and night. For the nature lover, seek out the Abrolhos archipelago, where migrating sea birds congregate, and where from August to November, humpback whales carry out their mating rituals. Inland, a mountain range, Chapada Diamentina presents unusual rock formations, interspersed with caves, rivers, waterfalls and lakes.
Today's tourism brochures offer additional adjectives for Bahia: mystical, colourful, irresistible, radiant. "The Land of Happiness", they exclaim. We saw nothing to dispute the claim: smiling faces everywhere; the joyful sounds of children at play; lovers strolling hand in hand along the boulevard that showcases the Dique de Tororo with its fountains and statues of African deities. Laughter and playful shouts echoed up from the lighthouse beach, where a game of volleyball was in progress. Even the friendly bickering at the markets had a happy tone.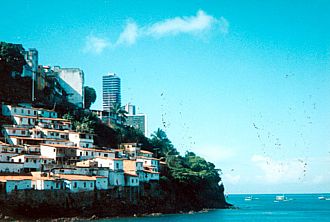 The "low town", Barra, and the "upper town", Pelourenho, overlook the Bay of All Saints, Salvador da Bahia.
In the past, low income residents of Salvador, as elsewhere in Brazil, often lived in hillside hovels, without such facilities as electricity, garbage collection or running water. The lot of 'favela' dwellers, as they were called, has improved considerably in recent years with the availability of modern services. Most now watch television, many own refrigerators, even autos. All, it seems, rich or poor, enjoy the music of the land.
African culture is evident again in the beating of Bahian drums. Small drums. Big drums. Drums played with the hands. Drums played with sticks. Drums with names like quika, surdo, pendeiro, tambarim, snare and congo. Our ship invited a group to entertain passengers while in port in Salvador. Eight drummers, a lead singer/chanter, numerous dancers in extravagant costumes and masks, a fire-eater. Eight young men demonstrated 'capoeira', a mix of ballet and martial arts. It was one of the most breathtaking acrobatic presentations this traveler had ever witnessed.
When the dancing was over, the drumming was still beating in our hearts, if not our heads. The melody lingers on. The land of happiness, indeed. "Oh Bahia. Bahia-ia..."
Details: Information on Salvador, the state of Bahia:
Website: www.bahiatursa.ba.gov.br
Bahiatursa: Phone: 011 55 71 370-8690
FAX: 011 55 71 370-8697
MODA AXE, also known as Projeto Axe, can be found at Rua dos Laranjeiras, 9 Pelourinho, Centro Historico Salvador-BA 4000-100, Brasil. Telephone: (71) 264-5035
Connections from North America to Salvador are presently available via Rio de Janeiro and Sao Paulo. The Brazilian carrier, Varig flies from Toronto, New York, Miami and Los Angeles to both Rio and Sao Paulo. Air Transat will offer direct flights from Toronto to Salvador, effective Nov. 13, 2000 to March 26, 2001.
Gordon Garrison, a past Chairman of the Canadian Chapter of the Society of American Travel Writers, has been writing and broadcasting travel features for 35 years. You can look forward to more adventurous stories about his world cruise on travelterrific.com.
To read his story, Cruising Around the World in 127 Days, click here